Roy Orbison: "In Dreams"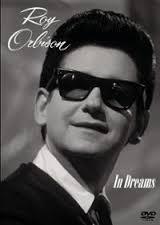 At times he didn't look much like a rock star—and at other times he looked like nothing but one. On stage he didn't act like one either. He hardly moved. Dressed in black and wearing black-rimmed "coke bottle" sun glasses the self-effacing Roy Orbison just stood before the microphone singing and strumming his guitar.
His lips barely parted but what came out seemingly so effortless and free, was a voice that defied and continues to defy explanation. While singing about heartache and loneliness (and finally success in "Oh! Pretty Woman") Orbison exuded a spooky detachment that sometimes made him sound more like a channeler than an entertainer.
The closest contemporary contenders would be Chris Isaak and Raúl Malo, both of whom were clearly influenced by Orbison. Both appear in the video.
This well-produced documentary gives you an inside look at Orbison's unlikely career and his often tragic life and for those who have never heard him speak, here you do, though nothing he says sheds any light on from where came the magical voice and of course you can find online interviews.
The documentary traces his early years in Wink, Texas, his backstage meeting with Johnny Cash and his request for a Sam Philips introduction. Philips hung up on him, but after he wrote the song "Claudette" and got it to The Everly Brothers, who had a world-wide hit with it, Philips called asking how quickly the Texan could make his way to Memphis.
Orbison scored with "Ooby Dooby" but a rockabilly artist he really wasn't. Chet Atkins signed him to RCA but not knowing what to do with him, handed him off to Monument's Fred Foster. That's where Roy found success. Foster's interview is illuminating and filled with details every Roy fan will want to see and hear. While Foster does mention engineer Bill Porter, I think Porter's work was more instrumental in creating the Orbison recorded sound than he's given credit for here.
Great if often primitive concert footage traces Roy's early '60s success, particularly in the U.K. where unlike in America, his bright star never dimmed as the music scene shifted to, ironically, the British Invasion. On a 1963 tour Roy headlined for The Beatles but by mid-tour he opened for them, which they found more difficult than expected since Roy's fans were intense.
The documentary traces Roy's tragedies—how his beloved Claudette was killed in a car crash and how while on tour overseas a house fire killed his two children.
Roy is interviewed by Tom Snyder who zeros in on the losses, which Roy absorbs with a combination of placid resignation and obvious pain. Meanwhile he finds a new love in the fiercely loyal Barbara and again he is fulfilled, though his career seems over in America.
He's old news here but when he goes to the U.K. he's still treated like the musical great that he always was and always felt he was. That's how the Brits do music. it's why Arthur Lee received similar treatment there, but not in America until near his end.
The turning point for Roy came in a San Francisco appearance in the '80s. As his manager recalls it, the theater owner, not really knowing who Roy was, treated him and his entourage poorly. That changed when looking out at the audience he could see the array of big stars who'd come out to see the great Roy Orbison.
Another turning point for Roy was David Lynch's decision to use "In Dreams" in "Blue Velvet." That brought Roy's magic to a new, younger, hipper audience.
From there comes Roy's renaissance and signing with Jeff Ayeroff at Virgin Records and of course his time with The Traveling Wilburys: Jeff Lynne, George Harrison, Tom Petty and Bob Dylan—Roy Orbison fans all. For those of us who remained loyal Roy fans throughout his career, seeing him where he belonged, with those legends always brought a strong sense of satisfaction and even a feeling of justice served.
The interviews with musical greets of whom we are in awe, sounding in awe of Roy are among the documentary's best moments. The line-up is impressive and the sincerity is genuine: Springsteen, U2's Bono (who's story of how he came to write "She's a Mystery to Me" for Roy is magical), K.D. Lang, Robert Plant, Don Was, Barry and Robin Gibb, Willie Nelson, and the many others, all speak the praises of Roy Orbison while admitting they don't understand from where his vocals come.
The Roy resurgence seemed unstoppable, but on December, 6th 1988 a massive heart attack got him. He was 52. Thirteen years later, to the day, pancreatic cancer took his beloved Barbara.
It's a story—all of it, highs and lows— you couldn't write as fiction and sell, but it all happened. This 90 minute documentary covers without melodrama the highs and lows of a remarkable life and an even more remarkable artist. Worth watching. Glad I got to see him live three times.
<!- ------------------------------------>