Block Audio's C-Lock Solves Wall Jack Woes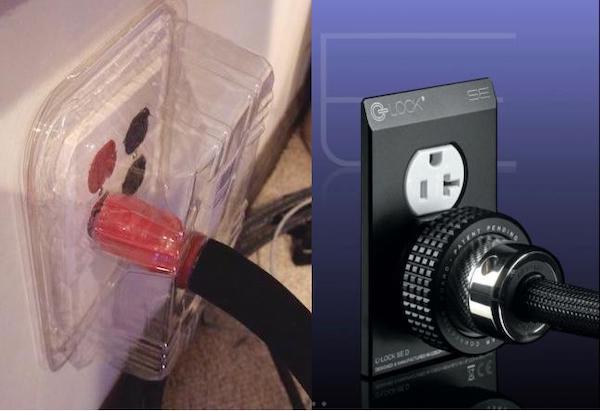 Leaving aside for the moment the numbskulls who are so certain that A.C. power cords cannot possibly affect the sound of their audio systems that they can't be bothered to actually
listen
for themselves—never mind that science is predicated upon observation— (plus of course they don't believe anything they see, hear, taste, smell or touch unless it's done under controlled "double-blind" conditions), there's a big problem with heavy power cords: because of their heft, they often partially or sometimes
fully
pull out of the wall jack.
At one point this became such a problem for me that I set about inventing a solution (on the left) using a plastic Campari tomato container. Hardly elegant, but it worked! Czech Republic-based Block Audio recently introduced a far more elegant and effective solution called the C-Lock, available in numerous configurations. The press release has in red "Now why didn't I think of this?" but of course I did! Just not nearly as well thought out or designed.
The basic concept is a wall plate incorporating a threaded protuberance over which screws what looks like a camera lens. You unscrew it, put the A.C. plug through it and into the socket and then screw in the "lens", which holds the plug parallel to the floor and securely in place. It definitely solves a problem facing many people reading this. I'm sure of it.
The basic C-Lock (along with all of the variants), available on the Block Audio Website costs $49. You supply your own power socket. Going through the options can bring you to $395 for C-Lock SE2 D (Duplex) which includes a Furutech GTX-D NCF (R) Power Socket.
As you'll see there are many, many variations, some of which may not be compatible with your existing sockets but no doubt you can find some that are—unless you have dual-duplex type wall sockets, which is what I have, so I couldn't actually use the supplied SE D which features a standard 20 Amp power socket and a milled aluminum faceplate. As you can see, the ring partially blocks the upper socket. For use with multi-socket power conditioners, the C-Lock SE single socket for $125 or the $349 one with Furutech GTX-S NCF (R) makes the most sense.
….. Though of course as "everyone knows", socket quality cannot possibly make a sonic difference. I just wish Block Audio made dual-duplex versions because I think that's what many of you have on your wall.
<!- ------------------------------------>