Bring Out Your Dead! Which Grateful Dead is Best?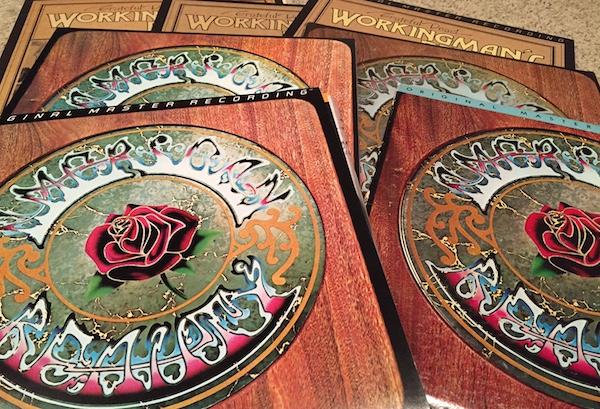 Workingman's Dead
and
American Beauty
have long been considered to be the two Grateful Dead albums for people who don't think they like the Grateful Dead.
Instead of extensive, some would say self-indulgent noodling jams or psychedelic roller-coasters the group offers up concise, well-constructed country/bluegrass/rock tunes with verses, choruses, hooks and folky multi-part harmonies inspired in great part by their pals Crosby, Stills and Nash. These two tuneful albums, redolent with pedal steel guitar, have well-stood the test of time both musically and sonically.
I admit it: I haven't played Workingman's Dead in many years (could be decades). When you want to know how much better your stereo is now than in the past (especially your vinyl front end), pull out and play a record you've not played in a long time. The difference between what my memory produced and what the record actually playing delivered was huge. I heard so much that had previously been buried, not to mention an overall presentation that was more tactile, spacious, and especially three-dimensional.
Originally issued in 1970, Workingman's Dead (Warner Brothers 1869) on the green keystone label, the album, for some mysterious reason hasn't had a vinyl reissue (at least that I know about) until Rhino did one a few years ago, mastered by Chris Bellman at Bernie Grundman Mastering and more recently by Mobile-Fidelity on a double 45 set. Both of these were pressed at RTI.
Coming directly after the epic improv of the group's second album Aoxomoxoa the record signaled an abrupt shift. It was recorded in a few weeks in February, 1970 at Pacific High Studios and released that spring. It was a commercial and critical success. An album that begins with "Uncle John's Band", ends with "Casey Jones" and has no filler in between provides pleasure every play and the sound is "ear-delicious" with the vocal harmonies spread across the soundstage and the harmonically saturated acoustic instruments floating in 3D space.
I compared an original green label WB cut by Kent Duncan ("KD", who later acquired Artisan Sound in 1979 when the founder and original owner Bob MacLeod Jr. retired) with Chris Bellman's cut and with Mobile Fidelity's double 45 cut by Krieg Wunderlich (MFSL 2-428). I did this on two turntables fitted with different cartridges driving different phono preamplifiers and here's where this job gets difficult but not nearly as difficult as what's faced by the mastering engineers.
Are they cutting for the guy with the full range system like mine? Or for the guy with the two way floor standers? By the way, I'm always surprised when I point out to long-time fans of this album that the smokestacks and spewing smoke on the cover have been crudely penciled in.
Here's what I found: the original pressing cut when the tape was fresh is (not surprisingly) superb sounding. The group has always cared about great sound and no doubt was involved in every step of the original's production. Forty five years later the tape still sounds very good but neither Chris Bellman's nor Krieg Wunderlich's cut manages the upper frequency air and sense of "floatiness" managed by the original. The Rhino cut at 33 1/3 sounds very good but somewhat pinched in the middle and lacking in the original's air. It somewhat compensates with greater detail, more precise transients and somewhat greater dynamics.
Here I think the Mobile Fidelity at 45rpm wins over the Rhino: dynamics are greater, the staging wider—in places almost 3D wraparound and the midrange manages more of the original's bloom—but on the downside I found the bass, especially on side 1, cranked up a bit too much for a full range system. Picky, picky, picky. So I'd say if you have a clean original (good luck), you're all set and if not I'd get the Mobile-Fidelity. On the other hand if you have the Rhino, unless this is your absolute all time favorite, you're really good to go.
American Beauty
Recorded at Wally Heider's in the summer of 1970 just a few months after Workingman's Dead release, American Beauty doubled down on the previous album with more assertive bass lines, even greater instrumental precision and an overall drive that was more reminiscent of the group's earliest releases but without losing the tuneful accessibility.
The record is worth owning just for the mystical, meditative "Box of Rain", the song that first popped into my mind upon hearing of Jerry Garcia's passing but the rest of the record is equally worthwhile musically and lyrically. And again the CS&N influence is unmistakable. And yet again the cover art plays tricks with your mind. "American Beauty" is a rose variety and there's a rose on the cover but "Beauty" can also be read as "Reality".
Stephen Barncard replaces Bob Matthews as co-producer with the band and he engineers at Heider's, which produces a more closely miked and distinctly imaged production with greater bass weight, definition and extension. Workingman's Dead somewhat mellow sound gives way to greater overall sonic precision, sharper transients, wider dynamics and a top end that can slice a bit particularly on sibilants. This is true on the original as well as on all of the reissues but the overall effect produces a floating 3D Jerry Garcia projecting into your listening space that's life-like.
I compared the original WB keystone green label release (WB 1893) mastered at Artisan Sound (no individual credited on the lead out groove area) with the '70's era Mobile Fidelity reissue pressed on JVC "Super vinyl in Japan (MFSL 1-014) and with Chris Bellman's Rhino cut as well as with Krieg Wunderlich's double 45 cut for Mobile Fidelity (MFSL 2-429).
Again, the original Artisan Sound cut is damn good but it's dynamically somewhat compressed. The original Mobile Fidelity reissue is much better. It's easily one of the greats from the original Mobile Fidelity regime with greater dynamic range, transient precision, overall detail and especially three-dimensionality. The better my stereo gets the better that edition sounds.
Chris Bellman's cut for Rhino splits the difference between the original pressing and the original Mobile Fidelity reissue in the best sense of the phrase. The CB reissue has greater dynamics than the original and greater transient precision as well but its tonal balance is more reminiscent of the original's while the original Mo-Fi is slightly hyped on top but not to the same degree as some of the original Mo-Fi's more grotesque top end cuts (like The Beatles box set).
The CB cut has good kick drum definition and textures as well as overall bottom end definition and dynamics—bettering both the original and original Mo-Fi reissue. CB's cut has more precise high frequency transients as well (listen carefully to the cymbal work on "Friend of the Devil" for instance) compared to both the original and the original Mo-Fi, which is somewhat surprising given the tape's current age and the ½ speed mastering process's advantages in the high frequencies.
The new KW double 45 cut takes things to the max: maximum dynamic range and high frequency extension rivaling the previous Mo-Fi plus low-level detail resolution that's extraordinary. The price paid though is a slight bit of vocal harshness that can become distracting and even painful on vocal sibilants especially if you play at high SPLs.
So here, of the two recent reissues, overall I prefer Chris Bellman's cut on my stereo. You may come to a different conclusion on yours.
To sum up: green label originals of both albums are really good and if you've got clean copies, unless you are total Dead devotees, you're set. Of the two Workingman's Dead reissues, I prefer Mo-Fi's double 45 to the Rhino 33, but for American Beauty, I'd give up some of what the double 45 maximizes for the easier on the ears Chris Bellman cut. Again, while I think your reaction to hearing these records on my system would be identical to mine, you may come to different conclusions on yours.
The bottom line is: we are so lucky in 2015 to have two great AAA reissues from which to choose, not to mention easy Internet access to original pressings. BTW: I thoroughly enjoyed listening to these records again and again and again.
BONUS GRATEFUL DEAD SONG PARODY by MF:
"Sugary" by Jerry Gorilla and the Eternally Dead




<!- ------------------------------------>