Charles Lloyd On Record Part 1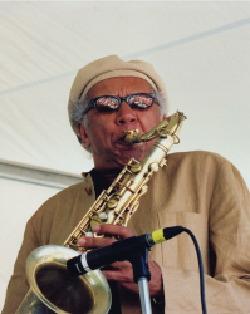 Editor's note: The album covers accompanying this survey appear separately in our "photo gallery" which can be accessed near the bottom of the home page. We are proud to have Elliot Kallen's byline appear on musicangle.com
(This is a survey of the recorded output of saxophonist Charles Lloyd, from his first appearance on record with the Chico Hamilton band to his present work on the ECM label as leader. As such, it's not a detailed listing of every single date he's done, merely my personal choices for content, interest, or historical context. I've used the framework of an interview with Lloyd to flesh out some of the circumstances and musical environments that helped produce the albums. In other words, if I've left out one of your favorite Lloyd sessions...get over it.)—EK
In the middle 1960's, Charles Lloyd's jazz group was a bona fide phenomenon. Audiences connected with their vibrant blending of jazz improvisation and propulsive rock rhythms. They were the first jazz group booked into the premiere rock palace of the day, the Fillmore Auditorium in San Francisco. They brought their heady concoction of musical freedom to virtually every corner of the globe, and were received as avatars in the process. Critics were often divided, but the audiences, mostly composed of younger people, were immediately drawn to the band's sound. An album recorded live at the Monterey Jazz Festival, Forest Flower, sold like a rock album.
And then, just when it seemed that Lloyd had all the cards stacked in his favor, he walked away from it all. Like other jazz legends (Sonny Rollins and Miles Davis, to name a couple) he had his own, specific reasons for wanting to lower his profile for a while. Through the 70's and 80's, he stuck his head above ground just often enough to remind us that his voice was still vibrant, that his musical quest was ongoing.
Since 1989, he's been part of Manfred Eicher's stable on the ECM label, the longest-lasting, most prolific, and probably the most important relationship that Lloyd's had artistically with any record company, and the results have been stunning. His 2000 release, The Water is Wide, has garnered almost universal acclaim, and the follow-up, Hyperion with Higgins, had similar responses. His latest 2-CD release, Lift Every Voice, goes even further in exploring the atmospheres and nuances of classic Afro-American music, from Gospel to Marvin Gaye.
I've been a fan of Lloyd's music for many years, and I approached the opportunity to interview him, and ask about his life journey, with eagerness. The interviews themselves took place over the course of several months, ranging from simple phone conversations (often spanning a few hours at a time), to a wonderful visit to the beautiful home he shares with (and was designed by) his wife and partner Dorothy Darr in the hills above Santa Barbara, California.
The sound of the South is present in every consonant and cadence of Charles' voice, and it's equally present in his "other" voice, the one teased, coaxed, and torn from metal and reed and always immediately identifiable as his. Not just a regional accent, mind you, but a whole approach to communication fostered by the rhythms and climate and life growing up in the musical Mecca that was Memphis, Tennessee in the '40's and '50's. When you first encounter Charles, your brain tries to separate the idioms and rhythms of his speech from this urbane, highly articulate man who, in any other life would probably have been the abbot of a Zen monastery or a college professor. Soon, however, you come to accept that these are essential parts of his being and musical vocabulary.
With mentors like Phineas Newborn and Booker Little to give him an early sense of direction, Lloyd's mother encouraged him into an arena not normally occupied by jazz players—that being a formal musical education at USC in Los Angeles. With an emerging career in the world of musical academia looming large, he left Southern California in 1960, taking his first important step into the public eye (and ear) to join drummer Chico Hamilton's band. Hamilton had garnered acclaim for an innovative use of instrumentation (often dubbed "chamber jazz"), and, with Lloyd's classical training, this seemed like it might be a good mix of players.
Chico Hamilton: Irma la Douce / Bye Bye Birdie
Columbia CS 8390
EK: Let's start with Chico. How'd you get the gig?
CL: Buddy Collette called me. Eric Dolphy was leaving to join [Charles] Mingus. And Buddy's like...a spiritual father to Mingus and Eric and myself and James Newton and a lot of others. He's a guy who studied hard, worked on his music, and his character, and he'd worked with Chico earlier. He had a couple of kids that, I think, he was raising by himself so he couldn't leave LA. He'd send us out but he'd stay in California, working in the studios. He was special, helping others realize their dreams. So when Chico called saying "Buddy, I need you to come out to New York", Buddy said "I can't make it, but I've got this young guy named Charles Lloyd, he's teaching now, but I'll call him". I had actually auditioned for Chico's band prior to this, so he knew who I was. He called me and said, "I know you want to play, so here it is!". That's how I got with Chico.
EK: So the first album you did with him was Irma la Douce / Bye Bye Birdie
CL: Absolutely, with Teo Macero producing. To be honest, I don't remember much about it. I think I arranged a couple of tunes. But that's one of those ideas that record producers come up with. They think, "Hey, let's jump on the show tunes bandwagon". We did the same thing with Cannonball later on...
EK: Fiddler on the Roof!
CL: Right!
As mentioned, this album is really a collection of tunes from the two hit shows of the day, revamped as vehicles for jazz solos (some much more successfully than others). There's some nice flute work from Lloyd ("A Lot of Livin' to Do"), and his arrangement of "Baby, Talk to Me" is effective (although the cello just gets in the way) but, sadly, some gratingly bad intonation conflicts between guitar and cello make the LP almost unlistenable. (Doubly sad because it's also a good, Kind of Blue / Time Out-era Columbia recording.)
Chico Hamilton: The Chico Hamilton Special
Columbia CL 1619 / CS 8419
11/28-29/60
EK: The second album was The Chico Hamilton Special. Chico was still using a cello in the group.
CL: Yeah, a quasi-chamber sort of group.
EK: This was late 1960. You were playing alto then and, to my ears, on that LP, much like on the previous LP. It almost doesn't even sound like your voice, like you were still playing to fit someone else's concept. More straight ahead hard bop lines...
CL: You may be right! I was a young man, with dreams and aspirations of my own, but Chico's direction was something I was trying to be respectful of. So maybe I hadn't yet... "gone over…"
CL/EK: (Laughter)
CL: To be candid, though, I never really fit into that concept he had. He had a couple of [Billy] Strayhorn pieces, like "Something to Live For", that Strayhorn himself had arranged for him that I found interesting, but it wasn't calling me. Not much was happening for me with that direction. So, soon after that album, I decided to leave the group.
EK: So Chico (then) "made you an offer you couldn't refuse"?
CL: I think it had to do with the kind of response the audience was giving me during our live performances. I guess he just didn't want me to leave! But New York was calling me; all my heroes and friends, [Billy] Higgins and Ornette [Coleman] and Eric had moved to New York. It was the fifties, and all of us were sort of musical outlaws, and I didn't find much to do in California anymore. It seemed like I was sleepwalking there. I just felt the call to the East, you know? Chico was still based in California, but when I moved to New York, he did too!
EK: So, in order to keep you in his group, he asked you to be his musical director...
CL: When he offered me that situation...I mean, as a young man, to be offered your own laboratory like that, what else could I do? I was able to bring in the musicians I wanted, like Gabor [Szabo], Albert Stinson, and trombonist Garnet Brown at first…
EK: And then later, George Bohannon...
CL: Yeah...
Lloyd shines on "Don't Get Lost", a simple relaxed, walking-tempo tune that opens the album. His sax solo - bluesy, vocal, even conversational, often reaches into areas beyond conventional hard-bop lines. The cello, thankfully, is mainly kept in the background for timbral color. There's good interaction here between Lloyd and Hamilton, with the latter supplying fine support for Lloyd's solo work. The blues-based "Afternoon of a Breeze" also provides an excellent opportunity for Lloyd to show off his flute chops.
Various (incl. Hamilton): Jingle Bell Jazz
Columbia CS 8693
5/61
This is a well-meaning collection of Christmas-themed tunes arranged for jazz groups as varied as The Dukes of Dixieland (doing "Frosty the Snowman"), Duke Ellington, Lionel Hampton, Lambert, Hendricks, and Ross, and other artists from the current Columbia roster.
The Hamilton group's "Winter Wonderland" is an easy-going teaser, but Lloyd manages to take it to unexpected places. His playing is more directed, more confident, and really commands our attention from start to finish.
At this point, Hamilton must have realized that the "chamber jazz" approach had outlived its welcome, with the cello becoming more of a distraction than an asset in the group. The audience was obviously enjoying Charles energy, so Hamilton decided to "go with the flow" of this new, and younger, vision of the band. (Not that he was without a strong ego of his own; note that on every album this group issued, it's only Hamilton's face that graces the front covers).
Chico Hamilton: Drumfusion
Columbia
2/62
EK: The first album with the new lineup was Drumfusion. Now the cello is gone, your compositions are starting to show up, and the feel of the music is quite different...very open and very much "pushing the envelope" compared to what Chico had been into.
CL: Yeah! I've always said that this is the music of Freedom and Wonders! This was the time of Freedom Marching [the Civil Rights Movement] in the South, and I'm a son of the South, so I'd been through that. But also, there was this "cry" in the music, this quest...I guess I was a young man trying to break down the barriers.
EK: On Drumfusion you also make your first appearance on tenor sax. What prompted the switch from alto?
CL: Well, as a youngster in Memphis, there were guys like Frank Strozier, Andy Goodrich, George Coleman—a lot of great alto players when I came up. Frank used to whip my butt every day at school...musically, that is!
CL/EK: (Laughter)
CL: He was amazing... He had somehow synthesized Bird and Lee Konitz!
EK: Whoa...
CL: So, when I got to California, there was Ornette and Eric, other guys, too, like Jackie McLean. But, as a young man, and I don't mean this to sound egotistical, but I got to the point where I didn't like anybody's alto playing better than my own! And that was dangerous for me. Then I had the examples of all the great tenor players of the day: maestros Rollins and Coltrane, and through them, I realized that, with the tenor, I'd have more range to deal with. Coltrane's spirituality really connected with me. I could see more possibilities.
The music on Drumfusion is fundamentally different than on the previous albums: more propulsive, more urgent, and, as Lloyd points out, more "free." The players are given much more room to explore and develop their ideas. On Lloyd's "One for Joan", his playing is not only "looser", but also more dynamic than on Special. This is Charles given the necessarily sympathetic environment he needed to "open up" as a soloist. His arranging and compositional skills are also brought effectively to the forefront (check out the cool "car horns" chorus in "Freedom Traveler", a wonderful, two-part piece featuring Lloyd on both flute and tenor).
There is much of Coltrane to be heard in Lloyd's playing on tunes like "Homeward", but he still makes it clear he's his own man with his own voice now, his playing transcending his influences. Speaking of influences, some obvious East Indian references crop up, especially from guitarist Szabo, in tunes like "A Rose for Booker" (also a nice flute vehicle for Lloyd). Charles' sax on his tune "Transfusion" (which began life as "Island Blues", a tune Hamilton's group used to announce their set breaks) is supremely confident and particularly adventurous (great guitar and bass solos here, too).
Chico Hamilton: Passin' Thru
Impulse A-29
9/62
EK: The thing about Passin' Thru is that the tunes have started to open up even more. They're longer, and take their time developing...the group seems to be taking more chances musically.
CL: Yeah! That's true!
By late 1962, Hamilton's new group had really begun to gel. The rapport and subsequent musical interaction of each band member is evident on virtually every tune. The lively title tune, "Passin' Thru", features fleet melodic lines, and is really a simple ostinato over which the group can respond to each new idea as it's presented. Here, in particular, listen to Lloyd and Szabo play off of one another. Trombonist Bohannon gets a fine showcase on "The Second Time Around", cementing the impression that he's a more appropriate choice for the new group.
At this point, Lloyd's "Transfusion" was as comfortable for the band as an old shirt, and the version here, though shorter than the previous album's, has a completely different appeal being more groove-based and laid-back. Meanwhile, Szabo delves ever more deeply into the Indian raga influences on his own "Lady Szabo" (his own influence on guitarists Larry Coryell and John McLaughlin, among others, is obvious).
"Lonesome Child" is a bluesy, almost hymn-like take on the classic, and very much in the mold of Lloyd's current explorations on ECM.
Chico Hamilton: A Different Journey
Reprise R 6078
1/63
EK: And then, the album after that was A Different Journey and the tunes are yours! To be honest, it seems to me that, though it's Chico's name on the front, it could just as easily have been under your name as leader! Strangely, this one came out on Reprise rather than Impulse. How come?
CL: I think Chico had some association with Sinatra through Lena [Horne] and Reprise was Sinatra's label. I think they gave Chico a shot and probably some kind of budget, so I got this commission to write this music, and I was very excited to be doing all the music for the album.
EK: Yeah, and a lot of those tunes have cropped up later on in your career, like "Sun Yen Sen", "Voice in the Night", etc. The album was also a good showcase for George Bohannon. He was amazing...
CL: Yeah, the thing about Garnet Brown's conception was that it was too staccato for me and maybe a little limited for my taste.
EK: And Bohannon's playing was more legato and fluid...
CL: Yeah...
For the Lloyd-directed Hamilton group, this is where it all comes together. It's an innovative, involving album of Charles' compositions and arrangements, and remains one of my favorites. As mentioned, many of the compositions making their debut here will turn up later in Lloyd's repertoire (see the Charles Lloyd Song Decoder sidebar).
"Sun Yen Sen" was named for a favorite Chinese restaurant in San Francisco. Aside from the excellent ensemble work and arranging, it features a great Bohannon solo as well as a beautiful tenor solo from Lloyd. "Voice in the Night" is one of Charles' most enduring compositions—a spacious, emotional ballad that highlights how comfortable he was getting to be on tenor sax. "A Different Journey" brings him back to the flute and has a fine guitar solo. Bohannon, Lloyd, and Szabo all make excellent use of their solo spots on "The Vulture", and "One Sheridan Square" gives the bass player some, too (along with a burning Lloyd solo!).
Chico Hamilton: Man From Two Worlds
Impulse A-59 / AS-59
12/63
Man From Two Worlds—back on the Impulse label—takes up where the previous album left off with more Indian raga-styled lines creeping into the title tune (it's also a great showcase for Lloyd's mastery of extended sax techniques). All of the pieces are, once again, Lloyd's, and his best-known tune, "Forest Flower," gets a treatment here that's very close in conception and execution to the famous version of three years later. It's truly informative playing them back-to-back. Frankly, I prefer Lloyd's solo here, although the Hamilton solo in the "Sunset" section seems strangely out of place. "Mallet Dance" is, essentially, a dialogue between Lloyd and Hamilton, and a rare opportunity to hear how well their musical rapport had developed after a few years. This was to be Lloyd's final album with the Hamilton group (though he did return a few years later for a brief appearance on Hamilton's Chic Chic Chico LP).
Charles Lloyd: Discovery
Columbia
5/64
EK: You've had some real strange times with record labels! Tell me how you wound up back on Columbia for your first album as leader.
CL: Well, that has to do with what happened when I moved to New York. Like I said before, all my heroes were there; I had this kind of "Holy Grail" thing in my mind about what things would be like there. But the reality didn't match up with the picture in my mind. To see many of my musical heroes with holes in their shoes, and the difficulty of day to day existence... And I remember, I was at Birdland, and I saw J.J. Johnson standing near me and I walked up to him and I said, "Pardon me but, what IS this? I graduated from college, I'm devoted to this music, and I come here and it seems like it's treated in such a shabby manner. There's a real lack of respect for this beautiful tradition." So J.J. said, "Why don't you go up and talk to the folks at BMI?" See, he knew I was a composer. So I went up to BMI and when I got there, there was a guy named Bert Korall who came out and introduced himself and invited me back into his office and there, on his desk, he had Chico's LP Drumfusion! So he knew exactly who I was, that I was "stirring things up" and they appreciated what I was doing! So they asked what they can do for me and I say "I'm a composer, I graduated from USC, I'm playing this great music, blah, blah, blah" and Bert says, "So, what's the problem?" and I say, "Well, I can't pay the rent!"
EK: ...that's a problem!
CK: And, you know, it was OK when I was out with Chico on the road, but you don't really make any money, and that's not what I was in it for, but I just wanted to able to live my life... Anyway, they signed me up at BMI and gave me a small advance of $500.00. That was helpful in those days—my rent was only a $100—if you can imagine that for rent in the Village back then...Musicians could live in New York in those days...It was a little community there. Anyway, Bert made the suggestion that I go and talk to George Avakian, that he might be able to do something for me. Avakian, at the time, was doing A&R for Columbia, so he had a lunch meeting with me, and I guess he was impressed enough to put together a small budget, like $2500, for an album. It's weird, though, 'cos he sat on Discovery, that first album of mine, for a long time. I was still with Chico at the time, but that LP didn't come out for about two years! By that time, George was working with Sonny Rollins at RCA, so maybe I was the "hot young player" that he was bringing along... Maybe he saw that, when I went with Cannonball, I was getting more attention and he thought the timing was right, I don't know... Basically, he sold the masters of Discovery to Columbia.
The Discoveryalbum is a mixed bag, though not through any fault in Lloyd's playing—he's brilliant throughout. For his sidemen, however, he chose a group, including Don Friedman on piano, Eddie Khan or Richard Davis on bass, and Roy Haynes or J.C. Moses on drums, which had little experience playing together, certainly not enough time to form the rapport that was so necessary for much of Lloyd's music. A case in point is the album's opener, another take on "Forest Flower", but this time taken at a much faster tempo. Lloyd's playing is absolutely inspired, but the rest of the group struggles to keep up with him, and the tune quickly loses cohesion, until it finally, inevitably, grinds to a messy halt, completely cutting off the entire "Sunset" section of the tune. The album's ballads fare better, as with the gorgeous, understated "How Can I Tell You?" and Lloyd's "Little Peace", with it's pensive flute intro. His "Love Song to a Baby" gets a better reading here than a version that appears on Man From Two Worlds. Another of Lloyd's signature tunes, "Sweet Georgia Bright," makes an auspicious debut, marked by a superb sax solo, and "Ol' Five Spot," minus the piano, veers easily into Ornette Coleman-like territory, finding surprises around each corner, including an impressive display of saxophone multi-phonics (The Five Spot was a famous club and hangout for the jazz avant-garde at the time). NOTE: For you vinyl addicts, there's a decent 180-gram reissue currently available, but the more preferable original 2-eye Columbia shouldn't be that difficult, or expensive, to find.
Cannonball Adderley: Cannonball Adderley - Live!
Capitol ST-2399
8/64
EK: And how did you wind up with Cannonball?
CL: Yusef Lateef was leaving his band and he'd had his eye on me for a while. He had his spies, his rhythm section, [bassist] Sam Jones, [drummer] Louis Hayes, [pianist] Joe Zawinul, that he'd send to clubs to check me out. At one point we were both in Philadelphia, me with Chico at one club called Pep's, and Cannon was playing at the Showboat around the corner. And during the breaks, they'd come by Pep's and hang out but, at the time, I didn't think anything about it, 'cos that was something you just did: between your sets you'd run around and hear Monk's band, Trane's band, whoever was around at the time. Anyway, an intermediary called on Cannon's behalf and set up a meeting for the two of us and we met at this guy Pete Long's apartment. Cannonball said to me, "Look, man, I really love your playing and I'd like for you to join the group. I think you're going to be one of the major cats in our music. You can also bring your compositions, and I'll put your name up with my brother and myself." He was recruiting me, and I had to think about it, 'cos for three years I'd had this great laboratory to work with in Chico's band, but I finally decided it was time to move on. And Cannon was cool, he was sort a courtly gentleman, kind of coming from another world.
EK: From the records I've heard, did you find that, playing with Cannon's group, you didn't have a lot of the creative freedom you'd had with Chico's band?
CL: Yeah, I didn't! And, the first time I played with them, they played LOUD! They were out there seriously knockin' it over! They were playing at such a volume level I couldn't hear what I was playing at first. Louis Hayes was POUNDIN' back there, and Sam Jones and Zawinul were pumping out these bebop changes...they were such a well-oiled machine. It was a shock to my system! I kind of had a breakthrough because of this. I found a way to cut through it all, to project myself, and I think my sound became stronger because of this.
EK: Self defense!
CL: Yeah, survival! Once I learned to do it, it was like shooting an ant with a cannon after awhile!
EK: Didn't you do some gigs with that rhythm section?
CL: Yeah, we'd do off-nights in different towns, we'd go play someplace like Toronto for a week, and I'd take Sam, Louis, and Zawinul and we'd take no prisoners! Man, it was something! We'd play my tune "Voice in the Night" sometimes and me and Zawinul would be out front playing stuff like Edgar Varese! He'd be playing inside the piano and I'd be making sounds... it was great! Zawinul really understood what I was doing. He was truly poetic!
The album kicks off with Nat Adderley's "Little Boy with the Sad Eyes", and the first note you hear (after Cannon's brief spoken intro) is Lloyd's flute, stating a slow melodic line that's gradually built upon until Zawinul's piano makes a brief but beautiful declaration and calls the rest of the rhythm section in for the tune's playful head. Nat takes a succinct solo, followed by one of Cannonball's patented, all-stops-out affairs. Lloyd's solo follows Cannon's, and he's obviously not at all intimidated by the preceding fireworks—he sets to work creating his own, ending with searing cascades of notes that bring much applause from the live audience. Speaking of pyrotechnics, Lloyd's "Sweet Georgia Bright" gets an incendiary treatment here as first Cannonball then brother Nat, (constantly propelled by Zawinul, Jones, and Hayes) simply burn through the nimble chord changes with near-impossible dexterity and focus. Lloyd chooses not to solo on this one, letting the Adderley brothers take the spotlight. The same is true for Lloyd's ballad, "The Song My Lady Sings", as Cannonball eases his way into a beautifully lyrical exploration of the melody, with Nat's muted cornet following in a nicely understated solo. It's Zawinul who steals the tune, however, with an astoundingly fleet-fingered tour-de-force.
As good as the music is, it's still obvious that Lloyd doesn't get much chance to stretch out in this context, and it's no surprise that he did not stay with the Adderleys much longer. He did make one more album with them, though.
Cannonball Adderley: Fiddler on the Roof
Capitol (S)T 2216
10/64
Much like Irma la Douce/Bye,Bye Birdie, this is an album entirely made up of tunes from the famous Broadway hit arranged for Cannonball's group. Again, it's a hit and miss affair, with most of the tunes being inappropriate within a jazz context. There are a couple of surprises, though, including the title tune "Fiddler on the Roof (Tradition)," "Cajvalach," which makes a nice vehicle for Lloyd's flute, and "Do You Love Me?," which gives Lloyd some room to stretch out on tenor sax, and the arrangement for "Sabbath Prayer" gives a nod to Donald Byrd's "Cristo Redentor." Otherwise...a Latin/swing version of "L'Chaim?" Feh! Who needs it?
Charles Lloyd: Of Course, Of Course
Columbia CS 9212
3/65
EK: Speaking of rhythm sections, you brought in Tony Williams and Ron Carter, along with Gabor Szabo, for your next solo album, Of Course, Of Course How did that come about?
CL: I used to go and check out Miles' band, and I'd sit in front of the stage in front of Tony's kit and he was playing the kick drum so hard, POW, POW, that his bass drum would start flyin' away, so I'd put my foot against it to keep it on the stage! But I heard what he was doing and just knew he was someone I could play with. Miles wasn't working a lot at the time, so I knew Tony and Ron were free. So I had these gigs lined up, like this one at the Jazz Workshop in Boston, where I took Tony and Ron and Gabor for a week...we did some great sessions together.
EK: And you had a very different kind of sound than with Cannon's rhythm section.
CL: Yeah. It's like Bobo Stenson told this writer after a gig we did in Frankfurt who asked, "How do you guys do it? What's the conception? How do you all play together?" and Bobo just said, "I don't know, man, we're just playin'." But the thing about Tony and Ron was that, the beat wasn't locked up, you know?
I couldn't have put it better. Of Course, Of Courseis a marvel of sympathetic spontaneity and another personal favorite. The players all have what musicians call "big ears", that is, they listen and respond quickly and inventively to the musical landscape that evolves around them. The phrase also implies that they know when to SHUT UP and let things develop organically. This entire album is a textbook example of musicians with these very qualities. It helps a lot that Charles chose to bring back his friend and former bandmate, Gabor Szabo, on guitar, as well as the dynamic duo of Williams and Carter—both taking a sabbatical from Miles' group. From the first note of the album's title tune ("Of course, of course" was a phrase Lloyd used so much that his fan Bill Cosby actually incorporated it into his act), the atmosphere is one of relaxed camaraderie. The synergy between Lloyd and Szabo is evident in every tune, the pinnacle of which is their duet on "The Things We Did Last Summer." They start with a brief sketch of the tune's melody, then quickly take off into uncharted waters, building upon each other's ideas as they're presented. The original tune soon disappears, and the duo begins shifting in and out of moods as fast as they're conceived. Only someone like Szabo, who'd spent so much time with Charles, could pick up on (and respond to) Charles' sly little snippet of "Island Blues" and make something of it. Listen, as well, to this version of Lloyd's "One for Joan," which quickly reaches a boil (Lloyd's solo is superb), and check out how Szabo and Lloyd improvise an escalating series of cascading phrases that take us into the guitar solo.
Williams and Carter aren't merely along for the ride, though; they constantly egg things along, feeding each soloist exactly what they need when they need it. (Carter sounds uncharacteristically like Ornette Coleman's bassist, Charlie Haden, on much of the LP, including his wry solo on "Goin' to Memphis"). Lloyd's ballad, "Voice in the Night" also gets a beautiful, spacious treatment worth noting.
Charles Lloyd: Nirvana
Columbia
3/10/ 65
EK: Columbia waited until 1968 to release Nirvana
CL: Oh, that was something that escaped...I don't know WHAT that was...I would never have called an album of mine Nirvana.
That's so presumptive. I guess they thought to capitalize on the idea that I was a spiritual seeker. That was just one of those records they released after my contract was up—something they compiled.
And, in fact, Columbia was desperately trying to take advantage of the high visibility and popularity Lloyd's next group was to generate from his most famous albums on Atlantic. Columbia threw together some alternate tracks from the sessions that had produced Of Course, Of Course—along with a few cuts from the earlier Chico Hamilton Drumfusion LP.
Lloyd's move to Atlantic Records was to prove a watershed, not only for Lloyd, but for jazz music itself.
In Part 2 we'll cover the Atlantic years and trace Lloyd's recording career through the '70's, '80's, and on into his current, and critically acclaimed relationship with ECM.
<!- ------------------------------------>