Dave Wilson's WAMM Master Chronosonic Loudspeaker Reaches For The Heavens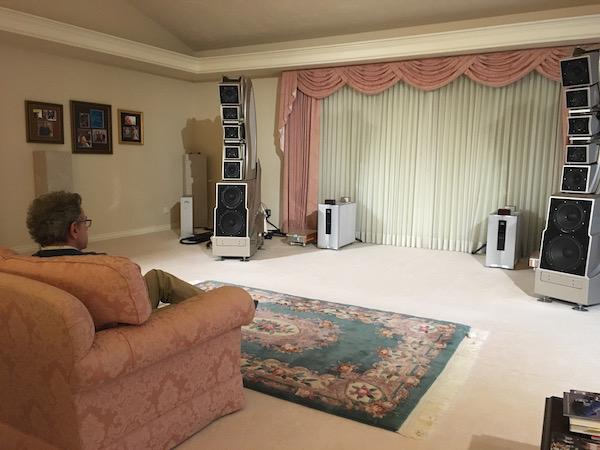 My visit to Wilson Audio Specialties in Provo, Utah this past December 13th to hear Dave Wilson's just announced WAMM Master Chronosonic Loudspeaker took an unexpected detour to the factory, where I was given an official tour by Wilson's Director of Marketing John Giolas.
Without my HD camcorder on hand, I was forced to shoot the video embedded below with an iPhone, that I forgot to orient horizontally so the picture is "width challenged." However, I think it's still useful and I hope you'll watch it.
The afternoon of listening to the new $685,000 speaker was at the home of Dave and Sheryl Wilson, where I'd previously visited with a group of journalists to hear the then just introduced $200,000 XLF.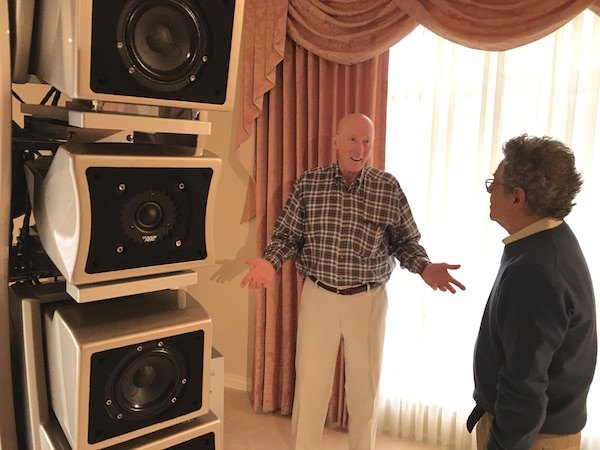 Wilson's original WAMM speaker ("WAMM" stands for Wilson Audio Modular Monitor)—the company's first commercial product— was introduced back in 1985. It was an attempt to build a reference system in both the amplitude and time domains. In other words a speaker that reproduced full bandwidth, flat response as well as time coherency.
To achieve the latter, Wilson pioneered the use of modular, adjustable speaker enclosures that could produce accurate time alignment at the listening position regardless of how far from the speaker the listener sat or his ear height when seated. His innovation was awarded a patent.
With the original WAMM retired a few decades ago, Wilson felt the need for a new "flagship" speaker—if just a pair for his own pleasure (his living room is large enough to swallow pair of XLFs), though overseas distributors might have applied some pressure as well. The new WAMM will be limited to a run of seventy pairs.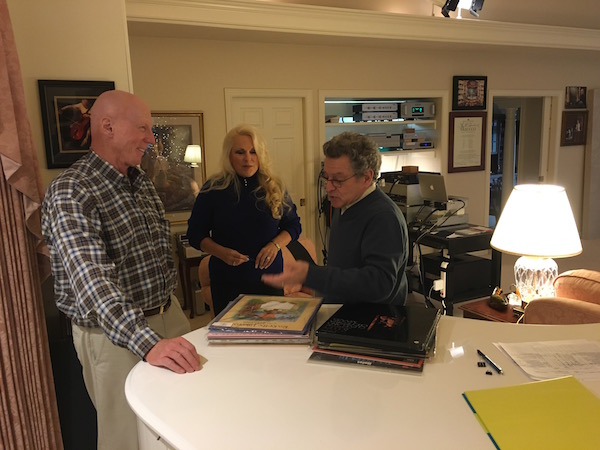 If you follow online audio sites you probably already know something (or a great deal) about these speakers and have read my colleague Jason Victor Serinus's Stereophile coverage.
Over the past few weeks other members of the audio press have also visited the Wilsons to hear and report on the WAMM Master Chronosonics. With Jason already covering the introduction for Stereophile, I was there more to add to my understanding of the recently introduced $105,000 Alexx loudspeaker I'm now reviewing for Stereophile.
Some of the WAMM developments have found their way into the Alexx, which was a project developed by son Darryl. In fact, with Dave so deeply involved in the multi-year WAMM development, he's chosen to step down as President and hand that responsibility over to Darryl, who's also headed other successfully introduced Wilson speakers including Sabrina and Yvette. Sheryl Lee also steps down as Vice-President.
So I spent a pleasant afternoon, volume control in hand, listening with Dave and Sheryl to a pair of $685,000 loudspeakersl. Spiked, these speakers are eighty-six inches (or more than seven feet) tall! Yet they are thinner than XLFs. We listened, we talked, and it was a great deal of fun. We played vinyl through Dave's Basis turntable, vinyl rips I brought, and pure digital sources via a dCS Vivaldi.
I learned that the WAMM and the Alexx use the same woofers and share a few other components and design features. So how did the WAMMs sound? Well it's not a cop-out: I'm not allowed to discuss or reveal anything about my forthcoming Alexx review so, I can't say much other than that if you think a driver array like that can't produce a coherent focused, height-correct image, you are wrong. The WAMM like other Wilson speakers I've reviewed and owned, confirms the effectiveness of Dave's time alignment concept.
Listen, I've run into my share of Wilson skeptics and full-blown Wilson haters. They are a weird bunch (including a few reviewers) willing to give other speaker brands a pass for bad sound at a hi-fi show but always quick to criticize Wilson for same.
I hear them, skeptical of the smooth, almost fairy-tale quality of the father-to-son company transition and equally skeptical that son Darryl is responsible for the recent run of successful, well-received loudspeakers for which he's given credit. Having for well more than a decade been a paying customer, a reviewer, a company observer and a realist, I'm fully onboard with the scenario.
Sure, if you watch the company's YouTube WAMM launch video, you might find it a bit grandiose, but that's the show-biz part of any good launch, whether of a WAMM or an iPhone. The company hand-off and smooth father to son succession may sound fairy tale-ish but if you knew the Wilsons you wouldn't be surprised by it—which is not to say they and the company haven't had their share of tough times and struggles.
What I admire most about them as people and Dave as a designer steeped both in applied science and musical culture, is that he is clear about which qualities of reproduced music he finds most important and he's comfortable with the inevitable compromise/design choices that result from trying to achieve them. He also understands why others make different choices that inevitably result in other compromises.
For as long as I've known Dave Wilson I've always thought that for him, his only competition was Dave Wilson. With the new WAMM Master Choronosnic speaker has he beat the competition? I can't say. Others have, but I have to wait for my Alexx review.
<!- ------------------------------------>