Diving Into the Quality, Reasoning, & Ethics Behind Modern Vinyl Bootlegs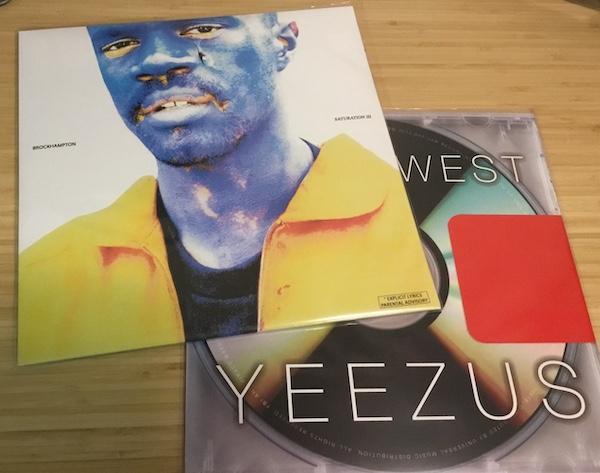 You enter a record store and alphabetically dig through the rap LPs. You reach W: West, Kanye. All of the widely distributed Kanye LPs appear, but of his 2013 cinematic masterpiece
Yeezus
, a "FOR PROMOTIONAL USE ONLY" copy appears. The jacket shows Virgil Abloh's iconic album package design, a red-taped CD case, cropped and blown up to a 12" square. Yeezus
on vinyl?! A promo? For real???
Uhhhh, no.
Enter the modern vinyl bootleg market. During vinyl's peak, labels including the infamous Trademark Of Quality (TMOQ) sold unauthorized live albums and leaks of the era's rock artists, capitalizing on fans' hunger for any new material. To audiences with little information access, TMOQ's stamped covers didn't look especially dubious; after all, official releases soon followed the bootleggers' aesthetic. And because amateur tapers beat the "real" record labels to the live album game, how were fans supposed to tell the difference? Now, leaked material is blatantly obvious; current live bootlegs' jackets don't have TMOQ's neat uniformity, and streaming services now (with some error) distinguish official studio albums from crowdfunded leaks.
What can the bootleggers do now? As vinyl resurges in popularity, newcomers who love the format but know little about its technicalities (not necessarily a bad thing) arrive in droves. They buy records as collectors' items; to have physical copies of their favorite albums, maybe to hang on their wall, to tangibly interact with the art. We all start there in some way, and about the intricacies of the long playing record, eventually learn (or lose our minds). Still, some of these newer, younger collectors' lack of immediate knowledge makes them vulnerable to bootleggers (others are aware of certain releases' unofficial nature, but for tangibility buy anyway). Many popular recent releases, particularly in the hip-hop world, either don't get a real vinyl release or experience massive delays, letting bootleggers fill the gap.
Album Release Situations
Some current bootlegs capitalize on genuine release delays. To prevent leaks, artists nowadays often submit (or even finish) their albums mere days before release. Nobody can manufacture and distribute thousands of vinyl copies in 2 weeks, much less 2 hours. Labels usually follow digital drops a few months later with physical releases, although further delays often occur. KIDS SEE GHOSTS' self-titled album, The Weeknd's My Dear Melancholy, Kendrick Lamar's To Pimp A Butterfly, and J Cole's KOD during those 6-month to 2-year waits all received unofficial vinyl pressings. In its first year of release, bootlegs of Beyonce's Lemonade flooded the market; thankfully, with deluxe packaging, the official release made up for the wait.
Other artists, or the aforementioned artists with their other albums, for their acclaimed work simply can't be bothered to press actual records. Kanye's Graduation, Yeezus, and The Life Of Pablo — all widely beloved albums, mind you — still haven't dropped on vinyl. JAY-Z's introspective 2017 return to form 4:44 got a limited (and now expensive) cassette, but LPs? Nope! (However, I doubt LP sales would reach Hov's goal to give us "a million dollars worth of game for $9.99.") Artsy hip-hop boyband BROCKHAMPTON in a sold out CD box set independently released their SATURATION trilogy, yet rapper/group member Ameer Vann's departure over sexual assault allegations likely kept them from seriously considering vinyl editions (Vann shows on all main SATURATION album covers). For one day only, Frank Ocean took orders on an official Blonde double LP, and refused to expand its availability. That record now commands a minimum of $500. All of these albums are commonly bootlegged; for Blonde, I'd dare to say that there are probably more bootlegs than authentic copies.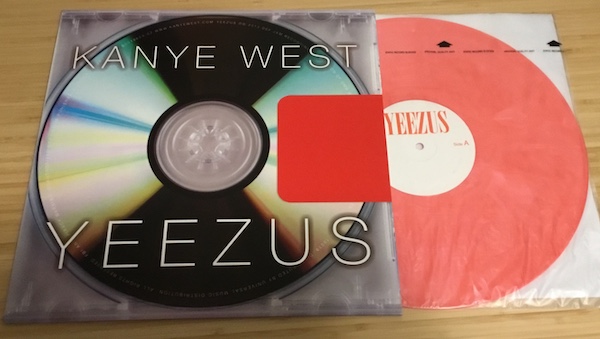 For this article, I bought the Italian "Saturation Records" unofficial double LP of BROCKHAMPTON's SATURATION III on heavyweight brown swirl vinyl (advertised to me as "clear blue" vinyl; $40 plus shipping) and the Rollin' Records edition of Yeezus, pressed on marbled standard weight pink and white vinyl (sold as red vinyl; $30 plus shipping). Any attempts to officially press the SATURATION trilogy remain unknown, but UK design studio and record label LuckyMe (connected to Kanye associate Hudson Mohawke) claims that they, by request, researched Yeezus vinyl packaging specs (after all, no one in their right mind would blow up the image of a CD onto a record cover).
Bootleg Quality
Both of these albums only exist as CDs or 44.1/16 files; no higher resolution circulates (although there is a Mastered For iTunes Yeezus, meaning the 24bit master went through Apple's higher quality AAC encoder). The Yeezus LP is cut either from the CD or a lower quality file of the original 2013 mix, while SATURATION III is from a stream or download (the physical CD contains a little-known alternate early mix of "ZIPPER," while the bootleg LP and stream have the final mix). The former is 40 minutes long and pressed on one LP, while the latter at 46 minutes is spread over two discs (although if done correctly could fit comfortably on one). Obviously, the bootlegs' cutting "engineers" don't etch any runout identifiers, and the pressing quality varies. Rollin' Records' Yeezus pressing is on par with the best from United or Independent Record Pressing, while SATURATION III visually looks awful; abundant "dimples" on the first disc, and lava-like surface "cracking" all over the second, as if someone took crumbs of melted vinyl and from that assembled the molten "puck." The set is noisy but cut loud enough to hide most surface artifacts. The second disc also has a slight edge chip, but it doesn't affect play. Still, what a mess; just because it's made in Italy, doesn't mean it's of luxurious quality! (There must be a reason why we hear about Italian-made high fashion instead of Italian-pressed audiophile-grade records.)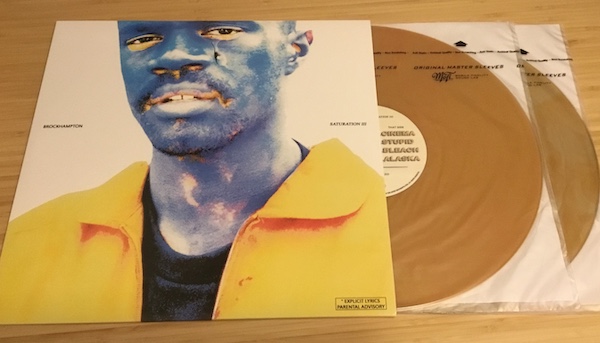 Now, the sound quality report. The Kanye record sounds like a veiled and spatially dry MP3, with an annoying delay throughout (the closing "uh-huh honey" sample on "Bound 2" distantly repeats itself a few times). If anything, Yeezus should sound harder and generally brighter - its aggressive character demands it. The BROCKHAMPTON double LP is timbrally well balanced; I wouldn't be surprised if this was DMM-cut (for lower resolution sources, haphazardly prepared lacquer cuts muddy up the sound while Direct Metal Mastering often provides a more accurate if sometimes unpleasantly bright tonality). It sounds quite similar to the file; however, the drums are thinner, an extended silent gap between songs kills the record's hit-after-hit-after-hit vibe, and direct comparison to the box set CD reveals the bootleg's soundstage to be shifted 15-20% right. How did that happen?! As the bootleggers remain anonymous, the world will never know.
The jacket quality on these bootlegs is mediocre, for various reasons. Both are foldover jackets, despite SATURATION III being a double LP (it's like those 80s double LPs where both discs were shoved into a single disc jacket), and weren't die-cut very well, leaving paper shreds whenever handled. Yeezus' jacket printing is low quality, and the cover is ugly. Rollin' Records cropped the digital album art (an image of CD in a red-taped clear jewel case) and applied a tacky font, complete with tacky shadow, reading "KANYE WEST YEEZUS." For an album built as high art (after all, Off---White and Louis Vuitton designer Virgil Abloh devised the minimalist packaging, even showing it in museums), this bootleg sleeve is simply appalling. Further, Yeezus should be the easiest album to package: stick an LP in a PVC sleeve, adhere a red sticker, and you're done. It's unfathomable how the bootleggers chose the hideous option over the less costly, more authentic one.
Slightly better is SATURATION III's jacket, which although faithful to the original cover image has glaring type alterations. The Italian bootleggers chose the standard Ameer Vann cover opposed to the other covers (cover variations exists for most of the official group members); the image resolution is quite good and the glossy cardstock feels like "Saturation Records" applied some care to this. However, "BROCKHAMPTON" and "*EXPLICIT LYRICS PARENTAL ADVISORY" were retyped in a different font. The bootleg back cover's retyped block text is smaller and thinner than the actual back cover text, and the messy airbrushing of "TEAM"'s original block text shows on the featured image. The pirate team saw fit to change the copyright info text, and switched the logos around. Minor issues? To most, yes. Massive fans such as myself notice these differences but those who simply want to hear SATURATION III on vinyl, regardless of legitimacy, may not care.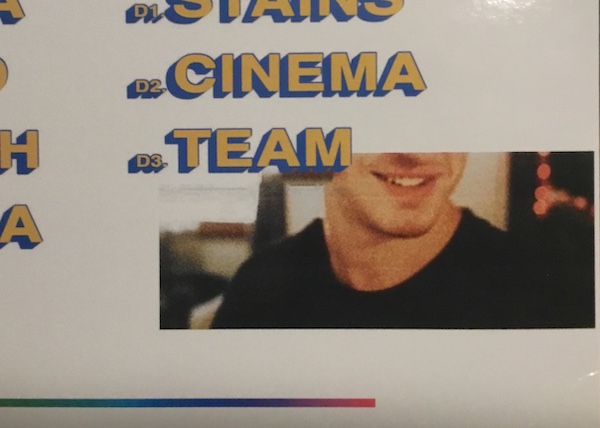 Ethics
Now that we've established expectations for such illicit pressings, is buying them ethical? Because of these albums' release situations, there isn't a single correct answer. For our purposes, we'll assume that for any album in question you've already bought or extensively streamed an official copy.
The most common instinct is "support the artists, and actually buy the official releases in their available format." However, it's the artist and/or label's responsibility to get the most out of their work, and partially their fault if they miss a clearly lucrative opportunity. In the case of Yeezus, Def Jam shoving LPs in red-taped clear sleeves equals printing money; with the album's now-legendary status, issuing a box set of the storied unreleased 3-hour version could perhaps generate Beatles remix-level interest (what other critically acclaimed hit album has a credited God feature?). The rights holders have resources to spot such suspicious releases, yet don't care to stop them. Why not give the people what they want? Purchasing bootlegs could potentially show labels and artists the demand for official press runs, whether sold in-house or licensed to another label. (I'm not exactly supporting these bootlegs' existence, rather adding a perspective.)
Of course, there still is a valid case for "the artist presents you their work in this format, accept its intended presentation." The SATURATION trilogy is perhaps best vibed to on a phone or accompanied by the box set's demos CD and documentary, and Yeezus might be best appreciated in its "open coffin" clear packaging. "Don't buy any brand new copy of the album unless it supports the artist" is another reasonable ideology against these bootlegs, and I can't disagree. Bootleg release ethics could be another full article entirely (especially when you enter the weeds of a theoretical SATURATION official pressing supporting Ameer Vann), as divulging too far into the ethical philosophies here would defeat this feature's overview purpose.
Conclusion
Modern LP bootlegs of albums rare or unavailable on artist/label-approved vinyl are of extreme hit-or-miss quality. The bootleggers might successfully execute one aspect of a release, yet completely botch another three. Are these unofficial releases massively overpriced? Without a doubt, yes. Don't pay any more than $25 for a bootleg single LP or $30 for a double LP. If you are ethically comfortable with purchasing these modern vinyl bootlegs, can accept their quality issues, and desperately want a physical LP of something, go ahead and buy them. Personally, I neither condone nor condemn them; I see problems on both the rights holders' and bootleggers' sides. To save money, I'd wait a few years for a legal pressing (that is, if you have the years to wait) instead of blowing your cash on a record guaranteed to lose value. Currently, I view these bootlegs merely as collection filler to have an artist's complete discography on my LP shelf.
Now, can we please get an official deluxe Yeezus vinyl???
(Malachi Lui is an AnalogPlanet contributing editor, music lover, record collector, and highly opinionated sneaker enthusiast. He just downloaded the first real video game he's ever purchased, and gets nauseated after a few minutes of it. Listen to Malachi's monthly playlist here, and follow him on twitter @MalachiLui.)
<!- ------------------------------------>