Does Vinyl Have Wider Dynamic Range Than CDs? Here's Some Math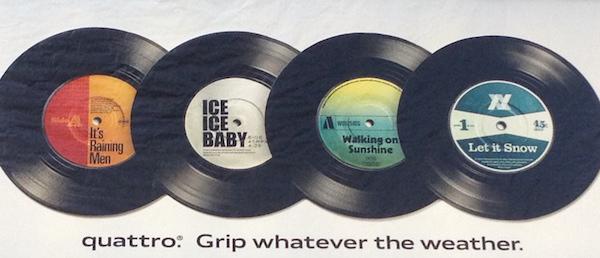 While many of us seem to hear wider dynamic range coming from vinyl, the numbers would seem to point in the opposite direction. Or do they?
Please download and read the attached PDF file written back in 1996 by Ron Bauman, who has a degree in Electrical Engineering from Lehigh University. He argues that vinyl actually has wider dynamics and he's got the numbers to prove it (unfortunately a few pages "went missing" over the years).
In addition he makes some impressively prescient observations and posits that time domain "..may be a more natural frame of reference for audio instrumentation development" (than frequency domain).
The article originally appeared in the April 1996 issue of the now defunct Audio Electronics magazine.
I am attempting to contact Mr. Bauman to get his current thinking on the subject.
(The image, used without permission, is of an Audi display ad at Victoria Station in the U.K. using 45s to recreate the Audi ring logo.)
<!- ------------------------------------>
| | | | | | | | | | | |
| --- | --- | --- | --- | --- | --- | --- | --- | --- | --- | --- |
| | Equipment Reviews | | The Gruvy Awards | | Blogs | Columns | | Show Reports | | News |