ELAC's $700/pr. Uni-Fi 2.0 UB52 Bookshelf Loudspeaker Tells The Truth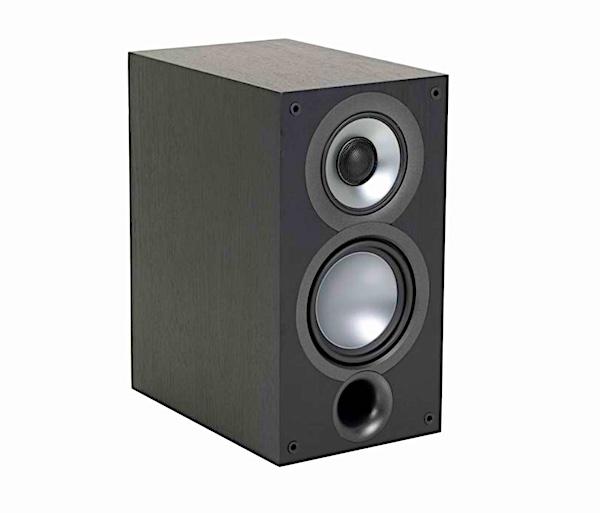 High performance loudspeakers are a trekking pole in an audiophile's lifelong, arduous journey to "audio nirvana"; without them, one won't reach the destination. And while controversy surrounds the discussion of whether one should first stride into high-fidelity audio via spectacular loudspeakers or an exceptional source, one undeniably cannot ignore loudspeakers. If this is news, don't fret. Designed by the renowned Andrew Jones (
Jones announced last July 18th that he was leaving ELAC but he's yet to divulge his next move_ed
), the ELAC Uni-Fi 2.0 UB52 bookshelf loudspeaker meets a growing audiophile's needs. It's a high performance reasonably priced loudspeaker.
The Uni-Fi 2.0 UB52s are 6 ohm, 3-way bookshelf loudspeakers that, measuring 7.28" wide, 13.62" high, and 10.83" deep, manage a claimed 46Hz - 35,000Hz frequency range. The design utilizes a concentric driver—an Andrew Jones specialty—with a 1" soft dome tweeter centered within a 4" aluminum midrange driver. The 5.25" front-ported aluminum woofer, provides ample bass that beautifully meshes with the concentric driver's transparent output.
The black ash vinyl clad MDF speaker baffle houses a front bass port that grants listeners greater placement flexibility. Compromise is foolish when placing these loudspeakers; they demand careful set up and adequate breathing room, preferably atop dedicated stands.
Initially, with the loudspeakers positioned identically to my larger (26"x15"x13") reference Technics SB-X700A loudspeakers—a large 3 way speaker featuring a 12 inch "honeycomb" woofer and 3 1/8th inch "honeycomb" midrange driver plus 1 1/8th inch tweeter featuring a flat laminated-mica diaphragm (for more go here), they were a tonal catastrophe, not to mention that the lower frequencies seemed shy or non-existent.
Voices sounded fake. Instruments lacked any visceral punch (or even a tap). It wasn't an enjoyable experience. However, using carefully selected reference tracks I was able to "tune" these speakers to my room. Pulling them apart altered the mid bass coupling, remedying the previously "fat" tonality. Voices then appeared more realistic and present. Pulling the loudspeakers into the room more introduced the missing lower frequencies. Bass drum strikes now hit me and instruments gained newfound tactility. Painstakingly adjusting toe-in until I achieved both a solid center image and a wide, deep soundstage paid off. Music began sounding like music. Once meticulously placed, the Uni-Fi 2.0 UB52 create music so seemingly full-range, dynamically unrestrained and detailed it feels as if we, the consumers, cheated ELAC!
Jacob Collier - Djesse Vol. 1 & Djesse Vol. 2
After spotting Jacob Collier's "Once You (feat. Suzie Collier)" in Paul McGowan's The Audiophile's Guide's reference recordings list (review coming soon), I contacted my friend and fellow AnalogPlanet writer, Simon Guile, who works at Edmonton's Record Collector's Paradise, asking if he could order Djesse Vol. 1. Luckily, it recently came back in print. A short while later I brought the album home. First, I played the album's supposed reference recording, "Once You (feat. Suzie Collier)," and used it alongside The Audiophile's Guide reference SACD to properly place the loudspeakers. With the loudspeakers sounding significantly better, I ran through Djesse Vol. 1's entirety, discovering another track that proves itself the better recording.
During the review period, Jacob Collier's "Ocean Wide, Canyon Deep," a duet between Collier and Laura Mvula, featuring the Metropole Orkest, became my reference track. Throughout the entire track, the Uni-Fi 2.0 UB52s flawlessly portray the recording. Near the song's beginning, an upright bass plays a somber tune. The loudspeakers let the instrument fully detach from the cabinets and a palpable upright bass image appears near the soundstage's right side, a couple of feet behind the loudspeakers. They don't hold back the low end, either, enhancing the velvety instrument's believability. The orchestra enters appearing behind the upright bass and extending far beyond my listening room's walls and the loudspeakers' outer edges. While the upright bass and orchestra simultaneously play, instrumental separation remains constant. Eventually Collier's airy vocals appear, closer to the listener than the orchestra's image, though centered so as to not intrude on the bass's space.
The loudspeakers present Collier's vocals with generous hypnotical texture, sounding wholly three-dimensional and extremely convincing. From beginning to end, each instrumental addition finds its space and resides there until the tune's eventual calming, peaceful close.
Then, having heard Djesse Vol. 1's sonic wonders, I dove into Djesse Vol. 2. "Lua (feat. Maro)" especially stood out. Contrasting the grand orchestration in "Ocean Wide, Canyon Deep," "Lua (feat. Maro)" showcases smaller, more intimate string performances. The strings on the soundstage are closer due to their smaller size, though they're still behind the loudspeakers and don't interfere with the woody, song-driving percussive rhythms included in this bossa nova piece. Maro's vocals are musically and sonically to-die-for, sounding airy enough to enter your room though thankfully you can't distinctly "hear the tweeter." The Uni-Fi 2.0 UB52s pay equal respect to Collier's vocals. Around the song's midpoint, the vocalists drop out, and a piano swoops in. This piano sounds about as good as recorded pianos come. Tonally, it sounds perfect, neither too fat and sulky or too bright and hard. Much like the loudspeakers themselves, it sounds natural. Not only is truly capturing a piano's tonality difficult, capturing a piano's percussive elements is arguably harder. The raw sound of a piano's hammer striking its strings are often non-existent in recordings. When they are present, reproducing them is tricky. These loudspeakers fly through the piano solo and fool even the pickiest ears (my father teaches piano, I know how one should sound). Everything about the tune sounds natural and lifelike.
Weather Report - Heavy Weather (PC 34418)
For numerous reasons, Weather Report is a legendary group. During their Heavy Weather era, they made history, bringing jazz fusion into the mainstream when rock and disco ruled the world. However, their albums aren't legendary for their recording quality, though by no stretch of the imagination does Heavy Weather sound horrendous; a five person group easily splits across the soundstage. Tonally though, I question Heavy Weather. Much like Big Star's recordings go down in history as excellent though bright, Heavy Weather's high frequencies have too much accentuation. If they're revealing, the Uni-Fi 2.0 UB52s should reflect this. They do. "Teen Town" best demonstrates this. Each instrument clearly has its own space, proving the recording's spatial excellence, but the instruments sound fake. Bass drum strikes resonate throughout the original recording space, but it should sound deeper. A subwoofer (or two) would help distract from this, and after speaking with PS Audio HiFi Specialist, Jake Forsyth, we both agree a subwoofer would certainly on these weaker recordings fill the gaps. Still, I know very well that with these loudspeakers proper recordings need no assistance.
Conclusion
Revealing loudspeakers are double-edged swords; fed proper recordings, the musical presentation appears entirely real, and bridging the gap between recorded and live music requires little to no effort. Given poor recordings, which unfortunately makes up lots of great music, the experience collapses in on itself; the music grips each loudspeaker, creating ping-pong stereo that won't ruin your day or improve it. What good is that?
Loudspeaker designers are essentially tightrope walkers; mastering their craft demands incredible balance. A loudspeaker that is too revealing shines bright (figuratively speaking) on few recordings. That number shrinks as the loudspeaker becomes more revealing. A loudspeaker that isn't revealing enough makes everything sound mediocre. Strike a balance, craft a speaker that's just revealing enough, and fine recordings sparkle while bad recordings are at least tolerable.
With the ELAC Uni-Fi 2.0 UB52 bookshelf loudspeakers, designer Jones finds balance. Thanks to the loudspeakers' outstanding abilities in imaging, depth, frequency range, frequency balance, and nearly everything else under the audiophile sun, ELAC's Uni-Fi 2.0 UB52 balances its way to the tightrope's end—and at a highly affordable price.
(Nathan Zeller is a 17 year-old Beatles fanatic and budding audiophile found in Western Canada. Currently, he's listening to "Lua (feat. Maro)" on repeat using these very speakers. They're that good.)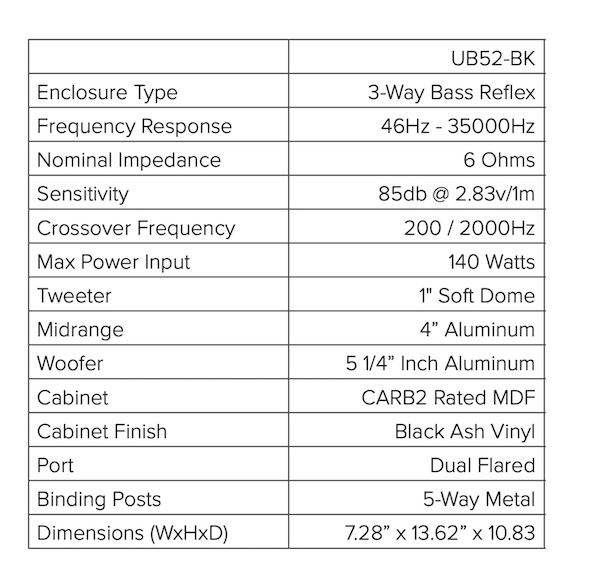 <!- ------------------------------------>