ELAC Miracord Series Turntables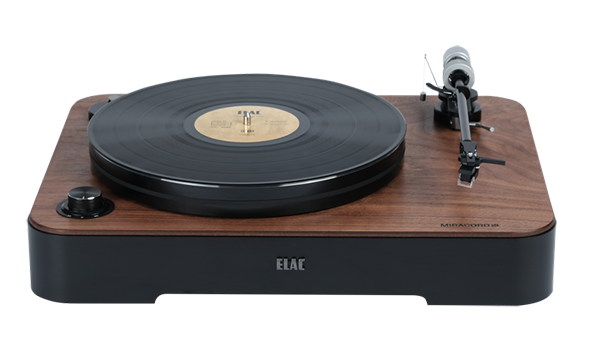 Venerable German manufacturer ELAC returned to form in 2016 by shoring up the relaunch of their vaunted turntable line with the Miracord 90 Anniversary 'table, one that ultimately garnered a well-deserved EISA Award in 2017. While the properly feted 90 Anniversary and its subsequent "regular 90" version are no longer available (and neither is the Miracord 70, for that matter), the Miracord series lives on with a trio of turntables that continue to make good on the ELAC name.
The ELAC FAQs are these. First, ELAC is short for the fuller, proper company name that was adopted post-WWI, ELECTROACUSTIC GmbH. Longtime audiophiles on this side of the Pond will also no doubt recognize the Miracord name hearkens directly back to the mid-to-late-20th-century heyday of the Kiel-based company's rebadged turntable offerings stateside — albeit now with a bit more of a present-day, modernized look. (Also, in case you were wondering, the "Anniversary 90" distinction for the above-noted and deservedly lauded 'table was in direct reference to the company then-celebrating their 90th anniversary, seeing as ELAC was founded in 1926.)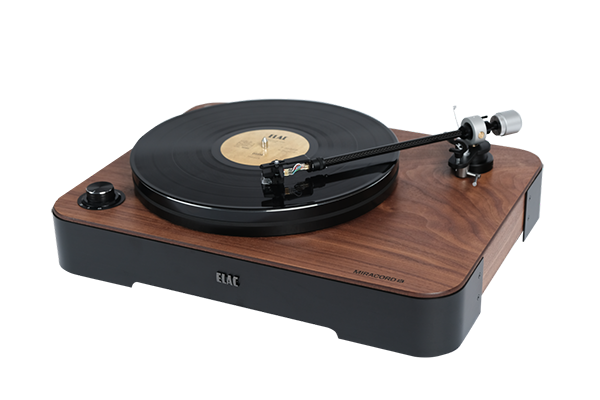 The current Miracord series of turntables includes the Miracord 50 (a.k.a. the MRC-501; SRP $399.98), Miracord 60 (MRC-601; $1,499.98), and Miracord 80 (£2199). The 80, shown above, appears to be sold out at the time of this posting, hence the UK-only SRP listing here, as a reference point — but it bears further scrutiny since the 80 also appears to follow the 90's design specs, with a few notable mods. (If a restock of the 80 is forthcoming, we will update that information here accordingly.)
The belt-driven Miracord 80 turntable is equipped with a redesigned tonearm that sports a 10in carbon-fiber wand fitted with a detachable headshell — something that certainly makes for easier cartridge swap-outs, if you so choose. As with the company's other 'table offerings, ELAC does indeed manufacture the Miracord 80 in-house sans for the carbon tonearm, which comes from "another German firm" (their words — but do feel free to make a more-than-educated guess about who that most likely is).
Additional Miracord 80 specs include a 298mm-diameter steel platter that weighs 5.6kg, 60mm (height-wise, that is) MDF plinth with rounded corners, 470mm-wide milled-wood body, and wraparound brushed aluminium exterior.
ELAC offers two finish options for the Miracord 80: 1) black anodized metal with a high-gloss black plinth, and 2) high-quality walnut veneer (shown here). You'll also get a finely finished metal knob for selecting between 33 1/3 and 45rpm disc speeds, and a visible, external belt that wraps around the metal platter itself (a design choice I personally prefer to see on 'tables like these, truth be told).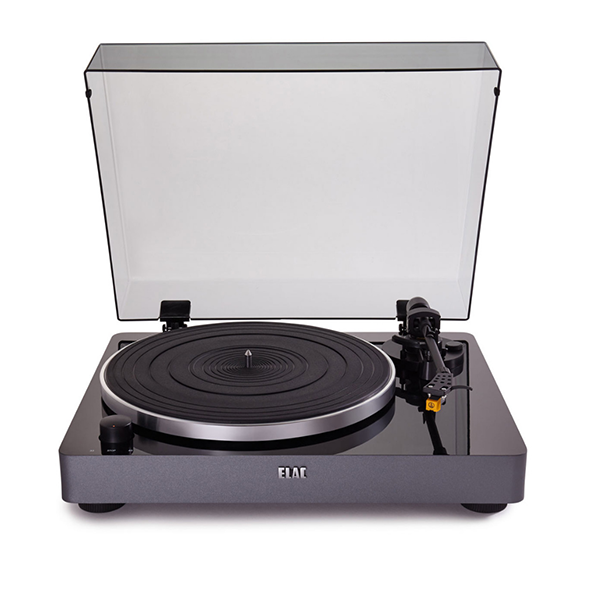 The more entry-level-oriented Miracord 50 'table (which has been around since 2021) features a belt-drive motor and die-cast aluminum platter and a built-in defeatable phono preamp. The precision static balanced, straight-tube tonearm offers a removable headshell and sports a factory-mounted MM phono cartridge.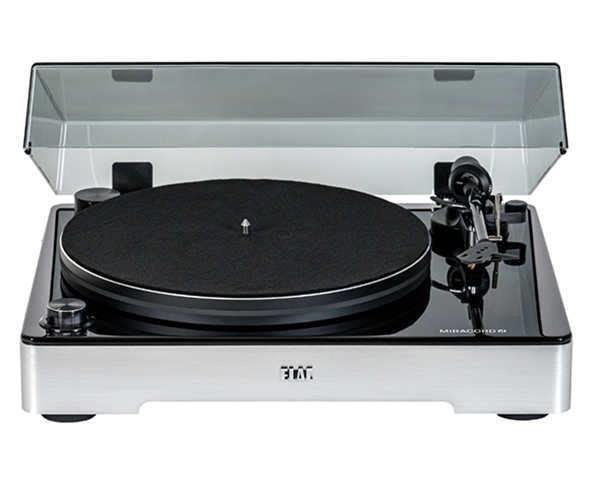 Meanwhile, the step-up Miracord 60, which is also intended to be an heir to the Miracord 90, comes equipped with a diamond chamfered 22mm die-cast aluminum platter, lightweight carbon-fiber tonearm with gimbal bearing and removable headshell, and a built-in optical sensor that sends its signal to a PID algorithm in the microcontroller that is then said to "tune the speed" of the DC motor.
For more about ELAC, go here.
To find authorized ELAC dealers and distributors, go here.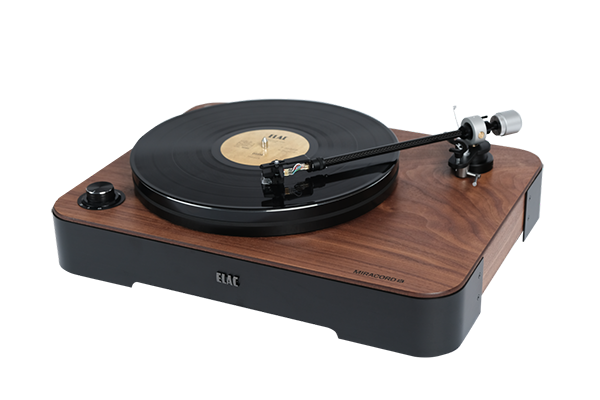 <!- ------------------------------------>