Eric Leefe Deserves The Chair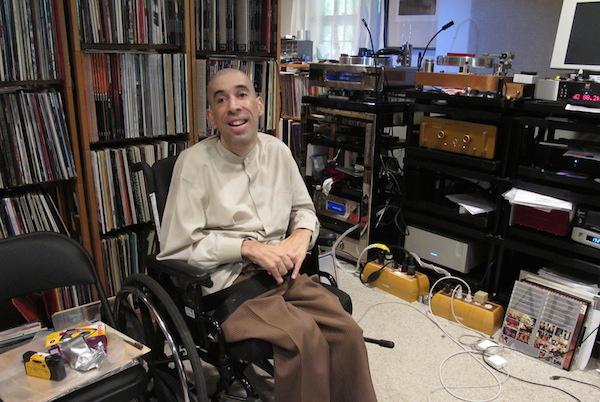 Eric Leefe deserves the chair. Not the electric chair and not the wheelchair in which he's lived his entire life. The chair Eric Leefe deserves and today got was my listening chair. Or rather his chair where mine normally goes.
What's this all about? Eric was recently profiled in a Bergen Record story written by Jim Beckerman the paper's music critic.
Leefe is the son of RCA recording engineer Bob Leefe, who Eric says recorded Harry Belafonte's original "The Banana Boat Song", Elvis Presley's "Jail House Rock" and many other classic tunes including those of Tommy James and the Shondells.
Have you ever heard "Crimson and Clover" other than on your A.M. radio? It's an amazing sounding recording. I always wondered who engineered it but Roulette among other labels never gave engineering credits. Through this story I learned who it was.
But more than that I learned about Bob's courageous son Eric, who has cerebral palsy. Despite the disability and being chair-bound, Leefe played in bands at CBGBs and Max's Kansas City. Brian Setzer's brother Gary was his long-time drummer (I too played at Max's Kansas City). And he recorded an album that's in the Rock And Roll Hall of Fame archives.
Through his dad he met Mick Jagger, John Lennon, Carly Simon and a long list of rock stars, including of course Tommy James, with whom he remains in contact. You can read all about it in the story.
Leefe's condition has worsened over the past year and he's gone from independent living to having to move into an assisted living center that James and his manager Carol Ross helped arrange. It's located in Hawthorne, NJ a few towns over from me.
As I read the piece I thought to myself, "Here's this music-loving guy this close, living in this room all by himself, probably with no music system (as it turns out he's got a Bose Wave radio, so I was correct) and here I am lucky enough to have an insane, over the top one. Why not call Eric and see if he wants to sit in the chair?
Of course he did so we made a date for today. I borrowed my wife's van and picked him up in the early afternoon. I removed my listening chair and rolled him into place. We started with "Crimson and Clover" of course and then I played personal DJ for Eric, playing whatever he wished to hear.
Being a "studio brat" growing up, he's heard masters played back on studio monitors so he knows good sound and knows he hasn't heard any in a long time. His father passed away in 2007.
What did he want to hear? Sgt. Pepper's... so I played a U.K. Parlophone original. We played Roxy Music's "Out of the Blue" from Country Life, The Small Faces' Ogden's Nut Gone Flake, some Traffic, Lennon's first solo album on a UK original and Elvis '57 among others.
Trust me, Eric had a good time listening but I had an even better time watching him soak it all in and comment on what he heard.
He knew and appreciated the great sound. That's one reason he was deserving of "the chair". Another is that even though doctors give him a limited time of a few years at best, Eric has a great attitude and a positive one. He's going to enjoy whatever time he's got left. His attitude on life—and he's had a tough one from the beginning—is incredible, influenced in great part by his father who never let him self-identify as a handicapped person.
So you may see a guy in a wheelchair under a headline joking about "a chair" and think it in bad taste but I know Eric would find it funny. What's not funny is the sound system he's got in his room. He's got a decent Pioneer A/V receiver with not such good speakers on the floor but there's no way to connect the Wave radio to it.
What he really needs is a CD carousel changer. Of course he knows that vinyl sounds better and we talked about a turntable that someone else would have to operate but first things first! I thought of a Mac Mini controlled by an iPad but his motor skills are such that he can't reliably hit the buttons or hold an iPad. That's why he's not online.
So I'll be looking on Ebay for a CD carousel changer. If you have one you want to donate or sell inexpensively let me know. I'm going to hit up someone in the business about a pair of decent speakers. Along with the chair he sat in today, Eric is deserving of a good pair of speakers in his room.
I played him The Beach Boys' "In My Room" from the upcoming Analogue Productions reissue of Surfer Girl and you can be sure Eric related to Brian's lyrics. He lives in that room. The least he could have there is a decent stereo, but for sure he'll get more chances to listen here.
<!- ------------------------------------>