Frank Zappa's Seminal Over-Nite Sensation Basks in 50th Anniversary Vinyl Ooze Via Separate 180g 45rpm 2LP and Limited-Edition 180g 3LP Editions From Zappa/UMe on November 3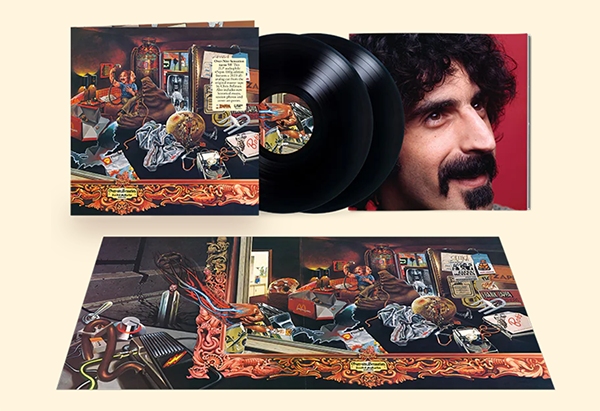 For those of you who have a penchant for listening to visceral, tall-in-the-saddle sonic tales recounting the finer points of dental floss farming, mindless video drones, and poncho-wearing lotharios, then we have an important release announcement for you. Namely, Frank Zappa's seminal September 1973 LP Over-Nite Sensation is getting a proper 50th anniversary deluxe reissue treatment via a pair of vinyl options — a 180g 45rpm 2LP set, and a limited-edition splatter-vinyl 180g 3LP edition — both via Zappa Records/UMe on November 3.
The 2LP 180g black vinyl edition offers Over-Nite Sensation having been cut at 45rpm for the first time ever, as done from the original analog tape by Chris Bellman at Bernie Grundman Mastering in 2023. A concurrent, limited-edition deluxe 180g splatter-vinyl 3LP version offers the core album at 45rpm on LP1 and LP2, plus a third LP with 35 minutes of bonus tracks culled from the companion box set (more on that in a bit), the latter disc having been cut at 33 1/3rpm by Bellman. Both editions include a bonus 24 x 12in poster of the original cover art, and they can be pre-ordered at Zappa.com, and elsewhere. That said, note that the 3LP set pre-order is exclusive to Zappa.com, uDiscover Music, and Sound of Vinyl. The 2LP ONS 50 edition has an SRP of $39.98, while the limited-edition 3LP set has an SRP of $79.98.
The limited-edition 3LP ONS 50 version includes nine bonus tracks culled from the companion ONS 4CD/1BD 50th Anniversary Super Deluxe Edition box set, seven of them having been previously unreleased. The nine bonus tracks are as follows: "Wonderful Wino (Complete Edit)," "Inca Roads (1973 Version, 2023 Mix)," "RDNZL (1973 Mix)," "For The Young Sophisticate (Dolby EQ Copy)," "I'm The Slime (Single Version)," "Montana (Live in Hollywood, California – March 23, 1973)," "Face Down (I'm The Slime Demo)," "Camarillo Brillo (Alternate Mix)," and "Dirty Love (With Quad Guitar)."
Of these nine tracks, only "For The Young Sophisticate (Dolby EQ Copy)" and "I'm The Slime (Single Version)" were previously released — the former as part of September 1996's Läther project, and the latter having been a single in 1973.
A brief note regarding the 4CD/1BD ONS50 box set, as I do readily profess to a) looking very much forward to hearing the Dolby Atmos mix of the core album that's on said box's included Blu-ray, not to mention b) trumpeting the truly informative nature of the liner notes that have been penned by my fellow Zappa acolyte and noted AP colleague Mark Smotroff, in addition to those written by Zappa Vaultmeister Joe Travers (I've already consumed them quite voraciously, via an advance PDF). At any rate, as an early taste of what's to come within that bigger box set, check out this previously unreleased take of "Fifty-Fifty" (Basic Tracks, Take 7)," which was recorded in April/May 1973 at Whitney Studios. This decidedly funky rendition is presented without Ricky Lancelotti's signature, just plain cray-zay enough lead vocals that can be heard on the finished track. (Violinist Jean-Luc Ponty shines especially here, btw.)
As an inveterate Zappa fan, I bought my first LP copy of Over-Nite Sensation at the original Eide's combo record store/comics shop locale on the north side of downtown Pittsburgh in the late summer of 1980 — namely, the 1973 Santa Maria pressing (MS 2149) with all the lyrics on the gatefold, and that classic yellow Discreet label (or DiscReet, depending on your capital-letter interpretation preference) on the disc itself. (We can also separately discuss whether to credit this album to "Frank Zappa," "Frank Zappa and The Mothers," and/or "Frank Zappa/Mothers.") I quickly came to know all the lyrics backwards and forwards, and especially loved Frank's reference to "her stereo was four-way" in "Camarillo Brillo," Track 1 on Side 1, his quad predilection duly noted to me before I even had a chance to explore that eventual playback option and expanded speaker setup on my own.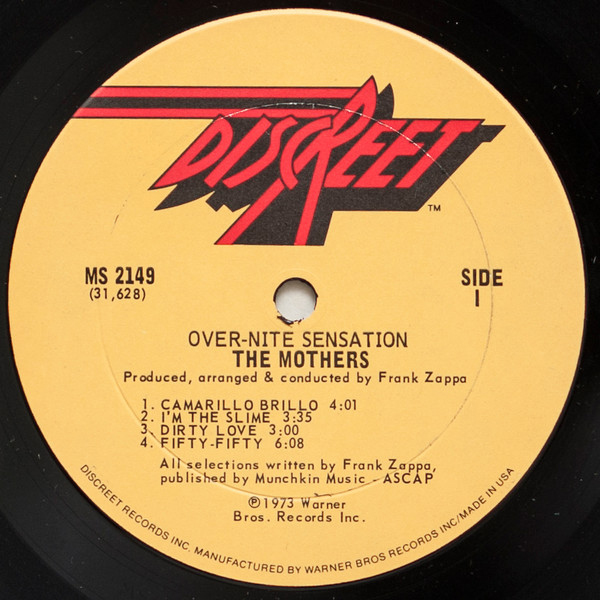 After playing my original ONS LP to the point of hearing all the clicks and pops on it in my sleep, I retired it to my shelves and picked up a few additional playable copies, including a second 1973 MS 2149 LP (that one being the Pitman pressing), the 1974 Discreet DS 2149 LP, the 2013 180g 1LP Barking Pumpkin/Zappa Records edition, and the 2018 limited-edition clear-orange 180g 1LP Zappa Records version (though, come to think of it, I've yet to crack the seal on the latter). Getting both the upcoming 2LP and 3LP versions of ONS 50 are absolute musts for me — howzabout you?
While we collectively ponder nasty poodles, sugar plums, mennil-toss flykunes, and the like, herewith are some factual stats-uals about how Over-Nite Sensation came to be, a good portion of which appear essentially as described in the official Zappa/UMe press release (along with some key AP-centric updates).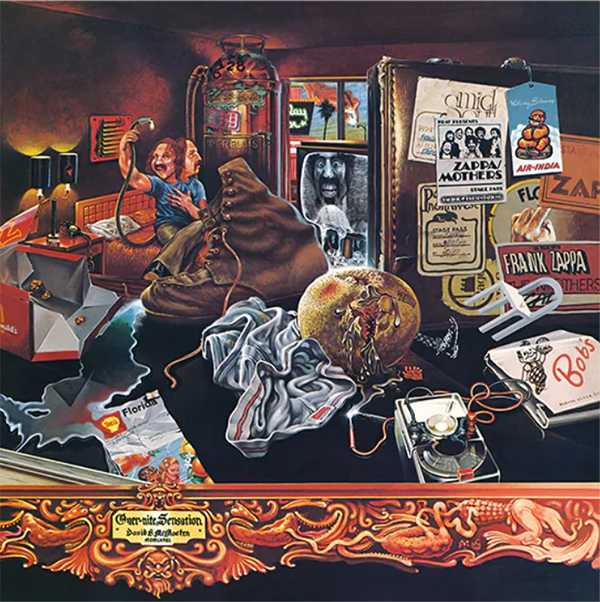 In 1973, Frank Zappa and The Mothers were once again on the move. Coming off a year laden with a pair of well-lauded high watermarks — July 1972's jazz-fusiony solo masterstroke Waka/Jawaka and November 1972's big-band Mothers progression The Grand Wazoo — Zappa wanted to next convene another revised Mothers collective, rethink some long-throw compositional tracts, and begin exploring the differences inherent in the form and function of his songwriting. In turn, Zappa also decided to bring his own singing voice more to the lead vocal fore than ever before, as well as refine the scope of his guitar playing.
And thus, September 1973's Over-Nite Sensation was born. A stone cold classic, Over-Nite Sensation has long been viewed by both the cognoscenti and layman as being a gateway album entry into the Zappaverse at large, serving as a mighty grand place to enter into the breach along with his follow-up March 1974 solo release, Apostrophe('). It was also the first album by Zappa to be released in Quadraphonic surround sound, an ever-evolving sonic medium Zappa would continue to explore throughout his career on the cutting edge.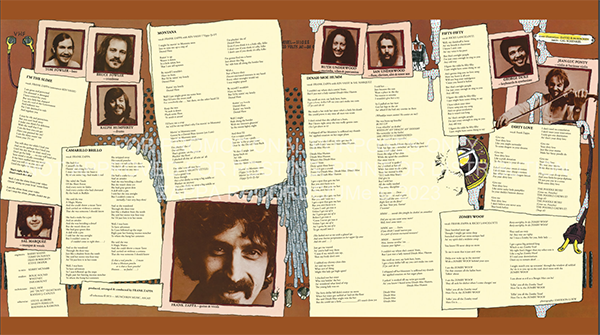 Not only did Over-Nite Sensation signal a change in musical direction for The Mothers at large, but Zappa handled the bulk of the lead vocal duties and staked his claim as the album's only guitarist. It was a new band with a new sound that resonated widely, eventually going gold in 1976. Over the ensuing years, almost every song on Over-Nite Sensation became indelible live staples and longstanding fan favorites, with "I'm The Slime," "Fifty-Fifty," "Zomby Woof," and "Camarillo Brillo" immediately making their respective presences known in the setlist.
The new group of Mothers heard on Over-Nite Sensation was comprised of virtuoso musicians rooted in jazz (keyboardist George Duke, violinist Jean-Luc Ponty, drummer Ralph Humphrey, and trumpeter Sal Marquez) and serious music (wind instrumentalist Ian Underwood and percussionist Ruth Underwood) alike, all polished off with the Fowler brothers duly in tow (with Bruce Fowler on trombone, and Tom Fowler on bass). As a result, the instrumentation of this aurally palpable Mothers lineup was akin to having a mini orchestra in a rock format — and Zappa utilized them brilliantly, crafting arrangements for existing material like "Cosmik Debris" and "Montana" in addition to writing a large number of new compositions to maximize their strengths.
The recording sessions at Bolic Sound and Whitney Studios were sweetened by the addition of some now-iconic guest vocalists. The truly crazy, over-the-top vocal stylings of the aforementioned Ricky Lancelotti catapulted songs like "Fifty-Fifty" and "Zomby Woof" into the stratosphere. For his part, Kin Vassy (of Kenny Rogers and The First Edition) added numerous, tasty tidbits all throughout. But perhaps the most legendary guest turns of them all would be those by Tina Turner and The Ikettes. With Zappa tracking at Ike Turner's Bolic Sound studio in Inglewood, California, it only seemed logical that Tina and Frank's paths would eventually cross. Although famously uncredited, Tina and The Ikettes' background vocals were draped all throughout the record and are undeniably unique —and spot-on perfect. If you dropped the needle on Over-Nite Sensation for the first time in 1973, it was immediately apparent something new, different, and exciting was happening in Zappa's ever-expanding musical universe. The material was funky, funny, challenging, and mighty — and, yes, even more accessible than his output of the prior few years.
Over-Nite Sensation went through several sequencing options over the course of early June, at one point incorporating instrumental songs like "Inca Roads" (which ultimately soared in revised and vocalized form on June 1975's One Size Fits All) and "RDNZL" (a version of which eventually surfaced on September 1978's Studio Tan). "Wonderful Wino," finally released 23 years later on The Lost Episodes CD in 1996, was also a contender. Over-Nite Sensation was completed at Paramount Studios in Hollywood with engineer Kerry McNabb before the band departed for Hawaii and Australia, and the album masters were turned in to the label in July 1973. These three "Bonus Session Masters" — a.k.a. "Vault Sensations" — are included on LP3 in the limited-edition 3LP ONS50 set, with "Wonderful Wino" presented as a "Complete Edit" in its 1973 vintage mix mixed by Zappa and McNabb, an unreleased 1973 vintage mix of "RDNZL" that contains Zappa's guitar solo which was missing from the version released on The Lost Episodes, and "Inca Roads" as newly mixed in 2023 from the 16-track master after Sal Marquez's vocals and trumpet tracks were rediscovered, hence warranting the new mix.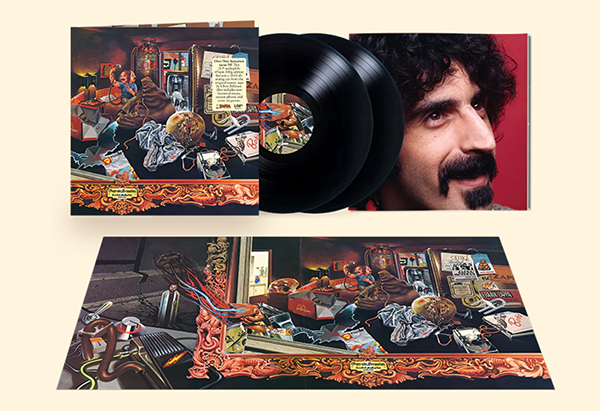 FRANK ZAPPA
OVER-NITE SENSATION – 50TH ANNIVERSARY EDITIONS
(Zappa Records/UMe)
180g 2LP – 45 RPM VINYL EDITION
LP One – Side 1
1. Camarillo Brillo
2. I'm The Slime
LP One – Side 2
1. Dirty Love
2. Fifty-Fifty
LP Two – Side 3
1. Zomby Woof
2. Dinah-Moe Humm
LP Two – Side 4
1. Montana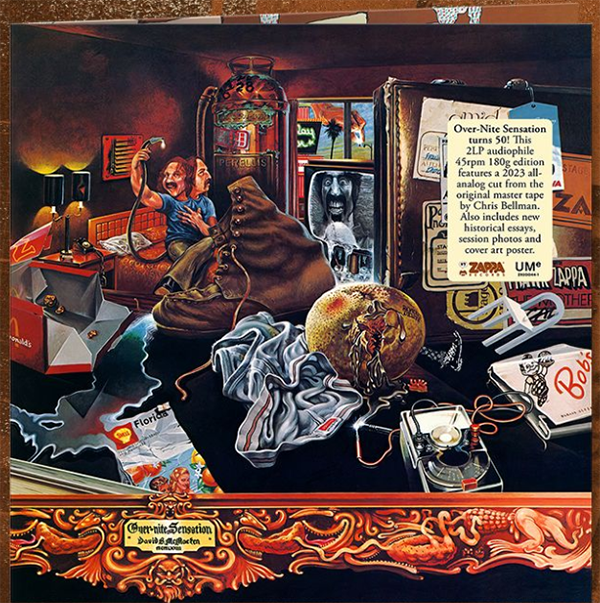 180g 3LP DELUXE EDITION
Over-Nite Sensation – The Album
LP One – Side 1 (45rpm)
1. Camarillo Brillo
2. I'm The Slime
LP One – Side 2 (45rpm)
1. Dirty Love
2. Fifty-Fifty
LP Two – Side 3 (45rpm)
1. Zomby Woof
2. Dinah-Moe Humm
LP Two – Side 4 (45rpm)
1. Montana
Vault Sensations
LP Three – Side 5 (33-1/3rpm)
1. Wonderful Wino (Complete Edit)*
2. Inca Roads (1973 Version, 2023 Mix)*
3. RDNZL (1973 Mix)*
4. For The Young Sophisticate (Dolby EQ Copy)
5. I'm The Slime (Single Version)
LP Three – Side 6 (33-1/3rpm)
1. Montana (Live in Hollywood, California – March 23, 1973)*
2. Face Down (I'm The Slime Demo)*
3. Camarillo Brillo (Alternate Mix)*
4. Dirty Love (With Quad Guitar)*
* Previously unreleased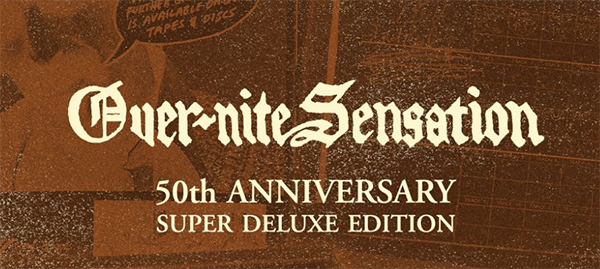 <!- ------------------------------------>