The Great Cable "Unmasking"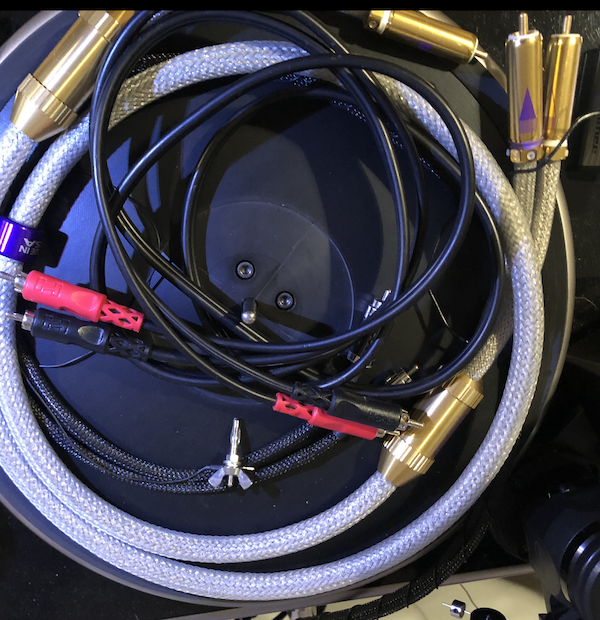 Well, here we go. More than 125 people have participated in the
It's Just Wire
"blind test", so thank you all. Certainly, we've dispelled the ridiculous notion that "wire is wire" and that all wire sounds the same. Which one might prefer is of course a personal preference. That we'd need blind A/B/X testing to "prove" that any sonic differences exist is absurd.
First of all, let's clear up a few things: I'm not sure what some people are hearing as far as "swapped" channels. I am quite certain all of the files are "going in the same direction", though it's possible that they are all reversed, which should not be an issue. I used "File 1" as a base and if that was reversed then all were. Funny fact: if you compare various issues of the iconic album Getz/Gilberto you will hear the channels reverse among them. Mastering engineer Kevin Gray insists that the original release accidentally reversed the channels so when he re-mastered it for a few versions he reversed the channels to correct the original mastering engineer's error. (Which is no excuse for my having screwed this up).
If there are level differences, it has to do perhaps with cable resistance because nothing was changed from recording to recording!
File # 1 is the "straight run" on the Kuzma arm. The "straight run" and the second run from the cartridge clips to the junction box is with "standard silver Crystal Cable"..
It's the black wire just above the largest, most ornate looking cable and has a ground wire with a banana plug attached. Given that it's the only "straight shot" cable it stood the strongest chance of producing the best sound given the tiny voltages involved, yet it wasn't the most often chosen as being best.
File #2 turned out to be a prototype cable (not in the photo), though due to a misunderstanding between myself and the manufacturer I didn't know that. It is probably the most costly of the four but that's just conjecture based upon the company's usual premium cable pricing and its complex construction. I agreed to not identify the brand once I found out it was a prototype.
File #3 was very popular if not the favorite among the four. It is "Beyond" from RSX Technology, the company's most costly phono cable. If the look of the cable appears familiar to some of you, particularly the purple color, that's not surprising since RSX was recently founded by Roger Skoff who decades ago started XLO and decided to re-enter the cable business. For more about "Beyond" and the less costly RSX phono cables go to this link. A 1.5M length of "Beyond" terminated with RCA plugs costs $4500.
File #4 is the red and black set easily identified in the photo. It is Hosa CRA-200AU manufactured by HosaTech. It features oxygen free copper conductors, with a Spiral oxygen free shield and terminated with gold plated RCA plugs. A 1M set on Amazon costs $9.00.
I decided to "unmask" before giving you my opinion. So now here's what I heard through my reference system with the files put on ROON and streamed through the dCS Vivaldi One and of course I knew what I was hearing so I was the most biased listener: File #1 compared to #2 and #3 was somewhat aggressive on top and images were neither as well-focused nor as pleasingly compact and well-organized as they were presented on #2 and #3. #1's bass was not as well controlled either compared to #2 and #3.
I was surprised by how many listeners reacted negatively to #2. Definitely more "mellow" sounding than #1 but for me, #2's presentation was better controlled and well organized overall, especially the vocal. #2 was my second favorite.
#3 was easily the winner (for me) as it was for many other listeners. It had the best timbral balance and overall instrumental attack and delicacy. Its superiority was immediately noticeable on the opening shimmer and especially the acoustic envelope surrounding the voice.
No doubt the best value was the $9 cable! And if you liked it the most you're in for nine bucks! You can't beat that. However, in my system it was kind of a disorganized spatial mess, plus overall instrumental attack was soft and spongy and the vocal presentation was timbrally incoherent, but it was not unpleasant and I can understand why some probably preferred it to #1.
The main point of this exercise was to demonstrate that wire isn't just wire and that the cables you choose throughout your system contribute mightily to its overall sound, which does not mean you have to break the bank but that you should choose carefully.
When I read people saying they have assembled a costly system but really don't pay attention to the cables because "wire is wire" and cables are "snake oil", it doesn't bother or anger me as much as it makes me feel sorry for them. I've heard systems costing hundreds of thousands of dollars that were just about ruined by poor cable choices.
BTW: I think A.C. cables might be the most important cables in a system and when I see in a high end set up the plain black rubber ones supplied with costly gear that manufacturers assume will be replaced, I just have to laugh. It's that or cry and I'd rather laugh!
<!- ------------------------------------>