Insider Report: Dum Audio Seeks to Reach Budding Audiophiles With The Turntable and The System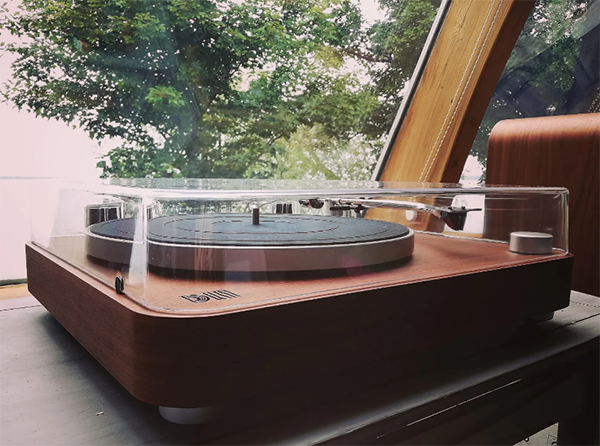 It's a constant internal struggle we analog audiophiles face on a daily basis, in terms of balancing our lofty hi-fi listening goals, system performance expectations, and overall playback aspirations with our concurrent desires to bring as many new converts into the analog fold as we can. Often, we find it downright difficult to manage these proclivities when it comes to separating the ideal from the real without giving off an air of superiority that leads to us to appear to others as, well, a bit too exclusionary — all the more reason why a burgeoning new company like Dum Audio has arrived at the exact right place at the exact right time to help bridge that gap for us.
To that end, Dum Audio is offering the quite austerely named The Turntable ($749 SRP), which has been engineered by high-end turntable designer and manufacturer Hanss Acoustics and features a pre-installed Ortofon 2M Red cartridge, a custom aluminum tonearm, a built-in bypassable phono preamp, a belt-drive motor, an MDF plinth with a hardwood veneer, shock-absorbing feet, and a dust cover.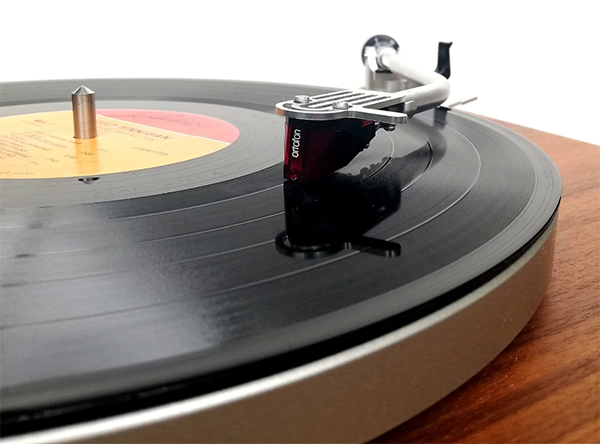 To find out more about the company's overall philosophy, I spoke at length with Dum Audio founder Noam Sugarman. "I started Dum Audio because I couldn't find a stereo system that was simple and attractive while also really nailing the sound quality," Sugarman told me. "Most hi-fi brands cater to audiophiles who want to geek out on the gear. But there's very little on the market for music lovers who are turned off by overly complicated products."
Considering how complicated sophisticated audiophile gear setups can appear to the neophyte, Sugarman and his team designed Dum Audio's entire equipment line with that idea very much top of mind. "In a world where digital technology is increasingly ubiquitous, people are embracing more simple and straightforward experiences as a way to escape," he theorized. "When you listen to a record in high fidelity, you get so much more out of the experience. The music takes on more meaning. Our mission is to bring that experience to more people, especially those who find the existing hi-fi world intimidating."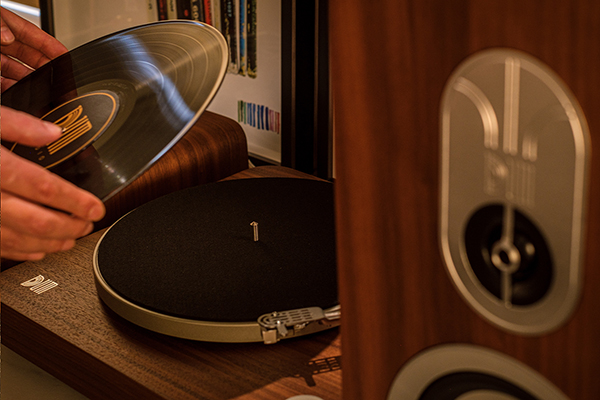 Besides to The Turntable, Dum Audio offers The Amplifier ($749), The Speakers ($749/pr), The Subwoofer ($499), or all of these items (sans The Subwoofer) in an inclusive package dubbed, of course, The System ($1,899), all of which come with a 60-day return policy and 1-year warranty. Sugarman suggests going The System route is the best bet because he feels that makes it easier to assess "which components are going to complement each other technically and stylistically. We give you everything you need, and nothing you don't. And, most importantly, the sound quality is really remarkable."
In addition to addressing your own listening needs, Dum Audio's The Turntable and/or The System may very well fit the bill for someone on your list during this holiday season (and beyond). To see the full Dum Audio product line and how to place an order, go here.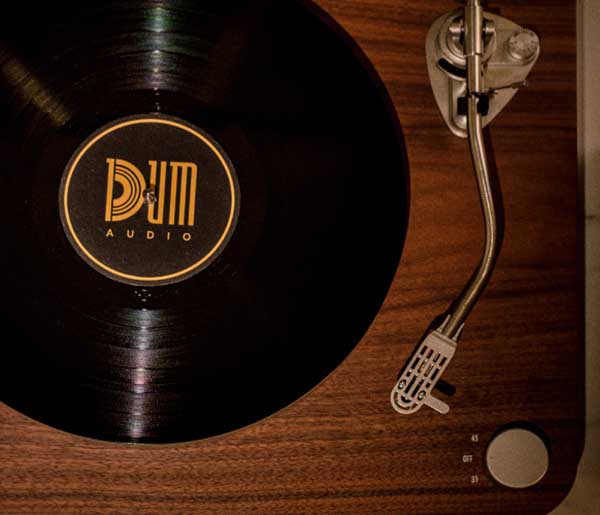 DUM AUDIO
THE TURNTABLE
($749)
Turntable Features & Specs
Semi-automatic (stops automatically)
Belt-drive motor
Ortofon 2M Red cartridge (pre-installed)
MDF plinth with hardwood veneer
Custom aluminum tonearm
Built-in bypassable phono pre-amp
Shock-absorbing feet
Plays at 33.3rpm and 45rpm
Dust cover included
Dimensions: 17 x 5 x 15 inches (w/h/d)
Weight: 7.5kg (16.5lbs)
Wow and flutter: 0.15% / 0.05%
S/N ratio: ≥63dB
Frequency range: 100-10,000Hz –10dB (±3/±6)
Recommended load impedance: 47kohm
Counterweight: 77g (±1g)
Power: AC 100-240V 50/60Hz
Power consumption: ≤5W
Cartridge Specs
Type: Ortofon 2M Red
Tracking force: 1.8 ±0.2g
Frequency response: 20-20,000Hz +3, –1dB
Channel separation: 22dB at 1kHz, 15dB at 150kHz
Channel balance: 1.5dB at 1kHz
Output voltage: 5.5mV at 1kHz, 5cm/sec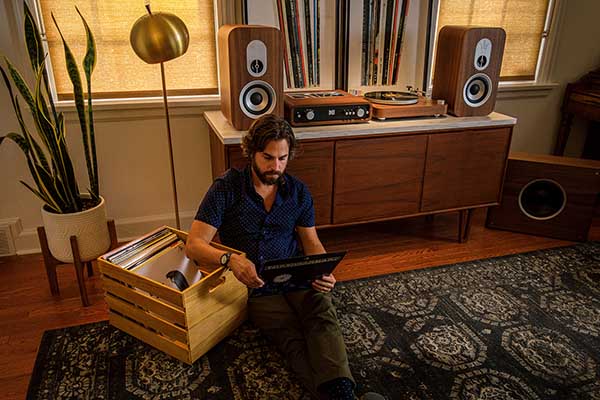 <!- ------------------------------------>