Jazzhaus Presents On 180 Gram Vinyl First Wave of Heretofore Unreleased Post WW II Jazz Recordings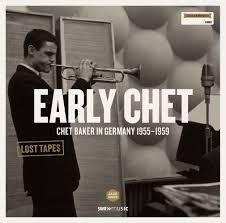 During the late 1940s, '50s, '60s and '70s American jazz musicians and groups toured Europe and the world, usually to greater appreciation and acclaim than they received back home. Sad but true. Some moved overseas where they were treated with greater respect than they received at home but that's another story.
In Germany where tape recording was invented, many of the live concerts were produced for radio broadcast and simultaneously (well) recorded—some of the later ones in stereo. While on tour, some musicians took advantage of their warm welcome to participate in studio dates with local musicians
These treasures from the archives of Südwestrundfunk (Southwest Broadcasting) in Stuttgart, Baden-Baden and Mainz lay in vaults for decades.
Dating back from the late 1940s through the mid 1970s, the well-preserved tapes—none of which have been previously released—contain some 3000 hours of music from 1600 audio recordings plus 350 TV broadcasts.
The German Jazzhaus label is slowly rolling out these recordings on CD and on 180g vinyl plus digital download distributed by Naxos as well as on audio/video on-demand download at www.jazzhaus-label.com.
The releases are so far divided among three series: "Legends Live", "BigBands Live" and "Lost Tapes". Duke Ellington and his Orchestra (101722), among the "BigBand Live" series, was recorded live at Liederhalle Stuttgart on March 6, 1967. What makes it most fascinating is that since it was simply another date on the tour that happened to be broadcast and not a live date destined for a Columbia Records release, you get to hear the orchestra on a "work night" as you might had it shown up in your town.
Chances were good at that time that the Ellington orchestra might show up in your town because at the time it was constantly touring and recording. Duke released 35 albums between 1960 and 1967.
The band on this date includes the familiar greats Paul Gonsalves, Johnny Hodges, Harry Carney and Russell Procope among others plus Cootie Williams who had just rejoined. The 45 minute set, recorded in stereo sounds simply miked and spacious, with plenty of hall sound. Duke fans will be pleased to add this to their collection.
Benny Goodman Orchestra Feat. Anita O'Day is another in that series, a double LP set recorded October 15th, 1959 live in concert in Freiberg in fantastic sounding mono. The group featuring Red Norvo, Russ Freeman and Flip Phillips among others has a blast and I surprised myself by having one too. It's not really a "big band" unless you think ten pieces plus singer is a "big" band.
Among the "Legends Live" series is on featuring the Cannonball Adderley Quintent recorded in Stuttgart March 20th, 1969 in stereo with a group featuring Joe Zawinul, Nat Adderley, Victor Gaskin and Roy McCurdy. Zawinul left the group a year later after a nine year stint during which he wrote the unlikely hit "Mercy, Mercy, Mercy."
It was an unsettled time in jazz and on the opener by Zawinul "Rumplestiltskin" you can hear the John Coltrane influence on the usually bluesy, funky Adderley. The set ends with nephew Nat's famous "Work Song." In between the group covers Roebuck Staples' "Why Am I Treated So Bad?", which was originally recorded by this same group in 1967 on the Capitol Records studio album of the same name.
Another "Legends Live" record featuring The Gerry Mulligan Sextet was recorded in 1977 and is the most recent among the records sent for review. It's also by far the best sounding. Mulligan's baritone sax is particularly well recorded and the music, all Mulligan originals other than a cover of "My Funny Valentine" reflects both the time and Mulligan's substantial move beyond the "cool jazz" that first brought him fame, though there's some of that here too. The miking could definitely be described as "close" because remember, these were radio concerts, but boy, was this one well-recorded.
The "Lost Tapes" series includes studio recordings of bassist Oscar Pettiford recorded in Baden-Baden in 1958 and 1959, a "West Coast Jazz" in Germany set by Zoot Sims recorded in Baden-Baden June, 23rd, 1958, and Early Chet, Chet Baker in Germany 1955-1959.
Baker gets the only single LP gatefold release of a record limited to 1000 copies and available only on vinyl. It's a compilation that's confusing to sort out because of the scattershot liner notes. An editor's note on the inside gatefold begins "Early Chet—what became of the original recordings?" I thought this record contained the original recordings!
In any case the set includes Chet's quartet in 1955 playing a harder edged bop than the cooler style for which he's better known, though there's plenty of that here as well. The 24 year old pianist Dick Twardzik died of a drug overdose a few weeks later, so the earlier tracks are among the quartet's final performances. The set includes Baker in a variety of settings with various orchestras but the way the notes are written and how the tracks have been assembled makes difficult sorting out what tracks were with whom and when they were recorded, not that it ultimately matters. What matters is that for Baker fans this one is a lost treasure capturing a young, vital Baker and not to be missed. The sound is always decent mono—rich and warm "moderate fi".
The Pettiford is probably the best sounding mono recording of the bunch and the music is sublime. The bassist was in Europe with the Jazz From Carnegie Hall ensemble (Lee Konitz, Zoot Sims, Phineas Newborn, Red Garland and Kenny Clarke) and stayed on to record these sessions between the fall of 1958 and summer 1959 with a variety of European players plus saxophonist Lucky Thompson and drummer Clarke each on one track.
Pettiford remained in Baden-Baden, moving in 1960 to Copenhagen where his wife gave birth to twin girls. That September he died in a car crash.
The sound quality of these recordings is uniformly good and occasionally excellent and the 180g pressing quality is superb. You also get digital download cards. The Chet Baker only available on vinyl includes two bonus tracks with the download.
No doubt these records were cut from digitally remastered files, but if these were cut from CDs, I'll eat a jewel box.
For jazz fans this series is a surprise package and an unexpected gift that will keep giving as the catalog expands.
<!- ------------------------------------>