Jim Hagerman's Bugle2 DIY MM/MC Phono Preamp Kickstarter Project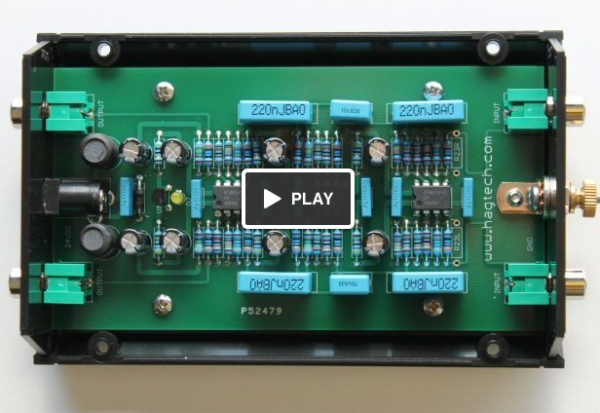 Analog expert Jim Hagerman's (
Hagtech.com
) new second generation Bugle2 MM/MC phono preamplifier is a Kickstarter project. That means you put up the money now to support the project and if enough people contribute to fund it, you get yours. If it fails to attract the requisite number—in this case $16,000 total—you get your money back.
The Kickstarter URL
Pledge $100 and you get all of the parts to buildl it yourself. Pledge $150 or more and you get one fully assembled and tested. There are other options including a $500 version in an extruded aluminum case, higher grade Vampire gold/Teflon RCA jacks, RelCaps and Vishay mil-grade resistors.
The image on the site is of a black box but the funded one will come with a transparent case. It has 40dB MM and 60dB MC and appears to use microphone preamp op-amps. There are MC loading slots where you insert resistors of your choice.
Why is Hagerman, who markets finished products doing this one via Kickstarter? The custom case cost is high. He figures the break-even point comes after he sells 113 kits without postage. After adding postage and about $10.00 margin per kit, that's the $16,000 minimum pledge value to fund the project. That way, you get a great product (he says and based upon my past experience with his other stuff, that would be true) and he can safely launch it into the marketplace without financial exposure and at a very low price.
Sounds like a "win-win" to me. $100? How can you go wrong. As of today he's got 29 backers for a total of $3,346 of the $16,000 required with 23 days to go. Remember: if he doesn't reach his goal, you get your money back so you have no real exposure either.
I am going to pledge $100 and get one for review. If it turns out to be a good phono preamp for $100 everyone benefits!

LATEST VIDEO
<!- ------------------------------------>