Joe Boyd: collectors choice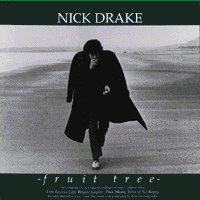 Selected Recordings produced By Joe Boyd
NICK DRAKE: Five Leaves Left
(British) Island (sunray label)ILPS 9105 LP/ Hannibal HNCD 4434 (1969)
NICK DRAKE: Bryter Layter
(British) Island (sunray label) ILPS 9134 LP/ Hannibal HNCD 4435 ( 1970)
NICK DRAKE: Pink Moon
(British Island (orange/blue palm tree label) ILPS 9184 LP/ Hannibal HNCD (4436)
NICK DRAKE: Time Of No Reply
Hannibal HNCD 1318
NICK DRAKE: Fruit Tree
A four LP set containing the above, originally on British Island, reissued In the U.S. by Hannibal/Carthage HNBX 5302 in 1886. Also on Hannibal CD: HNCD 5402
NICK DRAKE: Way To Blue- An Introduction to Nick Drake
Hannibal HNCD 1386
FAIRPORT CONVENTION: What We Did On Our Holidays
(British) Island (pink label) ILPS 9092/ on brown label A&M-different tracks
FAIRPORT CONVENTION: Unhalfbricking
(British ) Island (sunray label) ILPS 9102/ also on brown label A&M
FAIRPORT CONVENTION: Liege & Lief
British Island ILPS 9115/ A&M (brown label) SP 4257
SANDY DENNY: Who Knows Where The Time Goes?
A four LP set containing tracks from Fairport, Denny solo albums and Fotheringay - Denny's own group, as well as many unreleased tracks. Hannibal/Carthage
THE INCREDIBLE STRING BAND: The 5000 Spirits or The Layers of the Onion
Elektra (gold label) EKS 74010 LP/ Hannibal HNCD 4438 CD (1967)
THE INCREDIBLE STRING BAND: The Hangman's Beautiful Daughter
Elektra (gold label) EKS 74021 LP/ Hannibal HNCD 4421 CD (1968)
THE INCREDIBLE STRING BAND: Wee Tam & The Big Huge
Elektra (red label) EKS 74036/37/ Hannibal HNCD 4802 (1968)
THE INCREDIBLE STRING BAND: I Looked Up
Elektra (red label) EKS 74061/ Hannibal HNCD 4440 (1970)
MIKE HERON: Smiling Men With Bad Reputations
Elektra EKS-74093 (butterfly label) LP (1971)
An entire issue of The Tracking Angle would probably be necessary to do justice to the British folk/rock recordings produced by Joe Boyd during the fertile late sixties to mid-seventies. These are just a few worth seeking out.
In retrospect, it's ironic how much death followed Boyd around as he produced artists so filled with musical life. After Fairport's success with What We Did On Our Holidays and Unhalfbricking and just before the group's first American tour, its bus overturned, killing drummer Martin Lamble and Richard Thompson's girlfriend Jeannie Taylor. After recording three brilliant though commercially unsuccessful albums, Nick Drake died at the age of 26 from an overdose of anti-depressants- whether it was an accident, or suicide remains unclear. And in 1978 Sandy Denny fell down a flight of stairs. A week later she died-never having regained consciousness.
Nick Drake's haunting songs leave an indelible impression even upon first listen. While Drake's dark, smokey voice is soaked in melancholy and sadness, neither self-pity nor anger enter into his musical world. Nor do oversized theatrical style displays of emotion or preciousness. The great weight of whatever pressed on the young man's soul saw to that. Drake's musical world was delicate and fragile, yet brave and powerful at the same time. His songs withheld as much as they expressed. Repeated listening does nothing to diminish their mystery.
In his illuminating essay included in the Fruit Tree book, Arthur Lubow writes that Drake's friends wondered whether the rail thin, handsome, delicate looking six foot three youngster was a repressed homosexual. "That would have explained his sense of defeat at age 18, his intense need for privacy, his denial of the body, his inability to touch people, his idealized view of women and his failure to have a girfriend". One of Elton John's early demo tapes consisted of covers of Nick Drake's songs.
What caused Drake's emotional condition is not germane to appreciating his music which expresses his inner world in more complex and abstract terms. On occasion we all experience the hopelessness Drake seemingly lived with throughout his short life. To have it conveyed with such elegance and beauty is Drake's gift to us all. Indeed his legend grows with the passing of time, as generation after generation of young adults discover an artist who so powerfully expresses their innermost fears and feelings.
Drake's first album Five Leaves Left (the warning printed near the end of a pack of a brand of British rolling paper) features his intimately miked voice and authoritative acoustic guitar backed by lushly orchestrated string sections and Danny Thompson's bass. Richard Thompson plays guitar on one track. The songs are melodic and easily accessible, though darkly drawn.
Behind the more chipper arrangements of Bryter Layter lies the same dark Drake sensibility. After the commerical failure of Five Leaves Left perhaps the artist felt the need to sugar coat his downbeat message somewhat. The juxtaposition produced Drake's most captivating and affecting album. The Fairport rhythm team of bassist Dave Pegg and drummer Dave Mattacks play on a few tunes, joined by Richard Thompson on the opener. John Cale plays a variety of instruments on two tracks.
Bryter Layter should have made Drake a star, but it too failed to sell. More desperate and depressed than ever, Drake retreated to the coast of Spain- to an apartment owned by Island President Chris Blackwell, returning shortly thereafter with the songs for Pink Moon which were recorded in two nights- just Drake accompanying himself on guitar with an occasional keyboard added as an afterthought.
Stripped of all studio gloss, and saddled with Drake's darkest visions, Pink Moon is his most difficult to listen to album. Its unrelieved depression ("Now I'm darker than the deepest sea/Just hand me down, Give me a place to be" ) is the summation of a life filled with pain and disappointment. It is his most deeply felt album, and not to be missed.
Original British Island pressings offer the best sound, but they are scarce and quite expensive. American Island and Antilles (Island budget) are worth picking up if you can find them. The original British Fruit Tree box is a real treasure. The 1986 Carthage/Hannibal version suffers sonically compared to original British pressings, being compressed and harsh sounding by comparison.
Ryko's recent CD Way To Blue , a 20 song set compiled by Joe Boyd, is a great way to acquaint yourself with Drake. It offers extremely fine sound-better than the Carthage/Hannibal LP reissues- and is competitive with original British Island pressings, though of course the AAA LPs have that extra transparency we all know and love. If the sound on the Fruit Tree CD box is equally good, it would make a worthy acquisition.
Fairport Convention is best known today as Richard Thompson's first band and as the originators of what came to be known as "folk/rock". Its first album, with Judy Dyble singing, later replaced by Sany Denny, released on British Polydor and American Cotillion (a division of Atantic) was more interesting for its eclectic American song selection (rare Dylan, early Joni Mitchell and Emmitt Rhodes) than for its musical accomplishments .
Licensed by Island to A&M, Fairport's later catalogue was poorly handled in America. That and their folky, British sound prevented the band from gaining more than a cult status in the states.
A&M messed with album covers and song sequencing on early albums and didn't do a particularly good job with LP mastering. What We Did On Our Holidays and Unhalfbricking on their original British LP versions are worth paying the serious change they fetch- if you can find them. .......Holidays is a particularly well recorded, atmospheric album- the epitome of the band's brand of pop folk/rock. Denny's haunting "Fotheringay" alone is worth the price of admission. Thompson comes into his own as a song writer on "No Man's Land" and "Meet On The Ledge". What a fine AAA LP reissue this would be!
Unhalfbricking features a wonderful word free cover- a photo of a stereo- typical older British couple standing by a garden gate, behind which and barely visible are the band members lounging on the lawn. A&M balked at the cover, replacing it with a chain of legs up circus elephants. Say what? Highlights are Denny's (and Judy Collins') signature song "Who Knows Where The Time Goes", two Thompson originals one of which, "Cajun Woman" was way ahead of its time musically- leave it to the Brits to discover American forms- and three obscure Dylan songs whose presence was explained in the Dylan bootleg series box released by CBS/Sony a few years ago.
Liege & Lief was Fairport's first album to not feature songs by Americans. The reformed band (after the van accident) features drummer Dave Mattacks and fiddler Dave Swarbrick. Its traditional British folk feel combined with psychedelic counter culture influences makes it Fairport's most timeless, yet innovative album. The A&M pressing, the most likely one you'll find in the used bins is "serviceable", but when you hear it you'll wonder what all this fuss is about John Wood's engineering- if its the only album of his you've heard. Since Bernie Grundman was running A&M's masterng facility at the time, I conclude the tapes Island sent him were not up to snuff.
Sandy Denny, Richard Thompson and bass player Ashley Hutchings exited Fairport in 1970. Hutchings to form Steeleye Span, and Denny, Fotheringay, which released one middling album (A&M SP 4269). The Denny box is a treasure trove of her finest released and unreleased performances as a solo artist and with Fairport and Fotheringay, both in the studio and in concert. Denny's pure tone and unadorned delivery served as the inspiration for many who followed, including Linda Peters (Thompson).
Worth picking up on LP if you come across it, though the sound is somewhat forward and unforgiving.
Whining purveyors of hippie psychedelic horseshit, or gentle, sensitive, mysterious innovators? When it comes to The Incredible String Band (Robin Williamson and Mike Heron), it's probably both. Love 'em or hate 'em, I can't argue with you. For a short time, between Layers Of The Onion> and Wee Tam/Big Huge I found them magical, enchanting and innovative despite my best efforts to find them precious and self- indulgent.
Layers Of The Onion is worth owning on LP just for the psychedelic cover art, but beyond that are some well crafted, melodic songs, delivered by the duo of Mike Heron and Robin Williamson in a truly original style, including the gentle "Painting Box" and the innocent "First Girl I Loved". But the eeriest song is "Way Back in the 1960's", voiced by an old man fifty years hence. Listening to it in the 1960's , I used to imagine what it would be like to hear it in the year 2000- and what my personal circumstances would be. At this rate, I wuzzen't close!
With The Hangman's Beautiful Daughter The Incredible String Band moved far beyond an acoustic guitar duo, adding pan pipes, jew's harp, mandolin, sitar, hammond organ, hamer dulcimer and other stringed instruments, plus a wispy sounding female singer named Licorice.
The songs became more mystical, more enigmatic and steeped in mythology and "New Age" mysticism- before there was such a term. The duo reached its peak, in my opinion, with Wee Tam and The Big Huge released as a two LP set in Britain and as two separate albums stateside.
Paring down the instrumentation and upping the mysticism, the duo created a pair of albums filled with wonderous imagery of fanciful nature and otherworldly legends- an abstract yet pungent vision that still delivers in today's mundane, nose to the grindstone world. Whether you'll find these two albums invigorating or pathetic, I can't say, but if you see them in the used bins on either gold or red label pressings, they're worth checking out. Sonically, they are among John Wood's finest work: open, spacious and delicate, with superb rendering of both vocals and the stringed acoustic instruments.
By I Looked Up , The Incredible String Band was running out of mystical inspiration. The album alternates between harder folk/rock ("Black Rock Davey", "The Letter" [with Dave Mattacks on drums] ) and flowery theatrics ("Pictures In A Mirror), neither of which satisfy. Soon after this lackluster effort, the duo and their female back up singers hooked up with Stone Monkey, a theatrical group, and found further inspiration. John Wood's engineering takes a slide here too: the recording is dry and flat- though still good by most standards.
Unfortunately, Ryko's first few Incredible String Band transfers are down there with the original transfer of Richard and Linda Thompson's masterpiece Shoot Out The Lights : dry, grainy, mechanical and rather unpleasant sounding. The
tapes have deteriorated as well- there's the sound of crinkled tape leaving the head gap in places. The good news is that for some reason, the transfer of Wee Tam & The Big Huge is much better, perhaps due to the condition of the tapes, which sound better preserved. Still, the harmonic complexity, delicacy and acoustic intimacy of the original LPs is missing from the CDs, though without comparison you will be more than pleased with the sound.
Mike Heron's solo album Smiling Men With Bad Reputations was a commercial and musical failure, though a notable one, due to its cast of famous characters who include John Cale, members of Fairport Convention and on one track, "Warm Heart Pastry", a mysterious group called "Tommy and the Bijoux" which sounds remarkably like The Who- which in fact it is. The album made it to the cut-out bins in nano-seconds and is around for a couple of bucks. No Who collector should be without it.
What's your favorite Boyd/Wood production? email us.
<!- ------------------------------------>