Joni Mitchell The Reprise Albums (1968-1971) —The Perfect Box Set Reissue?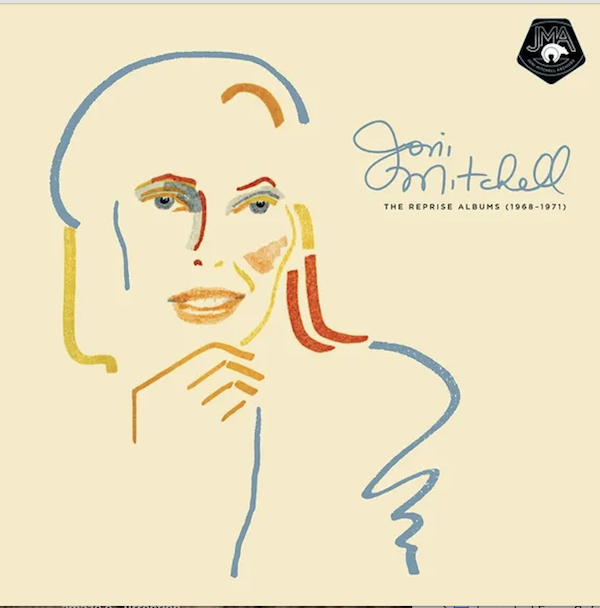 Joni Mitchell first came to the attention of some folk music enthusiasts from the three songs heard on Tom Rush's 1968 release
The Circle Game
(Elektra 74018). Rush covers "Tin Angel", "Urge For Going" and of course "The Circle Game." Rush also covers on the album songs from Jackson Browne and James Taylor before they too became well known.
Though Mitchell's Song to a Seagull debut was released a few weeks earlier, Rush's album more quickly reached a pre-hippie preppy collegiate audience. Rush's turtleneck sweater and herringbone sports jacket struck just the right note. A short time later Haight-Ashbury would come to campus and turtlenecks and tweed would be out. Though released in the spring, the record exudes fall in New England. Linda Eastman took the cover shot and Bruce Botnick engineered. A very classy production to go with the tunes arranged as a song cycle about a relationship.
Flipping through the record bins back then you couldn't miss Song to A Seagull's colorful and cheery cover art—quite the opposite of Rush's cover. Due to a cover art screw up the album title was mistakenly thought by many at the time to be "Joni Mitchell" because "Song to a Seagull" spelled out in birds was an easy miss.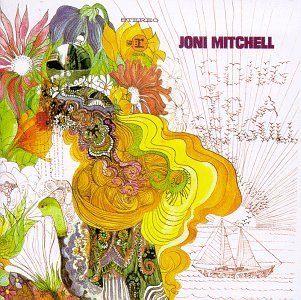 None of the great Mitchell songs on the Rush album appeared on her album. Nor on it were Mitchell standouts like "Both Sides Now" and "Chelsea Morning previously covered by Judy Collins, nor was "Eastern Rain", which Fairport Convention had covered on its Polydor debut album (on Cotillion in the U.S.A.). What was going on here?
Was this a scam title—an older recording— intended to capitalize on Mitchell's newfound visibility? Having been scammed by Capitol Records, which, after the success of Are You Experienced? on Reprise, rushed out an old Curtis Knight recording on which Jimi Hendrix played guitar (Get That Feeling) I wondered about this colorfully packaged album. I bought it anyway, I admit partly based on the attractive colorful cover and hoped for the best. The best is what it delivered, despite missing the three songs on the Rush album and all of the others.
David Crosby produced? Didn't know he was a producer. First play hearing Mitchell's voice buried in reverb I said to myself "David Crosby isn't a producer!" But no matter. The songs were every bit as good as the songs covered elsewhere by others and they were woven together to produce a compelling and thoroughly mesmerizing debut with a "city side" and a "sea side".
First off, how could this young girl (23 at the time the album was recorded) have such a pure and polished voice? How could she produce so many memorable and unique melodies? How, I thought to myself, could she take a cab ride to the airport and turn it into the pure poetry and drama of "Nathan La Franeer"? The aching regret of "I Had A King"? The tidy, sweet memories of "Sisotowbell Lane"—never mind the purity and originality of her guitar playing. How can one person arrive with so much talent, even if it's presented kind of underwater?
I played this record almost daily for more than a few years, getting happily lost in the rich imagery and the depth of Mitchell's delivery. The overly reverberant production did have a way of adding a misty "atmospheric" mystery that over time became both acceptable and because it must have been purposeful, seemingly essential.
Fifty plus years later the album has lost none of its allure and it's not as if the debut was a "promising start". A song like "The Dawntreader" is as fine a song in every way as anything in the Mitchell catalog as is the performance. Jimi Hendrix recorded a live version (yes, Jimi!) of the song March 19th, 1968 in Ottawa, having shlepped to her gig after his gig elsewhere in town his tape recorder but the tape was stolen. 50 years later the tape resurfaced and will be included in the 5 CD/10 LP set Joni Mitchell Archives Vol. 2: The Reprise Years (1968-1971).
For this 4 LP box set Mitchell oversaw a Song to a Seagull remix designed to elevate her vocal clarity by removing much of the muck that Crosby later regretted having added and admitting it was an inexperienced producer's mistake.
Smartly, Mitchell did not produce a "dry" vocal mix (if that was even possible) but instead mitigated somewhat the muck surrounding her voice without damaging the original vibe so that fans acclimated to the original wouldn't be left "high and dry". It works effectively though upon first play I thought it sounded like a cheesy digital delay of some kind but it wore better over time.
Being a purist, I sought out an original Canadian Pye pressing, but of course the original of an album recorded at Sunset Sound is the American pressing. The new reissue mastered by Bernie Grundman from a high resolution digital remix should please the album's longtime fans and produce a few generations of new ones, who might want to go back and grab an original just to also have the original document.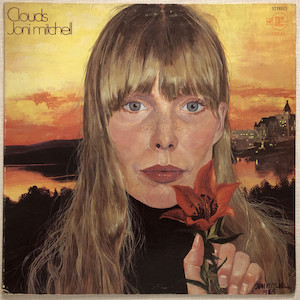 "Tin Angel", "Chelsea Morning","Both Sides Now" and "That Song About A Midway" (written about David Crosby we now find out) among others appear on Clouds the sparely produced, occasionally morose (despite including the "chipper", colorful and welcoming "Chelsea Morning" that made me wish she'd have invited me over for that breakfast!) album of reassessment both personal and career, sprinkled with some self-doubt (it ends with "Both Sides Now" in which Mitchell admits in the final line "I really don't know life at all"). The title says it, but so does the self-portrait cover art. Though colorfully rendered, the look on her face is subtly disquieting.
The opener "Tin Angel" though about finding a new love "in a Bleeker Street café" and tossing out momentos of a previous relationship, has a dark and almost somber tone. "Both Sides Now" has Mitchell pondering what's been lost and what's been gained by her newfound career success and visibility. "But now it's just another show…."
Bernie Grundman cut this one from the original master tape engineered by Henry "Louie" (sic—but corrected on the reissue jacket). I have multiple original pressings including a white label promo copy featuring the messed up rear jacket artwork with the weird "cut and paste" strip that couldn't have pleased the artist. This box set's edition is far superior in every way to all copies I have. The RTI pressing unlike the originals has drop dead quiet backgrounds. The somewhat distant sounding originals all sound as if sourced from a cutting master instead of from the original tape. Clouds reached only #31 on the Billboard chart.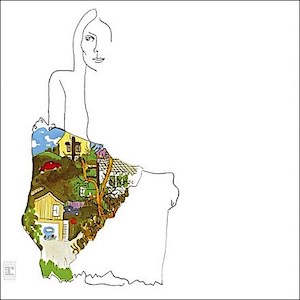 Ladies of the Canyon released in 1970 refers (for those who might not know) to Laurel Canyon, the epi-center at that time of California hippie and musical counterculture. Following the upbeat "Morning Morgantown" (a West Virginia performance recollection?) Mitchell ruminates on her success and a New York street clarinetist who "played real good on his clarinet for free", while the night before she slept "in a good hotel" and "went shopping for jewels". She brought in Paul Horn to play the saxophone coda and Jim Horn to add baritone sax.
"Willie" is Mitchell's sweet love to the point of delirium song to then boyfriend Graham Nash, who, along with Crosby and Stills adds background vocals (billed as "The Lookout Mountain United Downstairs Choir") on "The Circle Game" (finally). Also here are two of Mitchell's most popular and enduring songs, "Big Yellow Taxi" and (an almost somber) "Woodstock", though what's more memorable here (especially for a radio DJ) than "Rainy Day House"?
Mitchell adds piano to her alternate-tuning guitar musical arsenal and her voice achieves added depth and color on some tunes while retaining the pure mezzo-soprano that helped propel her success (along with her other abundant talents).
Again Henry Lewy engineered at A&M now also credited as "advisor". How fortunate was Mitchell and listeners to have had such a talented engineer to capture her magic!
Though the original mastered again by Grundman and pressed at Columbia Records' Pitman pressing plant sounds really nice, this Grundman mastering pressed at RTI sounds much better in every way—cleaner transients, blacker backgrounds and smoother overall.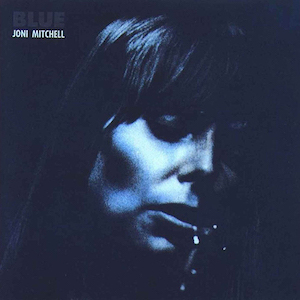 Finally we get to Blue about which so much has been written and said that I'm not going to bother writing too much about it. Released June 22, 1971 and recorded again at A&M studios following Mitchell's break-up with Graham Nash and during her rebound relationship with James Taylor, Blue is considered to be one of the greatest albums of the modern musical era and consistently ranks near the top of every annoying greatest list compiled by anyone anywhere.
Mitchell on piano, guitar and Appalachian dulcimer, performs songs mostly written abroad during a European "get away from it all" vacation, though she announced the break up with Nash while on vacation.
Her relationship with Taylor was in full flower during the making of Blue. The title song and "All I Want" are about Taylor while "My Old Man" and the enduring "River" were about her time with Graham Nash.
Mitchell at her most vulnerable and confessional didn't hit a false note or sentiment thus producing an enduring statement about love and love lost that reaches generations beyond the one it originally touched. Your last break-up could have been fifty years ago and the album will still get to you. So many great songs including "Carey", "California", "A Case of You" and the devastating finale "The Last Time I Saw Richard" about an old lover's fate. If you bought this album when it was first released and listened intently, soaking in all of the raw emotions expressed in story and song, it would have left you profoundly exhausted yet oddly exhilarated at having been so privileged to share with Mitchell her pains and pleasures. How lucky we were to have such artistly in our young lives.
Again, Bernie Grundman mastered both the original and this (circle game) reissue. And again this reissue beats multiple originals to which I compared it and it's markedly superior to the very good Kevin Gray/Steve Hoffman RTI pressed edition from 2006, which suffered from a lower midrange excess that kind of muffled Mitchells' voice.
Add a superb essay from Brandi Carlile (who recently performed Blue in its entirety with Mitchell in the audience and will do so again this fall in New York), superb album art reproduction on "tip on" jackets and you have a perfectly executed box set reissue! Highly recommended.

<!- ------------------------------------>