" Just a Little Lovin' " Finally Gets Some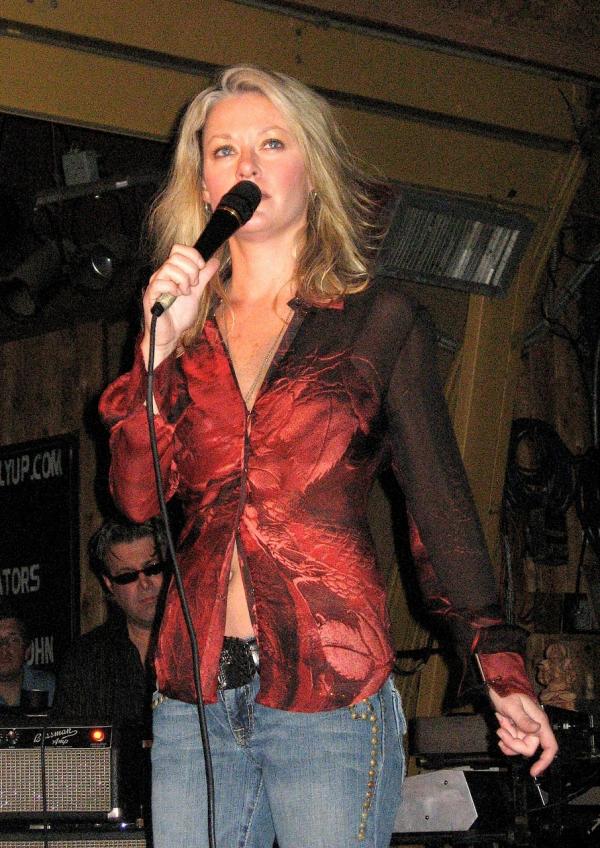 Like Steve Earle, Ryan Adams and other distinctly American artists, Shelby Lynne finds it difficult to settle down musically in one place.
Since releasing I Am Shelby Lynne in 2000, she's been a moving target for her fans and critics alike. Though she won a "Best New Artist" Grammy® Award for that album, in fact, it was her sixth record! Go figure.
I Am Shelby Lynne proclaimed an artist intent upon writing and singing country, rock n' roll, blues, soul, folk, and any other musical genre upon which she set her sights.
Though I Am Shelby Lynne appeared to have hit the "reset button" on her career, she left in its wake a string of disappointing, career-stalling, conventional, Nashville-produced albums, including Love,Shelby (more of an "L.A."  than Nashville record)— an album critics panned for its mainstream rock production courtesy Glen Ballard, best known for his work with Alanis Moristette.
A series of beautifully understated albums followed, including Identity Crisis, and Suit Yourself, which featured a much more organic approach to music-making.
The inspiration to self-produce a Dusty Springfield "tribute" album resulted from a conversation with her friend, the songwriting giant and mega-recording artist Barry Manilow, though the long-time Springfield fan had previously considered creating an album of Dusty covers.
Lynne completed the album, consisting of nine Springfield songs and one Lynne original,  in January of 2007 in Capitol's Studio A just as the label's merger with Virgin left her without distribution—this after Lynne had gone to the trouble and great expense of having it produced by Phil Ramone all-analog with the great Al Schmitt at the board.
Fortunately, Lost Highway picked it up and a year after it was completed, released Just A Little Lovin'  to much critical acclaim, both for Lynne's intimate vocal performances and for her daring use of spare arrangements that re-defined the heavily orchestrated originals.
Despite the album's AAA pedigree, and Lynne's stating her preference for analog and for vinyl—which created a press buzz of its own, particularly after she memorably made the case for the format by saying "You can't roll a joint on an iPod"—the original vinyl release was a fiasco.
Apparently—and this is not a first hand account—the first lacquer, cut from an assembled analog master tape, was damaged during the plating process. Rather than going back to the master tape and cutting another lacquer, Lost Highway chose instead to cut from a high resolution digital file.
That lacquer successfully made its way through the plating process and onto the presses at United in Nashville, which pressed and shipped the entire first run with no one noticing that virtually every copy was plagued by "non-fill"—a pressing defect that causes an annoying "shsssh-ing" sound  during the first few minutes of play. Another press run was ordered that proved much quieter—not that United presses quiet records even when they are not grossly defective.
So while you could get a "pretty good" sounding copy of the album on vinyl, you could not get a great one, one that would do justice to the music and to Al Schmitt's Grammy ® nominated AAA recording.
Enter Chad Kassem's Analogue Productions. Kassem knew the history and he knew how much better Just A Little Lovin' could sound. So he licensed the title for vinyl and SACD, acquired the master tapes and had them shipped to Doug Sax at The Mastering Lab.
The songs arrived on individual reels that had to be spooled off and spliced together to create each side's running master.  Read Michael Fremer's test pressing review here: http://www.musicangle.com/album.php?id=647.  The finished LP and SACD will soon be available from Acoustic Sounds and from other vinyl and SACD vendors.
Interview with Shelby Lynne by Andre Marc:
 Musicangle.com: Can you tell us how this you this project came about and with such a distinguished team in both the control room and the studio?
Shelby Lynne: Barry Manilow is a friend of mine, lives here in the California desert as I do......It was his suggestion that I should think about doing Dusty covers as an album project.After much consideration I called Phil Ramone who I thought had the experience and taste to help me gather the musicians for the album, and I told him on the initial phone call that I insisted on using 2 inch tape and Al Schmitt. He said yes.
Musicangle.com: The arrangements on the record are tastefully sparse. Was this a deliberate counterpoint to what some say is the overproduced Dusty In Memphis?
Shelby Lynne:Whatever they called  Dusty in Memphisdoesn't matter. It's a wonderful piece of work and we all love it.  My goal was to make these wonderful songs mine. After being in the studio with the guys only after a few minutes we realized that less was definitely more.
So I let the songs do the work without a lot of "goings on" going on.........
Musicangle.com: You've said on several occasions that you prefer listening to vinyl. Can you tell us the connection you have to the format and a bit about your record collection?
Shelby Lynne:I also love the studio and studio equipment. I use all analog equipment on my records, Studer tape machine, no computers...It's just my taste and what I prefer.People call me a dinosaur and that's great! As long as they make tape I plan on using it.
I have everything from the first Black Sabbath record to original pressings of James Brown at the Apollo, to records my mama had when she was a teenager. Seems like in the 60's and 70's they had it down as far as making vinyl sound so wonderful. I just love it. To me vinyl sounds better if it's manufactured correctly. Especially cut all analog from the get go........
Musicangle.com: Are there any new artists in any genre that have caught your ear? Also, can you tell us what has been in heavy rotation for you lately?
Shelby Lynne:I love several.....But I guess I am an old traditionalist and love the guys who still use tape machines and appreciate the hard way to get there...Jack White gets it.And I loved Dave Grohl's acceptance speech at the Grammy's saying they made their latest record in his garage with some mics and a tape machine.....
Musicangle.com: I really love your newest album, Revelation Road.Can you tell us about how you made that record and what you have planned next?
Shelby Lynne:I made the record by sitting down and crafting the songs as best I could, then went over to my space and pushed the big record button on my Studer...I try and not make any more detailed plans when I make music other than showing up and singing the song. If you let the music lead the way you can't lose. Perfection in music is not very emotional...If thought out too much and done over and over and over again it loses it's magic.  Music is magic if we stay out of it's way.
Musicangle.com:Shelby, thanks for giving your time to our readers!
Shelby Lynne: Sure, thank you.
____________________________________________
Interview with Doug Sax by Andre Marc:
Musicangle.com: Can you tell us about the master tape you received for Shelby Lynne's Just A Little Lovin' album and what process you used to archive it to digital? We know you cut lacquers from the analog tape.
Doug Sax: The master tape was a 2 track  1/2 inch, recorded at 30 ips. The tape was Quantegy GP 9, which was my favorite in the tape days. The tape was mixed directly from the multi-track 2" master. No noise reduction was utilized.It was recorded and mixed by Al Schmitt at Capitol studios. It is, to my knowledge,the last all analog recording done by Al.
Musicangle.com:When you prepared the album for SACD/CD, was any EQ, compression, or post production necessary? Were there any out-takes or alternate performances? Any other interesting technical notes?
Doug Sax:The transfer to all formats, DSD, 44.1 digital and the LP is done with the same equalization. If we decide that the recording will respond to a certain equalization, then that will be used for all formats. The CD transfer will be done at the highest recorded level to compete in that world. We use Herr (Ed) Meitner's DSD implementation to make the SACD digital stream. His system in specially modified by him to fit into our single-ended room.The monitors used exclusively by Mr. Schmitt are Mastering Lab Tannoys.
Musicangle.com: Are you at liberty to tell us what some of the more interesting projects you will be working on this year?
Doug Sax:We are working on a few really exciting projects. Lyle Lovett's new album was done by us, AND there will be vinyl pressed at QRP. The vinyl was cut from the original 96/24 files recorded and mixed by Nathaniel Kunkel. Working on a new Don Felder album mixed by Ed Cherney and a new album by Eric Burdon also mixed by Mr. Cherney. Also a Chris Botti release
________________________________________
A very special thanks to Shelby Lynne, Doug Sax, and Chad Kassem.
Links:
http://store.acousticsounds.com/d/80111/Shelby_Lynne-Just_A_Little_Lovin-200_Gram_Vinyl_Record
http://store.acousticsounds.com/d/80112/Shelby_Lynne-Just_A_Little_Lovin-Hybrid_Stereo_SACD
<!- ------------------------------------>