Klaudio Magnezar Turntable
Just ahead of an official upcoming trade show unveiling, Klaudio has duly seen fit to let us know they plan on displaying their new Magnezar turntable at the Pacific Audio Fest in Seattle, which is being held June 23-25. More specifically, Klaudio will be showing their gear in Cascade Room #3, which is located on the 2nd floor of the DoubleTree by Hilton Hotel Seattle Airport, SeaTac.
First, some company background. Klaudio was founded in 2013 and was born from parent company Koolance, a leading manufacturer of liquid cooling equipment since 2000. According to Klaudio, "We are able to bring high-quality, innovative products by utilizing Koolance's capabilities in electronics and liquid handling."
The company's initial product release was the KD-CLN-LP200 ultrasonic record cleaner with dryer and internal reservoir. Other key Klaudio products include the KD-ARM-AP12 (12-inch equivalent) tangential tonearm (SRP: $15,000) and the KD-ATL-RCM05 automatic disc loader for record cleaning machines (SRP: $3,080).
And now, the company has turned their collective engineering, designing, and manufacturing expertise toward making turntables. During last year's Pacific Audio Fest — as seen in the above clip — Klaudio showed quite the intriguing turntable prototype. Fast-forward to the here and now a full year later, and hence, we have their new Magnezar turntable readily at hand.
Features for the Magnezar 'table include a magnetically levitated platter, an ultra-quiet direct-drive motor, enhanced liquid stabilization and lighting, automatic spindle and peripheral clamping, aluminum construction, a dual tonearm support that includes the aforementioned Klaudio tangential tonearm and laser pod, and adjustable platter speeds of 33, 45, and 78rpm.
The SRP for the Klaudio Magnezar turntable has yet to be announced, but as soon as the company confirms it with us directly, we will update that information here accordingly.
For more about Klaudio, go here.
To find an authorized Klaudio distributor, go here.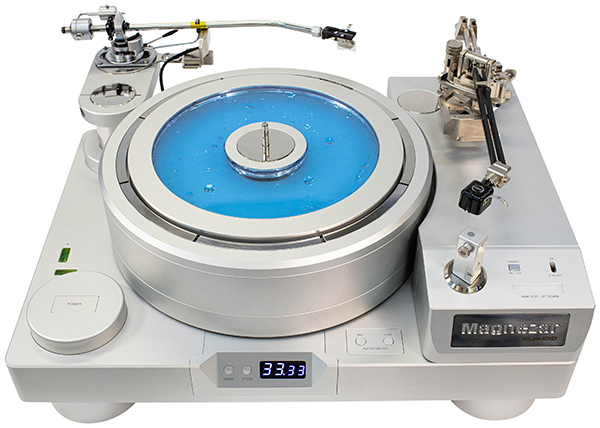 KLAUDIO MAGNEZAR TURNTABLE
($TBD)
Features & Specs
Wow and Flutter: 0.015% max
Speed accuracy: ~0.01%
Motor torque: 5Nm/sec
Platter size: 14.4 x 4.1in (365 x 105mm)
Platter weight: 44lb (20kg)
Total weight: 121lb (55kg)
Footprint: 17.7 x 25.2 in (450 x 640mm)
Dimensions: 16.3 x 22.6 x 11in (415 x 575 x 280mm)
<!- ------------------------------------>