Malachi Lui's August 2019 "Current Spins" Playlist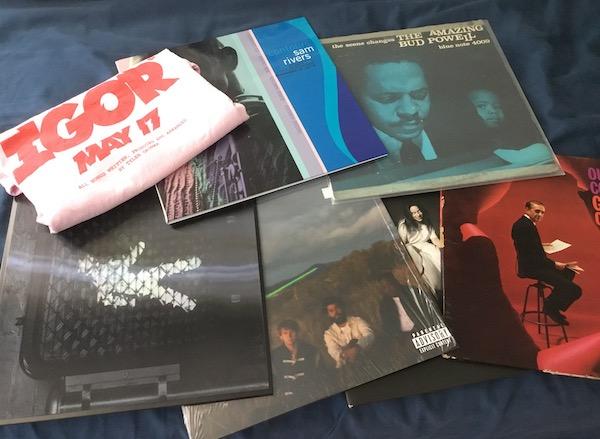 Have you been wondering what music I've been listening to lately? Probably not, but I'm telling you anyway! And maybe now that I've brought it up, you genuinely
would
like to know what AnalogPlanet contributing editor Malachi Lui currently spins in heavy rotation. Below are embedded playlists from Tidal, Spotify, and YouTube along with comments on the songs and/or mini-reviews of their associated albums that I unfortunately don't have enough time to extensively cover.
Tyler, the Creator - "IGOR'S THEME": If a rare 11/10 score for the brilliant
IGOR
(FLAC and LP, Columbia) didn't say anything, then I don't know what does. Some of our readers have stupidly chosen not to listen to it. Their loss. Everything else that I can say about this song and album are in my review (link here) and the subsequent updates (exclusive to AnalogPlanet).
SHADI - "Lord Mohamad:" SHADI's new album You Can't Hear Me (Deathbomb Arc DBA211) is really good. Difficult to digest, yes, but a worthy listen nonetheless. I'm still taking this record in. Recommended if you have the patience, which you hopefully will! (Needs more listening before I can elaborate on the rest of the album.)
Kanye West - "Hold My Liquor": Yeezus (16/44.1 FLAC, Def Jam) is one of the greatest albums ever made by anybody and there's no way you can convince me otherwise. Try. I dare you. Based off of the arguments that ensued in the comments section of my Vanatoo Transparent Zero follow-up, I guarantee you'll fall flat on your face trying to argue against my points. Anyway, "Hold My Liquor," featuring vocals from Justin Vernon (better known as Bon Iver), is a great song that simultaneously shows the Yeezus character's ego and the vulnerability that the ego tries to mask, marking a turning point in the album's narrative. Instead of writing 3500 words on how great Yeezus is, I'll just quickly score the album here: Music: 11, Sound: 9.
Injury Reserve, Rico Nasty, Pro Teens - "Jawbreaker": Injury Reserve's self-titled debut album (LP, Loma Vista LVR00650) is, in my opinion, the second best album of the year. Coincidentally, it dropped on the same day as IGOR, meaning I temporarily forgot about it. Injury Reserve starts off with the trio (made up of rappers Richie With A T and Stepa J. Groggs along with producer Parker Corey) basically saying "we've begun to 'make it,' we have a record deal, etc" before taking a more personal turn. The way it takes that turn as well as the excellent production is what makes the album so fascinating. Chris Bellman cut the vinyl edition, which sounds as good as it can given the less than stellar (although still decent) recording quality. Music: 10, Sound: 8.
Billie Eilish - "all the good girls go to hell": I don't care if WHEN WE ALL FALL ASLEEP, WHERE DO WE GO? (colored vinyl LP, Darkroom/Interscope B0029729-01) is one of the most popular albums in the United States right now, because it's great. It's truly stunning in this current era that such an excellent album (by far the best pop record of the year, and one of the year's top 10 best albums period) is so popular. More importantly, it has maintainedits popularity with a young, mostly female audience (many of the other boys in my class despise every note "Billie Eyelash" has ever recorded, but those kids have repeatedly proven to me that their music taste sucks anyway) who otherwise would probably be listening to whatever garbage radio-friendly song that mysteriously needed ten songwriters to make. The LP doesn't fully engage the listener upon its first spin, rather revealing its subtleties (and strengths) upon further listening. To me, that is what great albums do; oftentimes when all the details hit immediately on the surface, they quickly become stale. WHEN WE ALL FALL ASLEEP, WHERE DO WE GO? is a strong debut from an artist who, within the next few years, could potentially change the direction of pop music. Musically and sonically, it's a strong 8/10.
And before you start screaming at me: no, the Melon does NOT control my opinions!
The Raconteurs - "Help Me Stranger": I'm currently reviewing Help Us Stranger (LP, Third Man Records TMR-600) so all I'll say right now is that it's one of the best rock records in recent years that sounds great too.
Thom Yorke - "Dawn Chorus": ANIMA (XL Recordings 987) is the best thing Thom Yorke's ever done outside of Radiohead. Kill me now, but I actually enjoy this album more than OK Computer (I'm comparing them on a level of personal enjoyment, not on a compositional and textural basis as that would be unfair to both), and that isn't so much a knock on the latter as it is praise for the former. Another one of the year's best albums... this "2019 music" thing is amazing!(Note: Due to its lack of availability on the platform, "Dawn Chorus" is not included in the YouTube playlist.)
Kid Cudi - "Speedin' Bullet 2 Heaven": My other, more significant unpopular yet genuine opinion is that Speedin' Bullet 2 Heaven (24/44.1 MQA, Republic) is Cudi's best solo album. Universally panned by critics upon release (Anthony Fantano famously gave it a scathing 0/10), Cudi's departure into grunge deserves far more credit than it gets. Many of the songs are legitimately good, even great. I'll likely write a future thinkpiece about how underrated Speedin' Bullet 2 Heaven is but for now, let's enjoy the title track included in the playlist.
Frank Ocean - "Nights": Every time I listen to Blonde (16/44.1 FLAC, self-released), I tell myself "this might be the greatest album of all time." It's perfect in every way possible, with its minimalist soundscapes leaving Ocean's emotional vocal performances front and center. I also find this album's release strategy frustrating; the vinyl edition was a one-day-only affair on Black Friday, 2016 that now commands an average of $400 on Discogs. Anyway, if this was the only album I could listen to for the rest of my life, it really wouldn't be terrible. Sure, I'd miss hearing every other album I've ever enjoyed, but blond is so brilliant that there's no way I'd be able to complain that much.
Pusha T - "Infrared": "It sounds like Nas but it came from Quentin." That's the line in the Kanye-produced "Infrared" that set off King Push's iconic feud with Drake, which, in addition to resurrecting that initial ghostwriting accusation (on which more information can be easily Googled), culminated in the former accusing the latter of having a secret son named Adonis with a porn star, using that kid to promote an unannounced Adidas sneaker line (later cancelled), and being a deadbeat dad on "The Story Of Adidon." Drake's response a month later? "I wasn't hiding my kid from the world, I was hiding the world from my kid." Yeah... Pusha obviously buried Drake. Rap battles aside, "Infrared" is a fitting album closer to a short yet brilliant album (DAYTONA, MQA stream and LP, G.O.O.D Music/Def Jam) by one of the best luxurious drug dealer rappers of all time, produced by the greatest musical genius currently walking the planet.
Bud Powell - "Duid Deed": Recently, I picked up an original mono pressing of Bud Powell's The Scene Changes (Blue Note BLP-4009) for $40CAD, having never heard the music prior to purchasing. I'm glad I bought it - it's truly a fun listen with performances by a fantastic trio (Powell on piano, Paul Chambers on bass, and Art Taylor on drums). Rudy Van Gelder's mono folddown LP sounds spectacular, three dimensional, and natural; in comparison, the stereo recording places Powell on the left with Chambers and Taylor on the right, leaving an empty center. However, the stereo MQA file in the below Tidal playlist is still no slouch. Review of this album likely to come at a later date.
Sam Rivers - "Euterpe": Recently reissued on AAA vinyl in Blue Note's excellent Tone Poet series, Sam Rivers' Contours (BST 84206) with Freddie Hubbard, Herbie Hancock, Ron Carter, and Joe Chambers is a terrific avant-garde jazz record. Instead of me describing it in-depth, I'd rather you listen! That's all I'm saying for now.
Gil Evans Orchestra - "La Nevada": Blame Fremer for making me listen to this record. Now I've fallen into the Gil Evans trap and there's no way out because the music is so good and I simply can't stop listening to Gil Evans, specifically 1961's Out Of The Cool (LP, Impulse A-4). I assume that many of you have already caught the bug, but if you haven't, now you have. I applaud those who, for whatever reason, are still able to resist, but I also feel bad for them as they're missing out on brilliant music.
https://open.spotify.com/playlist/0uzLHsj2eLmWwctMYkFCHl
<!- ------------------------------------>