Marchand LN112 MM & MC Tube Phono Preamp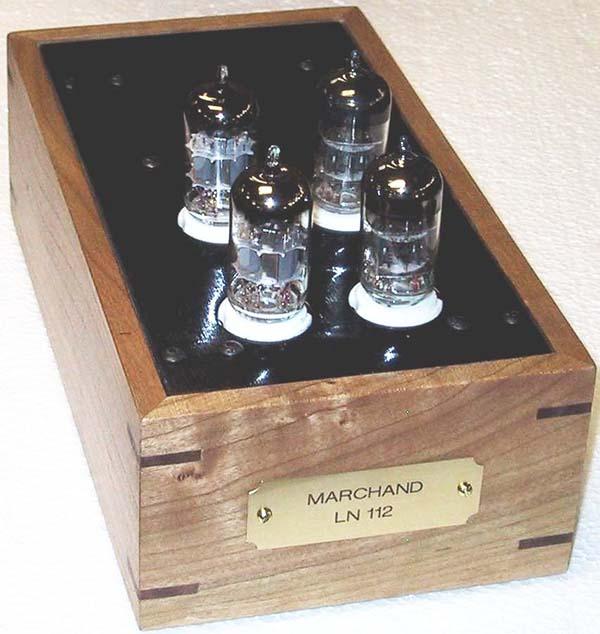 I don't know about you, but I still quite enjoy seeing tubes on full display when it comes to the design philosophy behind certain types of analog gear. Case in point: the simply tube-ariffic look of Marchand's LN112 tube phono preamp.
According to Marchand company president Phil Marchand, the LN112 tube phono preamp is available in two versions: the LN112-AA (for MM) and the LN112MC-AA (for MC). The LN112 provides precision amplification and RIAA correction, and the standard input load is 47kohm and 120pF for MM (and, as Marchand adds, others are available).
The preamp uses four 12AX7WA dual triode tubes. The RIAA network uses a passive configuration, and the power for the filaments is regulated at 12VDC, using an internal voltage regulator. A DC/DC converter steps the 12V to 240VDC plate voltage.
Other LN112 features include one pair of heavy-duty gold RCA connectors each for both input and output, and a binding post near the input connectors for grounding. The LN112 can be powered directly from a 12V lead-acid battery, or from AV with the included adapter.
Meanwhile, the MC version sports a set of high-performance Jensen MC transformers built into the unit, and are said to give an additional 20dB of gain.
A full array of specs for the MarchandLN112 phono preamp appears below, following pricing and contact information.
The MM version, the Marchand LN112-AA, has an SRP of $1,100. The MC version, the LN112MC-AA, has an SRP of $1,400.
For more about Marchand, go here.
To find out how and where to buy Marchand products, go here.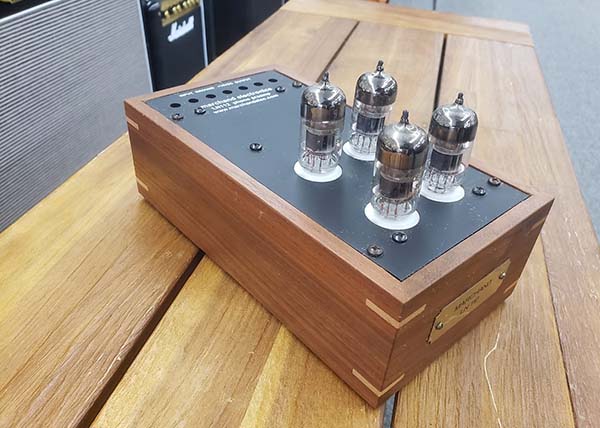 MARCHAND LN112 TUBE PHONO PREAMP
(LN112-AA version [MM], $1,100; LN112MC-AA version [MC], $1,400)
Specs
Frequency response: 20Hz-20KHz ±0.25dB
Input impedance: MM: 47kohm + 120pF (others on request); MC: 10ohm
Output Impedance: 500ohm
Gain: MM: 40dB at 1kHz; MC: 60dB at 1kHz
Signal-to-Noise ratio: MM: 82dB ref. 5mV input at 1kHz, A-weighted; MC: 82dB ref. 0.5mV input at 1KHz, A-weighted
Input noise voltage: 0.04uVRMS, A-weighted
Output load: 10kohm (or higher)
Max output voltage: 7VRMS
Dimensions (w/h/d): 4 x 5 x 8in
<!- ------------------------------------>