Mobile Fidelity Introduces "One Step" Abraxas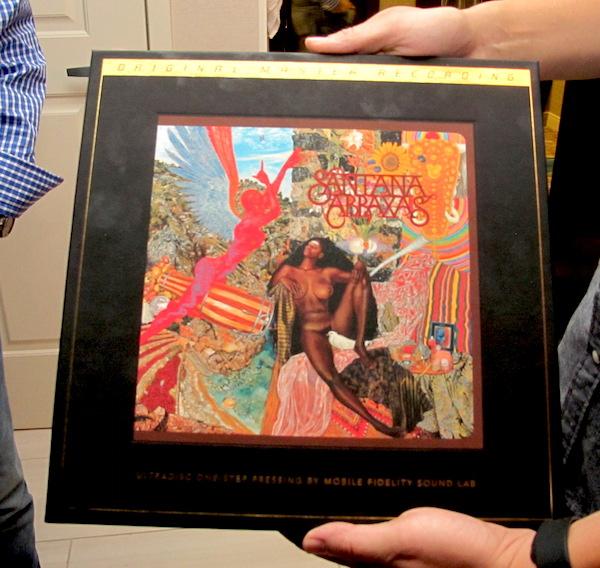 Mobile Fidelity introduced at RMAF 2016 its first "one step" record release: Santana's
Abraxas
.
For those unfamiliar, record manufacturing usually is a "two step" process whereby a lacquer is cut and then plated to produce a ridged metal part called a "father". The "father" is then plated again to produce what's called a grooved "mother" (one day the PC police will force a name change). The mother is then again plated to produce a stamper that actually presses records.
This process allows for many "mothers" to be produced from the "father" if need be. The alternative is to press directly from the "father", which of course eliminates a step and thus should produce better sound. The disadvantage of course is that when the "father" becomes tired after a stamper's worth of pressings (how many that is depends upon who you ask and how concerned they are about sound quality), you must cut another lacquer because re-using a plated lacquer is problematic, though they often can be used as a playable disc.
So here, Mobile Fidelity is doing the "one step" thing, pressing directly from the "father" and mastering at 45rpm.
This limited to 2500 copies edition ("UD1S") comes in a deluxe box set that contains special jackets, a unique insert and a Fine-Art print of the original Mati Klarwein painting.
I doubt Mobile Fidelity pressed all 2500 copies from a single "father". More likely than not, multiple lacquers were cut and plated to produce multiple "fathers". Otherwise someone would be paying $100 for pressing number 2500, produced from one exhausted "father" with no vinyl Cialis possible!
Look for a review as soon as this arrives.

<!- ------------------------------------>