Mobile Fidelity's Long Awaiting Line of Turntables, Cartridges and Electronics Now Available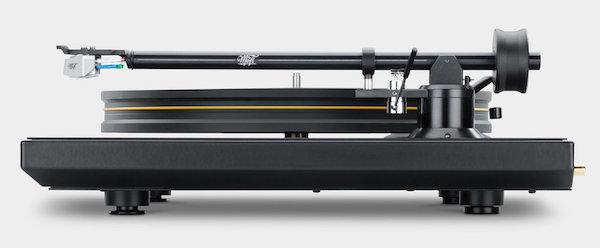 Mobile Fidelity's long-awaited line of analog-related electronics, turntables and cartridges announced some time ago and shown at various consumer and trade shows is now available.
The new Mobile Fidelity line, designed with the help of industry veterans, includes a pair of turntables available with or without Mobile Fidelity cartridges. The StudioDeck turntable with 10" arm 3/4" Delrin® platter and removable dustcover weighs 19 pounds and costs $999. $1149 adds factory-aligned StudioTracker cartridge (a $50.00 saving).
The Ultradeck turntable with 10" arm, 1.3" tall Delrin® platter and removable dustcover weights 23 pounds. $1999.00 adds factory aligned UltraTracker cartridge ($300 savings).
Standard on both 'tables are HRS (Harmonic Resolution Systems) designed anti-vibration feet, an inverted bearing system featuring tightly toleranced steel and bronze components and highly adjustable gimbaled bearing arms.
The three new cartridges are the StudioTracker MM with elliptical stylus and grey polymer body ($199) the UltraTracker MM with nude elliptical stylus and silver billet 6061 body ($499) and the MasterTracker MM with Microline™ stylus, Ohno copper coils and grey billet 6061 body ($699).
The two new phono preamps are the StudioPhono MM/MC featuring adjustable impedance and gain, subsonic filter and mono mode ($249) and the UltraPhono MM/MC, which includes a built-in Class A headphone amp ($499).
For more details and images please visit the Mobile Fidelity Electronics website.
<!- ------------------------------------>