New Orleans Jazz and Heritage Festival Mirrors the Crescent City's Post-Katrina Dilemma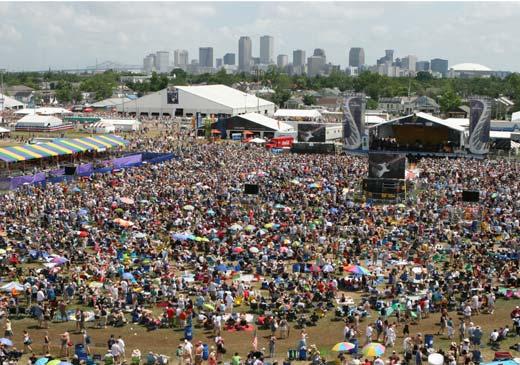 (As we approach the August 29th 2007 second anniversary of Hurricane Katrina, we thought it a good time to reflect on the pathetic response by the Bush administration then and now and to present our man in New Orleans's Roger Hahn's coverage of last spring's New Orleans Jazz and Heritage Festival—ed.)
Big-Box Fest
In truth, there is no music event in the world quite like the New Orleans Jazz & Heritage Festival. Held this year for the 38th time since 1970, the festival began as a tiny gathering celebrating the music and cultural heritage of one of America's most distinctive urban environments. And as festival organizers never tire of relating, the festival was so small its first year that artists actually outnumbered audience members.
Not so today, when megamall-size crowds assemble on the last weekend of April and the first weekend of May under late-spring, Gulf Coast skies. Circulating around 11 outdoor stages, 45 outdoor food booths, and three major outdoor craft areas scattered around the Fair Grounds Race Course – the third-oldest horse-racing track in the nation – their numbers frequently approach the population of a small suburban city.
The two weekends of the festival itself serve as anchor events for what has now become an almost unbelievable variety of musical presentation, with independent producers launching several auditorium and clubs series, local venues presenting special programs, and grassroots groups organizing alternative events.
Toss in tens of thousands of visitors hell-bent on musical ecstasy and local cuisine and what you have is a heady atmosphere prevailing for the better part of two weeks in which music and music-related culture dominate the civic psyche.
As for the festival itself, the eight-hour, nonstop mixing bowl of music, food, crafts, and people is nothing short of intoxicating. And musically, where else can you see Van Morrison in top form one day, kicking off an American tour, and Rod Stewart the next, also in top form, retooling his standard touring repertoire for a one-time-only re-appearance as Rod the Rocker?
Or segue from Bonnie Raitt enthralling a crowd of 30,000-plus with an acoustic rendition of "Angel from Montgomery" straight to cherubic and sexy Rosie Ledet enthralling a crowd of 500-plus with her soulful and deeply rhythmic brand of zydeco?
The variety of performances on any given day at Jazz Fest, from both local and national acts, one following the other, evoke the kind of musical euphoria that easily transitions stright from Cajun punk to classic New Orleans jazz, ethereal modern jazz to bayou-flavored Delta blues, African rhythm-and-dance ensembles to old-time country roots, trombone-chorus rockers to big-band swing.
And never mind the effect of a galvanizing experience like straining from the sidelines of a packed gospel tent on a broiling Saturday afternoon to witness 65-year-old Irma Thomas—resplendent in a flowing white cotton gown/robe—re-inhabit the repertoire of New Orleans legend Mahalia Jackson, summoning the celestial spirits in a performance likely to become a Jazz Fest tradition that will last just as long as the radiant soul icon.
A Paradise Where the Music Reigns Supreme
In fact, Jazz Fest creates a different kind of music-oriented social order, one where independent promoters flourish, midnight jams are the norm, and a relatively unknown musician like pianist, vocalist, and all-round funkmaster Jon Cleary can reign supreme as a head of state.
Cleary—one of the legion of insanely determined Brits who fell in love early with American blues and soul and set their sights on acquiring mastery of it—served a ten-year apprenticeship in New Orleans before taking over the keys in Bonnie Raitt's touring band five years ago.
At this year's Jazz Fest, Cleary was everywhere—backing Bonnie, putting on his own main-stage show, making several appearances on the club circuit, even sitting in one night at the elegantly appointed Carousel Bar in the Monteleone Hotel (a world-famous hangout for world-famous Southern writers), where he rendered a stunning set of early jazz, classic boogie woogie, New Orleans R&B, and modern soul.
His self-produced EP of four cuts, downloadable for five bucks at his Web site, www.joncleary.com, was easily the bargain CD of this year's Fest.
And even better is Cleary's live set with his New Orleans back-up band, available as a $12.50 download as one of 40 live Jazz Fest performances at https://www.munckmusic.com/wms/jazzfest/index.html.
(A quick word about live downloads: yes, one step above bootlegs, especially when it's a band sound you're looking for, but if you stick with featured individuals and easily miked instruments, like keyboards, you can get a surprisingly clear sound reproduction.)
Prior to taking to the road, Cleary established his band, the Absolute Monster Gentlemen, as a must-see, only-in-New-Orleans, local-club phenomenon purveying a mix of gospel, funk, and R&B that featured Cleary's jukebox-ready hit songs.
Their performances have never been captured on CD, so this live set offers first-time recordings of New Orleans underground hits like "Help Me, Somebody" and "When You Get Back," as well as the band's powerhouse reworking of The Meters' "People Say."
At that song's end, Cleary acknowledges the tune's socially conscious message, remarking: "That song's over 20, 30 years old, but it could have been written yesterday."
In fact strains of social commentary ran strong in many musicians' sets at Jazz Fest this year, but nowhere as powerfully or as subtlety as in the hour-long cavalcade of mini-masterpieces delivered by 79-year-old composer, pianist, and singer Mose Allison.
Mose's set, a rapid-paced, perfectly shaped offering of 18 songs rendered in just under an hour, represents another Jazz Fest performance well-worth downloading.
His voice less capable of high-register, sustained notes and his wry cynicism less-well-suited to our times than the 1950s and 1960s, Mose nonetheless proved his late-career work—while not as fruitful as the years that produced trenchant commentary like "Your Mouth Is on Vacation" and "Everybody's Crying Mercy" —could still be every bit as hip and biting.
Midway through his sizzling set, Mose delivered a pair of acid-laced urban valentines, "When I Get to My City Home" and "If You're Going to the City," followed a tour-de-force late-career composition, "Ever Since the World Ended."
The tune's cheerful evocation of postmodern ennui is given added weight by its setting—one of the world's great cities literally fighting for its life in the wake of unprecedented natural disaster and political indifference.
Promoting a "Return to Normalcy"
If last year's Jazz Fest was the story of a phoenix rising from the mud left behind by flood waters—a hastily organized event that seemed to take on a life of its own thanks to determined New Orleans residents and their strongest supporters (find coverage of last year's festival: http://www.musicangle.com/feat.php?id=119) —this year's event proved the opposite: a vision of New Orleans rebuilt by mainstream forces in the image of mainstream America.
First and foremost, it was year in which corporate logos, hospitality tents, bandstand spiels, and logoed polo shirts were in evidence all over the festival grounds.
Holding its position dead center for the eighth year in a row was the tented new-auto showroom belonging to Acura (official festival maps describe it as a "display"), which also holds the naming rights to the festival's largest stage.
Other big-name corporate sponsors this year included AT&T, Capital One, Southern Comfort, and a host of local financial services and healthcare companies.
So intrinsic has corporate support become to the world's premier roots festival, in fact, that Time magazine described this year's event as having been "rescued from near death by a grant from Shell," and a behind-the-scenes news conference was held for credentialed media just to announce Shell's big-bucks corporate funding would continue through 2010.
That sponsorship naturally enough includes use of the company's name in the festival's formal title -- it is now known as the New Orleans Jazz & Heritage Festival Sponsored by Shell -- and prominent placement of the red-rimmed, yellow Shell logo.
The sponsorship story didn't get much coverage, though, despite the irony that Lousiana's coastal wetlands are disappearing largely because oil and gas companies have been slicing work canals through them for more than half a century. And those wetlands represent a primary barrier against hurricanes and especially hurricane-driven storm surges.
So, Shell's financial aid has likely been offered with carefully calculated benefits—against the day when it will be the oil & gas companies' turn to pay for Louisiana's damaged wetlands, and Shell's sponsorship would represent an astute investment in public sympathy should there ever be a major class-action lawsuit.
And naturally as well, local politicians would never miss an opportunity to piggyback on the grandstanding efforts of festival producers and corporate sponsors.
In Louisiana, Lieutenant Governor Mitch Landrieu— brother of Senator Mary Landrieu and a failed candidate for mayor in the city's post-Katrina election—has been banking heavily on what he calls a Cultural Economy Initiative, with much attention and many consultant dollars having been lavished on conventions and reports, with no discernible results.
At both Shell's announcement and at a press conference of his own, the lieutenant governor, backed by the tourism industry that provides much of his support, made a strong pitch for the state's "return to normalcy," a refrain that might well have been the 2007 New Orleans Jazz & Heritage Festival theme.
Video Screens and Champagne Among the Ruins
The only problem was, Shell, the lieutenant governor, and the tourism industry also invited local musicians to speak at these events. At the Shell sponsorship announcement, local trumpeter and Mahogany Brass Band leader Brice Miller told reporters, "Last night, for the first time since Katrina, my wife and I slept at our own house ...
"My main worry now is not local politics, it's not national politics, it's not the failures of FEMA, the culpability of the Army Corps of Engineers, or the stalled Road Home program. My main worry now is keeping the cultural traditions of New Orleans alive."
A similar note was sounded at Landrieu's press conference the following weekend, as trumpeter and Spike Lee composer Terence Blanchard railed about the lack of affordable housing keeping many New Orleans musicians -- and tens of thousands of residents -- away from home.
"I'm tired of hearing musicians saying they can't come home. It's breaking my heart. Where does that happen in America?" Blanchard asked reporters plaintively.
Jason Marsalis, accomplished drummer, vibraphonist, and youngest of the Marsalis clan, made his point even more succinctly.
"As far as I'm concerned," he told reporters, "housing is the issue."
But festival organizers did not use the spotlight this year to draw attention in any way to the stalled recovery of one of America's greatest cultural treasures; instead, they held firm to the idea of a revived Jazz Fest, only "bigger and better."
Big, new video screens were installed at major stages. Ticket prices were increased once again, and "Big Chief" packages for the privileged -- access to tented grandstands behind and above the hoi-polloi, exclusive parking, etc. at $600 a weekend—sold out a month before opening day.
On the festival grounds proper, three major music tents were enlarged and shuffled around like shells in a sidewalk con game, turning intimate settings into cavern-like auditoriums and leaving the Jazz Tent at the New Orleans Jazz & Heritage Festival ironically the least accessible site on the festival grounds.
Providing the icing on the "bigger and better" cake, this year's list of headliners read like a Billboard listing of most-lucrative concert draws: from Van Morrison, Bonnie Raitt, and Rod Stewart to Norah Jones, John Mayer, John Legend, Ludacris, Jill Scott, George Benson, Counting Crows, ZZ Top, The Allman Brothers, Brad Paisley, and Steely Dan.
The crowning touch at this year's Jazz & Heritage Festival, though, surely was the first-time sale of wine and bubbling champagne -- Francis Coppola's private label, at $9 a pop in tiny six-ounce, ruby-hued cans, sold with chic matching-color bending straws.
Echoing Notes of Dissent and Cultural Neglect
There was one other aspect of New Orleans' Jazz Fest this year that seemed especially notable—protesters handing out buttons by the Festival gates and flying banners from planes circling the festival grounds, both reading "No War for Shell, No Blood for Shell."
That note squared firmly with the increasing presence of grassroots organizers lending their passion, time, and experience to the cause of the hundreds of thousands of New Orleans residents—mostly black, mostly Democratic voters—removed from the city and now left stranded in locations throughout the country.
And Jazz Fest is the kind of event where the rhythm of crescendo is expected, with outstanding musical acts milestoning a path along the festival's inevitable progression to what is almost always a memorable last-day climax.
This year, the climax was carried off in true New Orleans fashion as one of the city's most revered music teachers, Alvin Batiste, passed away just 12 hours before his scheduled appearance the final Sunday on a program that featured Branford Marsalis and Harry Connick, Jr.
A master clarinetist, Batiste recently recorded a CD for Marsalis' signature label. About a dozen years ago, he also put out an excellent CD on Columbia called Late, a mellow, modern-jazz masterpiece that's well worth the trouble finding.
Batiste represented the best of New Orleans in his deep commitment to music without concern for wealth or celebrity. His unswerving dedication to educating younger generations produced a long line of singularly motivated and broadly educated protégés that includes drummer Herlin Riley, saxophonist Donald Harrison, pianist-singer Henry Butler, and pop-jazz saxophonist Branford Marsalis.
Alvin Batiste represented the very best of New Orleans' indigenous musical culture.
He came up with Ellis Marsalis, producer and saxophonist Harold Battiste, cornetist Melvin Lastie, drummer Ed Blackwell, and a host of other New Orleanians influenced by the siren call of modern jazz while remaining committed to perpetuating uniquely New Orleans' sounds in contemporary music and in subsequent generations of musicians.
But for the most part, that generation of New Orleans master musicians has gone unrecognized, mainly because they failed to make a substantial-enough impression commercially. Their unsung legacy, however, is at the heart of what makes New Orleans's musical heritage one of America's most-valuable cultural treasures.
Sapping the Vitality of Local Culture?
As wonderful as the world of personal experience can be during Jazz Fest, it's hard not to notice the overall direction of hyper-commercialization the festival's taken since it made its first (and largely disastrous) attempt at broadening the audience base in the mid-1990s by booking jam-band Phish as a headliner.
As the years have gone, festival producers have become more "sophisticated" (a word favored by marketing folks) in their giganticizing efforts, but the effects of big-bucks sponsors and big-name headliners continues to have a disturbing effect, presenting a contradiction not unlike the sort of big-box development that saps the vitality of small-city downtowns.
And it's a mistake those in charge of redeveloping storm-ravaged New Orleans seem to be buying into as well. Recently Ed Blakely, the director of the city's Office of Recovery Management and an internationally recognized expert in urban rebuilding, told a reporter:
"Some things are more difficult now because the city has done what too many cities have done: They've allowed the big boxes to destroy local shopping ... The city's been so anxious to get development, it's made poor choices. You don't bring big boxes into the middle of the city and expect your neighborhoods to survive."
Trailers may still have dotted lawns around this year's Jazz Fest, but it was mostly the new version of New Orleans—one based on a return to normalcy, tourism promotion rather than low-cost housing, and mainstream corporate business interests—that was mainly in evidence on the festival grounds proper.
And therein lies the troubling question that lies at the heart of the sublime state induced by New Orleans' Jazz & Heritage Festival: Who, in fact, does Jazz Fest benefit?
Placed amidst the still-smoldering ruins of post-Katrina New Orleans, the issue takes on racial and economic overtones as ominous as those that accompanied images of the neglected and abandoned residents left to die in the tropical heat two years ago over Labor Day Weekend.
Reviving the New Orleans jazz & Heritage Festival in the reconstruction era of post-Katrina New Orleans raises not only questions of racism and economic exploitation, it also poses the central conflict raised by global corporate expansion:
Can the city be rebuilt with its local culture intact, or will it be rebuilt at the expense of that local culture?
What if the city's upper and middle class neighborhoods are restored and tourism—based on images and reproductions of local culture—succeeds like never before?
In that light, the 2007 New Orleans Jazz & Heritage Festival is unlike any other festival in the world, too; its resounding success may, in fact, be a harbinger not only of the end of real New Orleans culture, but a global foreshadowing of the triumph of cultural exploitation.
End
<!- ------------------------------------>