Our Coverage of Four Kinks Reissues on VelVel From 1998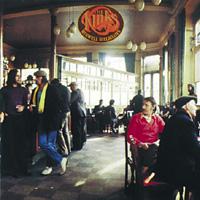 THE KINKS
Muswell Hillbillies
Produced by Raymond Douglas Davies
Engineered by Mike Bobak
Compilation engineered by Mike Konopka at Toy Specialists
Mastered by Bob Ludwig at Gateway Mastering
Konk/Velvel 63467-79719-2 (HDCD)
Music: 10
Sound: 9
Having gotten the madness and betrayal of the music business at least partly out of his system on Lola Versus Powerman and the Moneygoround, The Kinks' final Pye/Reprise release, Ray Davies returned to what he'd begun back in 1968 on The Kinks Are the Village Green Preservation Society, the group's most beloved, though far from best-selling, album. Steeped in nostalgia for a Britain that was rapidly disappearing, ...Village Green looked back at an idealized past that may never have existed, but which Davies wanted to preserve - at least in song.
While it wasn't a fully fleshed out "concept" album, ...Village Green pointed toward where Davies was heading (as did Arthur, which was supposed to be a soundtrack to a TV production) and on Muswell Hillbillies, Davies fulfilled his desire to create an entire album based on a focused theme, which was, of all things, urban renewal. Muswell Hillbillies was inspired by the American sitcom "The Beverly Hillbillies," about a family of poor bumpkins who strike it rich with oil and end up living in Beverly Hills, where they never quite fit in. Davies, born into a working-class family, could relate.
In retrospect, Muswell Hillbillies is a musically rich album filled with evocative tunes dealing with class warfare, "progress," powerlessness, and a host of other important social and political issues wrapped in easy-to-swallow, rocking tunes. But for many young people at the time - especially in America - Davies' complaints about the modern age, his penchant for nostalgia, and his references to class politics fell on deaf ears. Not helping (at the time) was the inclusion of Mike Cotton's New Orleans-style brass band, accordion, and banjo backdrops behind the slinky, strummed acoustic guitars.
The distorted electric-guitar-based hard-rocking Kinks of "All Day And All of the Night" and "Tired of Waiting" was dead, and this new Kinks was looking back and complaining like a bunch of cranky oldsters while the generation it was addressing was yearning to move forward. No wonder Kinks fans divide the group's work into two eras: Pye and post Pye.
While many fans of the early material came back for Muswell Hillbillies, with its "old fashioned"-sounding music-hall-influenced tunes like "Alcohol," "Skin and Bones," and "Acute Schizophrenia Paranoia Blues," it was the last stop for some - and it couldn't have made RCA happy, though it sold reasonably well, reaching 100 on the LP charts in America.
Time has been kind to Muswell Hillbillies. Davies' adult preoccupations resonate well today, as does his unfailing humor, tinged as it is with bitterness, and the music, a curious, sophisticated amalgam of British music hall, rock, and American country remains fresh and vital. In retrospect, it's difficult to understand how a relative youngster like Davies, who was not yet 30 when he penned the hilarious "Complicated Life," came up with this world-weary, wise set.
Even the original Bob Ludwig-mastered LP features good sound, despite being pressed on RCA's paper-thin and ultra-noisy Dynaflex vinyl. While it sounded dull compared to the hyped-up sound of the time, Muswell Hillbillies is an honest, rich-sounding, but a bit over-compressed multi-tracked recording. The mix is clean, dry, and forward with clarity and honesty favored over ambience or studio gimmickry.
While the Rhino reissue was accomplished, this Velvel HDCD is clearly superior, especially if you have an HDCD-decoding player. There's greater clarity, honest top-end extension, dynamics, focus, and overall image solidity.
The two "bonus" tracks are, for a change, worthwhile. Instead of cutting-room-floor throwaways, Davies gives us two unreleased tracks, one of which he'd forgotten about completely (see the interview). Both deal with American themes. "Mountain Woman," essentially a recapitulation of the "Beverly Hillbillies" story, is the less interesting of the two.
"Kentucky Moon," a one-take, dry-witted Randy Newmanesque demo (sounds like "Yellow Man") is a musing on the difference between writing and experiencing. The singer admits he's never been "anywhere south of the Delaware," or to "Timbuktoo," and that he's making up "tunes in hotel rooms 'bout places I've never been to." The remixed bonus tracks are noticeably brighter and edgier than the original material.
THE KINKS
Everybody's In Showbiz
Produced by Raymond Douglas Davies
Engineered by Mike Bobak (studio recordings)
Mastered by Bob Ludwig at Gateway Mastering
Velvel 63467-79720-2 (HDCD)
[See Ron Garmon's superb essay on this album (which reached No. 70 on the U.S. album charts) in the coverage of our favorite live albums of all time (to be published online soon-MF2004). Garmon doesn't dwell on the sound, so again, the original vinyl is Dynaflex thin, wavy, and noisy. The Rhino CD reissue is honest, but this HDCD version is more accomplished, with greater (but honest) high-frequency extension and better focus, clarity, and image solidity. The original pressing, despite its problems, does some things the CD doesn't and can't, but the imperfections of the poorly made records make for some pretty rough going given how good these CDs are. - Ed.]
THE KINKS
Preservation Act I
Produced by Raymond Douglas Davies
Engineered by Roger Beale and Dave Davies
Mastered by Bob Ludwig at Gateway Mastering
Konk/Velvel 63467-79721-2 (HDCD)
Music: 8
Sound: 9
Originally conceived as a full-fledged theatrical presentation,Preservation Act I was based onThe Village Green Preservation Society's loosely stated theme. Slated as a two-LP set and mostly already recorded, Davies scrapped it after returning from an American tour, not liking what he heard. Ray then re-recorded some of the material, delivering this single LP to RCA in the fall of 1973.
Not quite the dramatic narrative Davies envisioned, Preservation Act I nonetheless introduces the Village Green setting and the characters inhabiting the endangered turf. This new CD begins with a bonus track: the single-only "Preservation," which is built upon a "Purple Haze"-like musical figure. The song is a narrative about corruption, power-grabbing politicians, public-property giveaways - the usual rock 'n' roll stuff. Right.
The album proper follows, musically built like a dramatic presentation beginning with a two-minute prologue ("Morning Song") followed by the quaint stage-setting narrative "Daylight" (over the village green), which is somewhat reminiscent of The Moody Blues' Days of Future Past (Ray, forgive me). "Sweet Lady Genevieve" is about as fine a mid-tempo rocker as Ray has written, and for any Kinks fan who gave up on the group when it went "theatrical," this tune should be enough to return you to the fold.
While the group never rocks as hard as the old days, and while some of the "rock" songs sound Broadway-stilted, that's what this music was conceived for. But while "There's a Change in the Weather," with it's waltz rhythm and chirpy female chorus, sounds like something Gilbert & Sullivan might have written, "Where Are They Now" counters with one of Ray's finer melodic flights of endearing nostalgia set against a Tommy overture-like chord triad.
The character "Johnny Thunder" is back from The Village Green album in "One of the Survivors," which begins like Lou Reed "light" and turns into a '50s rocker that mentions some of the big groups of that era. Ray does a Beach Boys break and sends the tune packing with a finale fitting a stage show.
Ray gets didactic on the jumpy "Money and Corruption," letting his personal bitterness show through, but he comes back later with "Sitting In the Midday Sun," a tuneful, delightful song that compares favorably to material from hisFace to Face period even as it sounds heavily influenced by The Rascal's "Groovin'." The original album ends with "Demolition," which gets to the heart of the urban-renewal drama set out in Muswell Hillbillies. This CD tacks on the single edit of "One of the Survivors."
Preservation Part I does not attempt a threaded narrative: it simply lays out elements and characters to be found on Part 2, which came next. No doubt some listeners will find parts of this album a bit soft and cloying around the edges, and the politics a bit simplistic, but time has been kind to this Kinks album, too, and Ray's 1973 musical vision, while not welcomed by these rock-toughened ears back then, now sounds like yet another "great lost Kinks album."
Preservation Part I was recorded at The Kinks' new Konk studios and the sound is bigger and more spacious than before. Again Ray avoids the temptation of rewriting sonic history with this reissue, which is timbrally consistent with both the original RCA flexible vinyl and the Rhino reissue - only better in most ways. Davies doesn't tinker with the overall warmth of the original LP, which still has certain harmonic and timbral charms, but the new HDCD is more dynamic, clearer, obviously quieter, and presents well-focused, three-dimensional images on a nicely spread, though pan-potted, soundstage. And this reissue betters Rhino's CD as well, though the differences are not dramatic and will be best appreciated with an HDCD-decoding player and a good system.
THE KINKS
Preservation Act 2
Produced by Raymond Douglas Davies
Engineered by Graham Hogg
Compilation engineered by Mike Konopka at Toy Specialists
Mastered by Bob Ludwig at Gateway Mastering
Konk/Velvel 63467-79722-2 (HDCD)
Music: 7
Sound: 8
More an "original cast album" than a rock set, Preservation Act 2 documents The Kinks' most ambitious, theatrical stage show, which the group toured America with in the Fall of 1974, complete with costumes, film clips, and pre-recorded parts. Originally a two-LP set, Preservation Act 2 includes 16 songs and five "announcements" that advance the story, predictably about the subjugation of the masses at the evil hands of the wealthy ruling classes (personified by the dictatorial "Flash" played broadly by Ray). His opposite is the sexually repressed, morally upright revolutionary "Mr. Black."
Not much of a choice, really, as Ray moves the story along in song to a bizarre conclusion involving brain cleansing and a robotic solution to mankind's infighting - a theme which would play heavily in his "unauthorized" autobiography, X-Ray.
Preservation Act 2 is a "narrative" album, with most songs describing the action instead of advancing it. Thus the songs don't stand on their own as well as on previous Kinks albums. The retro-sounding "Mirror of Love," curiously released as a single, is a tuneful dead-ringer for "Denomination Blues" from Ry Cooder's Into the Purple Valley, and Dan Hicks fans will recognize the mellifluous voice of Maryanne Price (misspelled on the booklet as Marianne) on two standout tracks: the melancholic "Nothing Lasts Forever" and the clippity-cloppity "Scrapheap City."
But few of the other songs seem to register as stand-alone entities. In the context of the stage show, they're probably sturdy, but here they just sort of float by. And Ray's political didacticism reaches a sort of Marxian/McLuhanesque climax here as he lashes out at the ruling classes, socialism, and the media.
Bonus tracks are an alternative singles mix of "Mirror of Love" and an unreleased live "Slum Kids [Take 1]" recorded in 1979 - neither of which is particularly memorable.
Preservation Act 2 probably made for a better stage show than a music album, and is not an essential Kinks album in my opinion. Sonically, this HDCD is, like the others, a cut above the other versions, including the Dynaflex LPs. For hardcore fans.
<!- ------------------------------------>