Pink Floyd's The Dark Side of the Moon Receives 50th Anniversary Box Set Treatment on March 24, and This Super Deluxe Collection Includes 2LPs and a Nice Pair of Replica 45s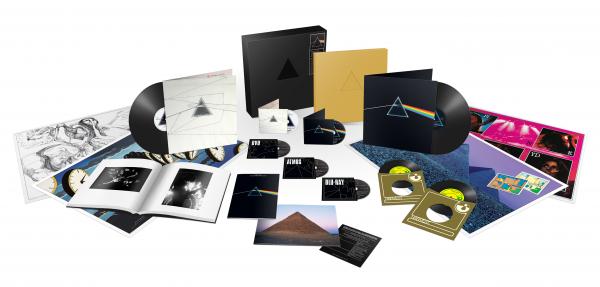 As a matter of fact, it's all dark. Well, let me clarify that — Pink Floyd's seminal March 1973 The Dark Side of the Moon album is getting a much-anticipated, and quite appropriately lavish, 50th anniversary super deluxe box set release via Pink Floyd Records/Columbia on March 24. A nice pair of 180g LPs and two replica 7-inch singles are included in the box set alongside 2CDs, 2BDs, 1DVD, a 160-page hardback with rare photos, a 76-page music book, and other related paraphernalia.
The stats are these. In the box set, The Dark Side of the Moon 180g LP is a 2023 remaster by James Guthrie along with Joel Plante at das boot recording, and it appears in a gatefold sleeve with the original posters and stickers. (I freely admit to having said poster up on my wall as a kid.) The original Dark Side studio album itself was recorded at Abbey Road Studios in London between May 1972 and January 1973, and it was produced by Pink Floyd, engineered by Alan Parsons with assistant Peter James, and the mixing was supervised by Chris Thomas.
The second 180g LP in the box set, The Dark Side of the Moon – Live at Wembley Empire Pool, London, 1974, was recorded at the Empire Pool, Wembley, London, in November 1974, and engineered by Brian Humphries with Phill Brown. It was mixed by Andy Jackson as assisted by Damon Iddins, and mastered by Andy Jackson at Tube Mastering. It comes in a gatefold sleeve with two posters. This is the first official appearance of the 1974 Empire Pool concert on vinyl, as it was only previously available on CD as included in the The Dark Side of the Moon – Immersion Box Set collection that was released in September 2011.
The pair of replica 7-inch 45s in the Dark Side 50 box set each come housed in of-era Harvest bags/sleeves. The first single is "Money" b/w "Any Colour You Like," and the second single is "Us And Them" b/w "Time."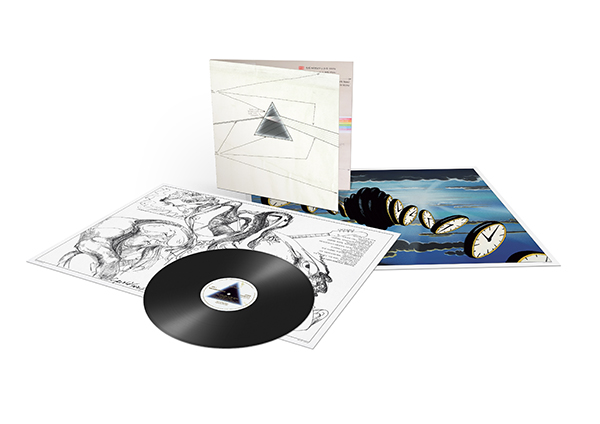 Also on March 24, The Dark Side of the Moon – Live at Wembley Empire Pool, London, 1974 will be released independently from the box set in a 1LP configuration. It was originally recorded in November 1974 as part of Pink Floyd's winter tour, and this is the first time it will be available officially as a standalone album. Its artwork features an original 1973 line-drawn cover by George Hardie.
I must note that the original Dark Side LP itself is not being issued separately from the box set, at least not as of yet — but I wouldn't be surprised in the least to see it being released later in the year all on its own, given the staggered Pink Floyd release strategy that has been in effect for the past decade-plus. Either way, pressing plant details for all of the box set's core vinyl elements are forthcoming.
The box set's SRP is $299.98, while the separate Live at Wembley Empire Pool 1LP lists for $35.98. In terms of the box set packaging itself, the 2023 creative director is Aubrey Powell/Hipgnosis, with design and art direction by Peter Curzon/StormStudios, and the overall 50th anniversary concept and design are courtesy of Pentagram.

What else does the mondo Dark Side 50 box set include? Glad you asked. First off — no, this new box does not house the other comparable bonus audio, video, and/or marbled/scarved componentry in the aforementioned box set. What the new box does include are 2CDs paralleling the content of the 2LPs, 1BD including Dolby Atmos and 5.1 mixes of the core Dark Side album, 1BD with 5.1 and stereo mixes of the core album, and 1DVD with the 5.1 and stereo mixes of the core album.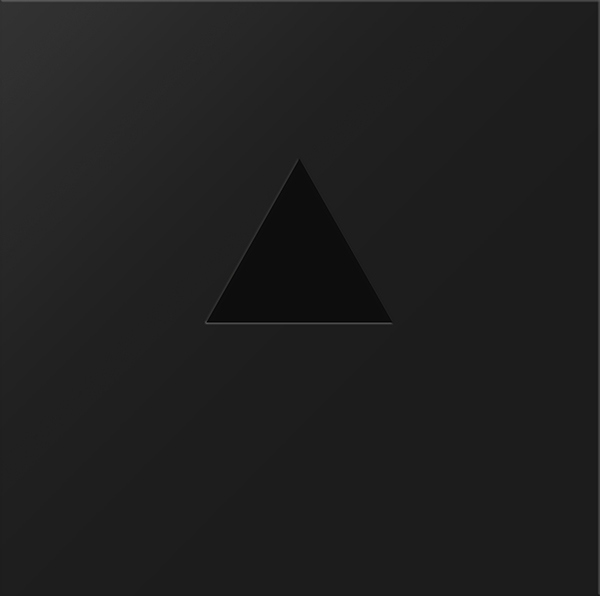 Additionally, the included 160-page hardback Pink Floyd – The Dark Side of the Moon: 50th Anniversary has been curated by photographer Jill Furmanovsky and art-directed by Hipgnosis co-founder Aubrey Powell. This LP-sized volume showcases rare and previously unseen photographs taken during The Dark Side of the Moon tours between 1972-1975, and it was created with the involvement of the bandmembers. (This book will be published separately by Thames & Hudson, also on March 24, for an SRP of $48.)

Also in the box set are a 76-page music book of the original album and a replica of the EMI pamphlet and invite to the preview of The Dark Side of the Moon at the London Planetarium on February 27, 1973. Show of hands — how many of you have attended a planetarium Dark Side "experience" over the years? I will gladly admit to getting the full surround-sound planetarium experience at the Hayden Planetarium in New York City on September 26, 2011, with Pink Floyd drummer Nick Mason in attendance. (Come to think of it, Roots drummer Questlove was also there that night.)

I'm told planetariums around the world will be offering the official full-dome experience with visuals of the solar system (and beyond) as played out to all 42 minutes of Dark Side in March — but you'll need to contact your local planetarium directly to glean any further information regarding their involvement.

Also, there's an official competition for animators to create music videos for any of the ten songs on Dark Side. Animators can enter up to ten videos, one per song on the album, and a winner will be selected from a panel of experts that includes the above-noted Nick Mason and Aubrey "Po" Powell, in addition to a BFI (British Film Institute) representative. The deadline for submissions is November 30. Entry information and more can be found out here.

And there you have it! So, are you all-in on getting this Dark Side 50 box set, and/or will you get the Live LP separately, and/or will you wait to get the original LP reissue, if/whenever it becomes available on its own? Share your deepest Dark Side thoughts in the Comments section below.

PINK FLOYD
THE DARK SIDE OF THE MOON – 50 TH ANNIVERSARY EDITION
180g 2LP/2 45s/2BD/1DVD (Pink Floyd Records/Columbia)

The Dark Side Of The Moon (Remastered)
Side A
1. Speak To Me
2. Breathe
3. On The Run
4. Time
5. The Great Gig In The Sky

Side B
1. Money
2. Us And Them
3. Any Colour You Like
4. Brain Damage
5. Eclipse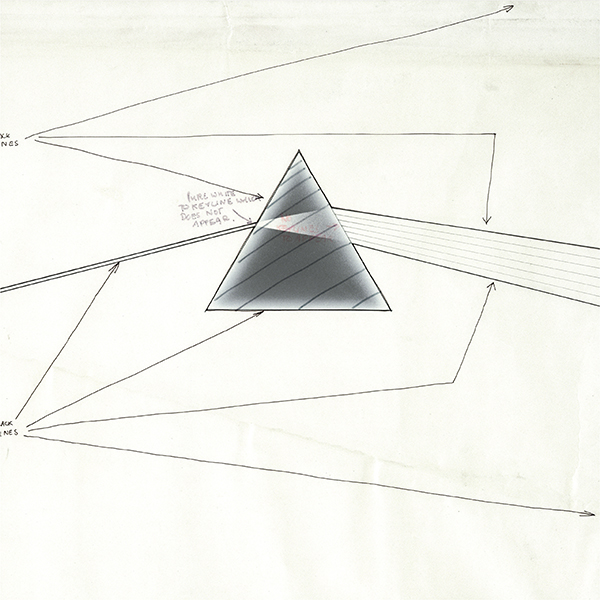 The Dark Side Of The Moon – Live At Wembley Empire Pool, London, 1974
Side A
1. Speak To Me (Live)
2. Breathe (Live)
3. On The Run (Live)
4. Time (Live)
5. The Great Gig In The Sky (Live)

Side B
1. Money (Live)
2. Us And Them (Live)
3. Any Colour You Like (Live)
4. Brain Damage (Live)
5. Eclipse (Live)

REPLICAS OF TWO 7-INCH SINGLES
1) 7-Inch Money single (in Harvest sleeve)
Side A
1. Money

Side B
1. Any Colour You Like

2) 7-Inch Us And Them single (in Harvest sleeve)
Side A
1. Us And Them

Side B
1. Time
<!- ------------------------------------>