Pro-Ject Announces 5 New Analog Products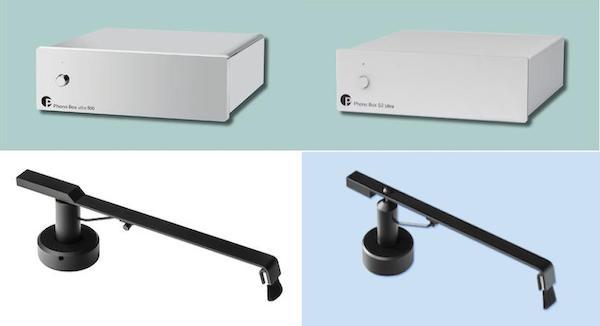 Pro-Ject just announced a pair of low cost MM/MC phono preamps and a pair of sophisticated "record cleaning arms" and in the press release re-launched the $1999
Phono Box RS2
.
The Phono Box S2 Ultra (top right in photo) is a $349 fully discreet phono preamp (no op-amps) featuring audiophile grade polystyrene capacitors, "precise split RIAA EQ", six adjustable gain levels (40dB to 63dB), 10/100/1k and 47kOhms resistive loading and 100/220pF capacitive loading and a switchable -18dB@20Hz subsonic filter all housed in an interference reducing solid metal case.
The limited edition ($399) Phono Box Ultra 500 celebrates Pro-Ject's 500,000th Phono Box that shipped in early 2018 with innards similar to the S2 but with a copper clad enclosure for superior shielding and a luxurious chrome finish.
The two record sweepers are sophisticated versions of devices familiar to older audiophiles that clean dust as the record plays. The "Sweep It E" ($99) features a 226mm long aluminum arm (available in black or silver) attached to a heavy weight stand (total weight 430g) terminated in a soft "hair" brush that tracks the record and cleans it ahead of the stylus. An integrated arm rest provides a convenient location when not in use.
The "Sweep It S2" ($129) features a patented Neodymium magnetic stabilization system, is height adjustable and avoids "skating" common to most record brooms. Length and weight are the same as the E version. The height adjustment allows you to horizontally align the device to insure the correct circa 6g tracking force of the natural hair brush.
<!- ------------------------------------>