Pro-Ject T2 W Wi-Fi Turntable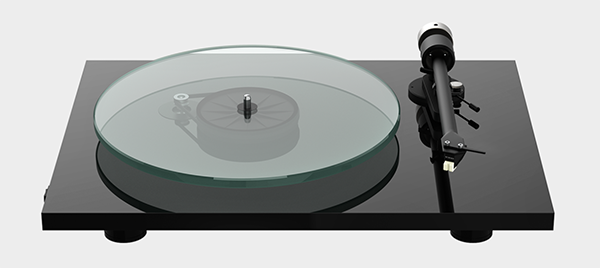 In a sign of the times, one of our favorite turntable companies, Pro-Ject, has just introduced their first Wi-Fi-capable 'table, the T2 W — a 'table that also meets the build-quality standards of one of its T Line predecessors: the no-plastic, zero-resonance T1. The new Pro-Ject T2 W turntable was also recently cited by EISA as being its Best Vinyl System Winner, 2023-24.
Let's first get into the core features of the T2 W, many of which can be seen in the notated diagram below. Building upon the QC standards set by the aforementioned T1, the Pro-Ject T2 W's CNC-machined plinth is said to be larger and more massive "to enhance stability," and its design eliminates hollow spaces in order to prevent unwanted resonance within the chassis. The T2 W, which also sports no plastic components, is available in three finishes: gloss black, satin white, and walnut laminate.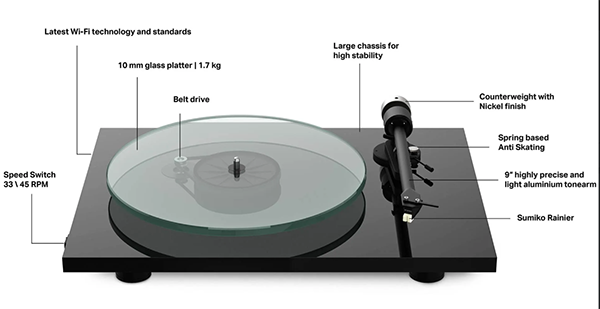 The T2 W also uses a thicker, heavier 1.7kg glass platter, said to ensure a zero-resonance design that "effectively eliminates the shortcomings associated with plastic or light-weight steel alternatives" (their words).
The motor and drive system in the T2 W remain identical to those found in the T1. The motor drives a belt that in turn drives the newly designed sub-platter exclusive to Pro-Ject's T Line. This sub-platter is mounted on an ultra-precise (within 0.001mm) main bearing with a hardened steel axle and brass bushing. The T2 W features Pro-Ject's electronically regulated precision-speed AC motor. The T2 W also comes with electronic speed-switching between 33 and 45rpm, located on the front left side of the plinth.
The T2 W's tonearm has been improved with a longer arm tube. With its 9in effective length and stiff aluminum construction, this one-piece tonearm also features newly updated low-friction bearings to accommodate the increased length and diameter. The one-piece design is said to limit unwanted resonance, and it includes the latest adjustable spring-based anti-skating mechanism for easier setup and optimal phono cartridge performance.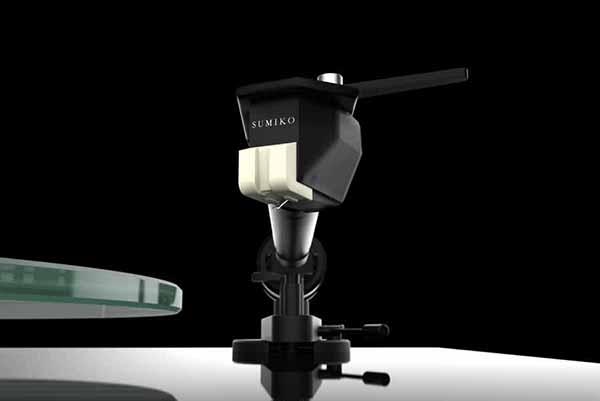 The T2 W has a high-quality dual-stage split-passive moving magnet (MM) phono preamp — said to be the first time one of the company's 'tables has used an integrated phono preamp of this quality. According to Pro-Ject, "We considered this a necessity in order to maximize performance over Wi-Fi." To that end, Pro-Ject has thus supplied the T2 W with the Sumiko Rainier MM cartridge. (On its own, the handcrafted-in-Japan Rainier cart has an SRP of $149.)
The T2 W comes with a removable dust cover, felt mat, 45rpm adapter, and a premium Connect it E Phono RCA cable, the latter of which is clearly geared toward the more hardcore, physically connected-minded amongst us.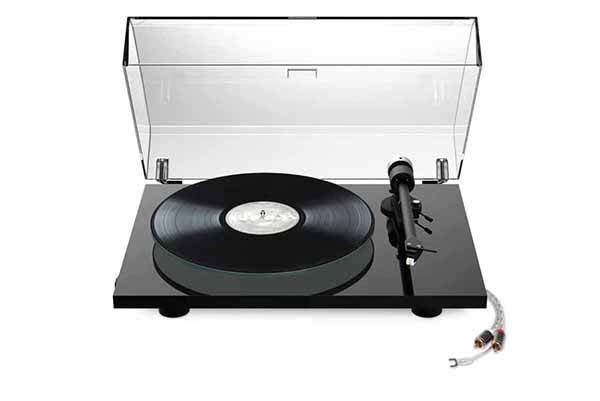 Naturally, a legit sequence of Qs for many of us at this point would be along the lines of whether the analog output of the T2 W is influenced by the Wi-Fi streaming, connected to the Wi-Fi streaming, and/or digitized in any way. According to Pro-Ject — and we're quoting them word for word here, so you'll see some European spellings in their answer, "The analogue RCA output is completely separate from the Wi-Fi section. We took great care to separate the analogue from all digital sections to make sure the analogue output stays exactly that. A fully analogue, highest-quality output like on any other Pro-Ject turntable. The analogue output is not digitized and therefore also not time-delayed or synched in any other way to the digital streaming output."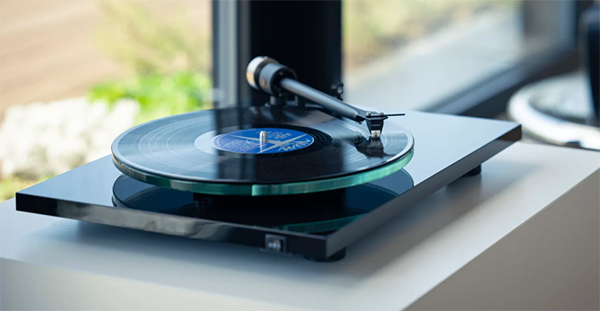 And now, on to the Wi-Fi minutiae. For those who choose this route for connecting the T2 W, its W-Fi capability is said to enable "seamless" streaming to a wide range of modern network-enabled audio devices including hi-fi streamers, network-enabled home theater A/V receivers, and contemporary streaming loudspeakers.
To that end, the T2 W deploys the latest WLAN standards and 2×2 MIMO, which is said to allow for "maximum signal stability and protection against package and data loss." The T2 W can stream in lossless 24-bit/48kHz for select high-end streamers like the company's Stream Box S2 Ultra (SRP: $899). The system is multiroom capable as well, and can alternately be connected via an ethernet port.
The Pro-Ject T2 W turntable's SRP is $1,119 U.S. (£899 in the UK), and it will begin shipping Stateside in October. (The T2 W's U.K. rollout occurs this month, in September.)
For more about Pro-Ject, go here.
To find an authorized Pro-Ject dealer, go here.
PRO-JECT T2 W WIFI TURNTABLE
($1,119 U.S.; £899 UK)
Features & Specs
Playback speeds: 33rpm, 45rpm (electronic speed change)
Speed Variance: 33rpm: 0.6%; 45rpm: 0.5%
Wow & flutter: 33rpm: 0.19%; 45rpm: 0.17%
Platter: 10mm thick, 1.7kg glass platter with felt mat
Main bearing: stainless steel and brass
Signal-to-noise ratio: 67dB
Tonearm: 9in aluminium
Effective arm length: 230mm
Overhang: 22.0mm
Effective tonearm mass: 9.5g
WLAN standards: IEEE 802.11a/b/g/n/ac/ax 2×2 MIMO; 2.4/5GHz
Power supply: 15V / 800mA DC
Power consumption: 4.5W (2W in network standby)
Dimensions: 21.34 x 11.81 x 16.22in (w/h/d)
Weight: 5.5kg (12.13lb)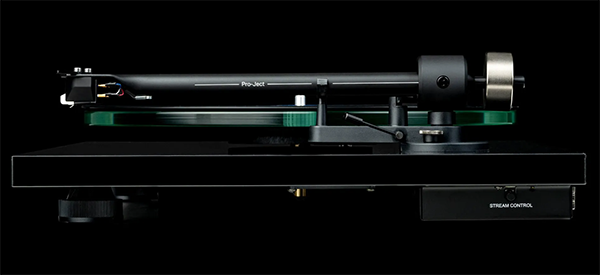 <!- ------------------------------------>