Recording Engineer, Producer Elliot Mazer, R.I.P.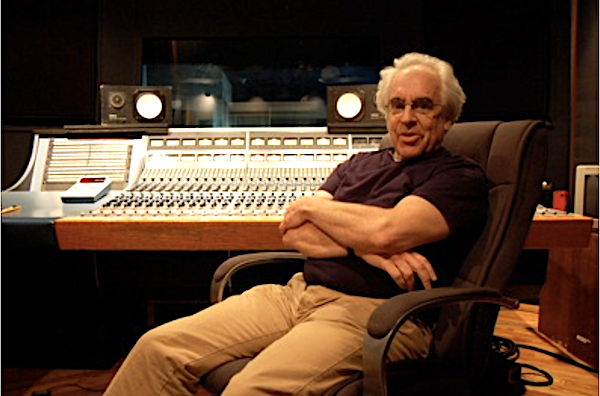 (Copyright 2021, Harvey Kubernik) (Elliot Mazer photo courtesy
Burson Audio
.)
Elliot Mazer, the recording engineer and record producer who worked with Kenny Burrell, Chubby Checker, Maynard Ferguson, Richie Havens, Janis Joplin, Neil Young, Linda Ronstadt, Bob Dylan, Jack Nitzsche, Crosby, Stills, Nash & Young, and The Band died this past weekend at his San Francisco home at age 79. Cause of death was a heart attack. Mazer had battled dementia for a number of years.
During 2015 I interviewed Elliot Mazer during research for my 2015 book Neil Young: Heart of Gold, which has been translated into six foreign language editions.
"I was an A&R man for Prestige Records in 1962 and worked with Dave Pike, Clark Terry and Kenny Burrell. I loved his playing.
"I went to Nashville in 1963 to work on an album El Trio Los Panchos, a famous Mexican group, for Columbia Records. I met those guys in New York (again in 1965). I had told them if they came to Nashville and cut a Spanish version of the Beatles' song 'Girl' it would be huge hit. Live to two-track. Mono. It came out and sold 4 million copies around the world!
"I worked with Jack Elliott, and at Cameo-Parkway, Chubby Checker, Maynard Ferguson, and Teddy Wilson. And then Richie Havens, Jack Holmes, Big Brother & The Holding Company, Gordon Lightfoot, Linda Ronstadt, Ian & Sylvia, Mike Bloomfield, and then the Area Code 615 band. Nashville session musicians. I engineered and co-produced. Wayne Moss, David Briggs, Mac Gayden, Charlie McCoy, Kenny Buttrey. [The BBC music program "The Old Grey Whistle Test" used their 'Stone Fox Chase' as the theme].
"In Nashville, David Briggs, Norbert Putnam and I then built Quadraphonic. It was a Victorian house. The control room was on the porch. We had a wood-paneled living room and the old dining room we used was more padded. We built a drum area sort of in the middle. We had a Quad-Eight recording console and Ampex MM1000 16-track. And Altec studio monitors.
"I had a friend who smoked a lot of weed, which I wasn't then, who played nothing but After The Gold Rush as lot. That was the first time I heard of Neil Young. I was interested in the voice. All of a sudden, we read about Neil coming to Nashville to tape "The Johnny Cash Show". And I said we need to host a dinner. Neil, Linda Ronstadt, James Taylor and Tony Joe White attend and join us for dinner. I get introduced to Neil. 'You work with these Nashville guys. Can I get the studio tomorrow to mess around?' 'Sure.' I had to move a session. I get a hold of Kenny Buttrey [drums]. Tim Drummond [bass], Ben Keith [steel player] and this guitar player, Teddy Irwin that I worked with a lot. And I had worked with the pianist John Harris, he was a physician. I had met him when my Area Code 615 band played the Fillmore West. He was amazing.
"We get the studio ready and Neil walks in. My role is to guide Neil. He played some songs. Neil's back was hurting him tremendously during 'Harvest.' And his back pain, and the fact that he sat down a lot was really inhibiting him. He had an operation a few years later that made that a lot better.
"Neil wanted to be set up near the drums and stand right in the archway between the doors in front of Kenny who was in the middle of the room. 'OK. Sure.' Neil wouldn't wear earphones then. He liked to feel the room. 'I want to stand right in front of the drummer.' The other musicians to the right. He runs through a song called 'Bad Fog of Loneliness,' which is really good Neil song. He then came into the control room to hear the playback and said, 'this in incredible. This is the first time I've heard a song in playback that sounded better than what we heard in the studio.' And that was it.
"We used a Neumann U 67 or 87 microphone on his voice, and I rode his [sound] levels. I'll tell you something with Neil, no matter what microphone you're using he sounds fine. The microphone that he put on the harmonica holder, which was an inexpensive Sony, [ECM] they sounded good too, eventually. I also used these mikes that AKG discontinued, 224E's, which were pencil mikes that were dynamics, dual woofer and tweeter capsule. I used them for Linda Ronstadt because she liked the microphone really close to her mouth. I used it on Neil's guitar.
"Ben Keith from Kansas would play the most appropriate stuff ever. He would sit and listen, and he also listened to songs. He would create sounds. He didn't play steel guitar. He accompanied songs. And accompanied is an art that few people really understand. [Jim] Keltner does that. Listen to the work he did with John Lennon. Ben is on Patsy Cline's 'I Fall to Pieces.' A musician who plays a song is a far better musician for recording than a musician that follows himself or follows a click or follows somebody else. Ben didn't play parts. He played what he felt was right. Mostly what he played was right. No problem.
"Tim Drummond we used to call him the Jive Midget. He came to Nashville from Cincinnati. Tim had played with James Brown. That impressed us. Tim was a great timekeeper. He was not used to playing simply. Playing with Kenny Butttey, the Nashville bass player/drummer combination was always those guys never played a bass drum and bass at the same time. They always interacted. And Drummond knew that and was trying to break into the major sessions and he knew playing nicely with Kenny was a real advantage.
"And Kenny Buttrey blew his mind! Kenny was from East Nashville and loved songs. Most musicians love their instruments. He always told me he would become a musician or a car thief. The minimalism happens because if you record Neil properly. If you give him air, his right hand controls the rhythm and the feel. Kenny followed and accompanied that. He was brilliant at that. Neil would say to Kenny, 'Don't use your right hand.' There was no hi-hat. Kenny sat on his right hand.
"Teddy Irwin had come down from New York together. Good friends. Incredible guitarist. He played on a lot of sessions in New York [Jake Holmes] and Nashville. Fascinating character.
"We did a few takes of each song. Everything Neil did was done live in the studio. I didn't use compressors or limiters on Harvest. None. Generally, I use the right mike and the right place and a proper level setting is much better than trying to have a machine make it. Today that's my philosophy. Compressors can be used for special effects. At Quadraphonic I liked the way the room sounded and there was leakage. The leakage gave the recordings character. On Neil's records you can hear when Kenny hits the drums hard you hear the room more than you hear not.
"I knew 'Heart of Gold' was a hit when Neil played it. He wrote it on piano and performed it on some solo shows. His songs are generally an overpowering feeling. Kenny, Drummond, Ben, Teddy and I are in the control room. Small space. 12 feet by 20 feet. And Neil plays 'Heart of Gold' and I look up and Kenny and I both at the same time put our fingers up as number one. We knew it. From then it was only a matter of time to get the thing done properly and out. Neil's singing and playing on it was magnificent. His tempo was perfect. It was great. All we had to do was make sure we didn't mess him up.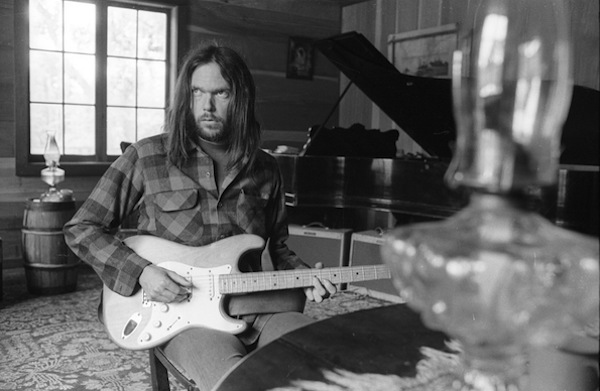 "We did a few days during the 'Heart of Gold' sessions and we took a break. Neil and Jack Nitzsche went to London and did 'A Man Needs a Maid' and 'There's a World' live with the London Symphony. And then Neil came back a little later and we did some more time. I remember the mood in the studio. Peter Asher was in the control room watching me all the time. He and I became friends based on that. And Neil finally got into a groove and played 'Old Man' and sang it beautifully. I knew that was the take. I would know very early with Neil if it would be a take or not. It was very obvious that the song was magnificent. I remember after that take, Neil came into the control room and saw Linda and James there and said, 'let's record the backing vocals.' And we did the backing vocals right in the control room. James played six-string banjo on it.
"We did other tracks that were taped with the 'Stray Gators,' as the guys were now called, in California in a barn on Neil's ranch. We used a mobile truck with a UREI tube mixer. "'Words', 'Alabama' and 'Are You Ready For The Country.' Neil played electric guitar. Jack Nitzsche was on these sessions. Jack was a great person and an interesting person to talk and work with. I have nothing but good things to say about him.
"In Nashville we recorded to 16 track at Quad. Going to Neil's ranch was the same to me as working in London or New York, Neil wanted a studio like Quadraphonic. He had already built a building, so he got the same console that we had and similar tape machines. "Words" and "Alabama" and "Are You Ready For the Country?" were cut down in his barn. We used the Wally Heider remote truck for that. A tube board, called the green board that Neil actually bought eventually. I had used it with Richie Havens, and I had used it with Janis [Joplin] at Winterland. That board had done a lot of wonderful things.
"For the finished album, Neil recorded 'The Needle and the Damage Done' from a solo tour concert at UCLA's Royce Hall and two orchestral pieces that Glyn Johns engineered in London at Barking Town Hall that I mixed.
"In 1972 'Heart of Gold' became a big hit record. I pulled up to the ranch one day. I had a rent-a-car coming from the airport, and as was about to turn the car off, I hear the deejay on KFRC, 'Next we're gonna hear 'Heart of Gold.' I run into the house, 'Neil, come here.' I have him sit in the car and he turns it off. I'm not sure what it was about him. I think he loved getting the big checks but publicly didn't want to acknowledge that he was a pop success.
(End Part 1)
<!- ------------------------------------>