The Records You Didn't Know You Needed #3: Bert Jansch (Transatlantic TRA 125)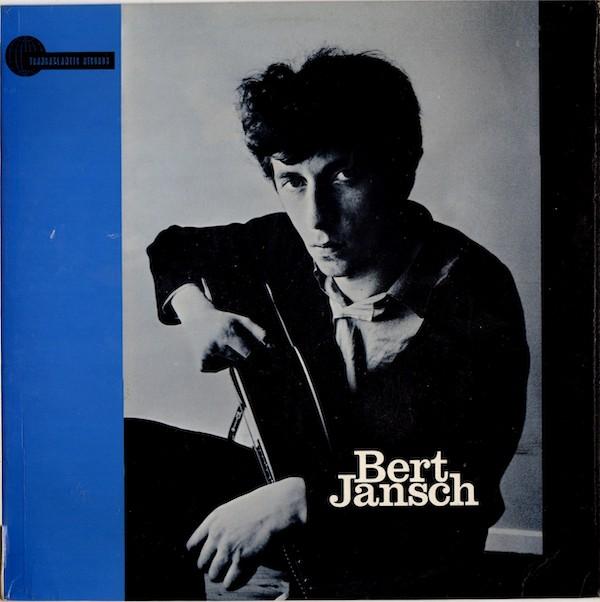 On December 9, 2010 at about 11:30 pm, I was standing in front of Johnny D's, a now defunct and demolished Somerville, Massachusetts club, alone with Bert Jansch who about an hour earlier had finished an hour plus set. It was cold, in the twenties and sleet was becoming snow. Bert was holding his guitar, uncased, by the neck in his right hand.
A huge black luxury touring bus belonging to Neil Young's then wife, Pegi (RIP), who had been the show's opening act, was parked at the curb. Bert's head was tipped back, and he seemed to be looking up at the falling snow and unaware of my presence. After a few seconds, he turned to me and our eyes met. His were dark and filmy, deep pools of sadness.
He was somewhere in them, in that sadness, far away and alone. I knew that Bert wanted to get on that bus, away from me. Someone in the club had said there was a steam room on it. Sitting in the steam, then sleeping while the big bus travelled to the next gig probably seemed like the perfect way for a tired man who was not well to end the day, but for now, he was in the snow on the sidewalk, waiting for me to speak the usual compliments or ask about the guitar tunings. He'd heard it all thousands of times. All of us- the fans -we all said the same things, but we wanted to say them to him anyway. Why? He didn't have anything to say to us. He waited for me to speak.
I knew Bert was dying and that I would almost certainly never see him alive again. I had been a fan for almost forty years, ever since my college music buddy handed me Rosemary Lane and said, "You should listen to this, but it might be too beautiful for you." It wasn't. I bought all his albums as they came out, almost all of them very good and the best ones were the most essentially Bert- no fancy production and no other musicians in the spotlight, even good ones.
Every year or two I'd go to hear him solo live, usually in a small club and while Bert had no stage presence and seemed to regard the audience as a necessary nuisance, he always cast a powerful spell. I had never spoken to Bert at any of the post show, side of the stage, line ups to chat or at the CD signing and sales tables. He seemed like a man who wanted to be left alone and be silent. So, I let him be, but now I was making him stand on the sidewalk in the snow because I felt the need now, my last opportunity, to say something to him, probably something cliché and corny like, "Your music is really important to me." Or maybe something that might embarrass him like "I'm in awe of your talent, the emotional honesty and intensity of your music and your artistic integrity. You're a great artist."
I wanted to speak to Bert Jansch the artist who I had created in my mind during all those hours listening to his music. I didn't know the frail, sick man standing on the sidewalk with his guitar who just wanted to get on that bus. I didn't know what to say to this other Bert Jansch. The silence lengthened.
Bert Jansch was born 1943 in Glasgow, Scotland and raised in Edinburgh. He started playing guitar at 15, immediately displaying outstanding ability, and became a songwriter at 16. The early 60s in the U.K. were a time of musical ferment. Black American blues artists like Big Bill Broonzy, Memphis Slim, Muddy Waters and Sonny Terry and Brownie McGhee had toured there and had records issued that that were purchased by a small, devoted audience. The U.K.'s own folk music was being rediscovered and a network of clubs and folk song societies had sprung up, presenting traditional performers and young innovators.
American jazz—all styles—Modern, Swing and New Orleans was widely available on records and had a substantial following. Jansch had the talent and the ears to learn from it all, especially Broonzy and McGhee, but his biggest influence was Davy Graham, composer of "Angie" aka "Anji" recorded by Paul Simon and many others.
Graham (1940-2008), son of a Scottish father and a Guyanese mother, developed a guitar style incorporating blues, jazz, U.K. folk, Indian and Middle Eastern music, playing with great facility, two and sometimes three lines simultaneously.
Jansch took the style further, playing with a looser, more bluesy feeling, using dissonance and unusual chords, adding or subtracting bars and beats and using counter rhythms to accompany his vocals which had a unique mournful quality and were devoid of flashy technique, histrionics or overt borrowings from black blues singers. In 1964, Jansch became a phenomenon on the U.K. folk scene and beyond, playing clubs all over the country, his songs and astonishing guitar playing amazing musicians.
Jimmy Page, in 1971 commented, "He was the innovator of that time. He tied up the acoustic guitar in the same way Hendrix did the electric. His first two LPs had some instrumental work that was totally unbelievable. I watched him play once at a folk club and it was like watching a classical guitarist playing. All the inversions he was playing were unrecognizable. His playing was amazing."
Jansch's first, self-titled LP was recorded sometime in 1964, released in the spring of 1965, and sold over 100,00 copies in the next few years in the U.K., a tremendous figure for such an uncompromising and genre stretching album. It's just Bert, his voice and guitar and all the songs but one his, six being instrumentals. "Strolling Down the Highway" is very bluesy, with propulsive rhythm, displaying Bert's clean technique and beautiful guitar tone as he sings a Guthrie-esque lyric about hitchhiking. Bert throws in a few licks that show that somehow Chet Atkins and Merle Travis records had made it to the U.K. and that he had heard them.
"Smokey River", Bert's slight rewrite of Jimmy Giuffre's "The Train and The River", shows him playing jazz his way. It's a masterful example of his guitar playing and musical intelligence. As on much of the album, the guitar is tuned down a whole step, creating a fuller, more ringing sound as Bert constantly weaves dissonant harmonies and countermelodies against the main melody line, surprisingly going from minor to major near the end.
"Needle of Death" is a grim and classic song, the guitar part later borrowed by Neil Young for "Ambulance Blues", with a great raw, sorrowful but, as always with Bert, restrained vocal over an insistent driving bass note rhythm that fits the lyric perfectly. "Veronica" mistakenly titled "Casbah" on the original LP sleeve and label, is a nearly unrecognizable rewrite of Mingus's "Better Git It In Your Soul" and is a very adventurous composition, more akin to the modal jazz of Coltrane than folk music. The tune is a drone over one fretted bass note and Bert plays some wide ranging, free melodies and some Thelonious Monk left hand-like clashing rhythms against it.
"Angie" is Bert's own personal version of Davy Graham's tune and he makes that clear by playing it considerably faster, with a much harder touch and tone than either Graham or Paul Simon, inserting his own violent right hand strums at the end of every fourth bar. It's a masterful performance, deeply bluesy with tricky rhythms and complicated harmonies all Bert's own with oddly precise instances of slipping behind the beat and a "you ready for 'hip', well dig this" quote of Nat Adderley's "Work Song" (in the U.K, in 1964!).
"Do You Hear Me Now?" is an anti-nuclear war protest song with one of his most impassioned vocals and superb guitar accompaniment. Donovan, who recorded two tribute songs to Bert, recorded a cover of this tune and it became a pop semi-hit in the U.K. the instrumental "Alice's Wonderland" is a brilliant piece of guitar mastery. He plays a pretty chordal theme rubato, playing a theme and chord pattern very reminiscent of Jimmy Smith's tune "Minor Chant" before going into tempo, then in three simultaneous lines in different rhythms, dizzyingly echoing and elaborating the melodies, while subtly shifting and developing them.
The LP was recorded in a makeshift studio in engineer Bill Leader's kitchen. Reportedly, he used a semi-pro Revox set up in the sink. The results he obtained under such conditions testify to his skill, for Jansch's second album recorded about four months later at Pye studios by a professional engineer, possibly wearing a white coat like at Abbey Road, while certainly competent and listenable, does not come close to the first's wonderful "you in the room with Bert" beauty.
Leader, little known in the U.S., is one of the great, unheralded recording engineers especially of vocal music. He began recording U.K. folk for the independent, Topic label, sort of a British Folkways, in 1955 and for the rest of his career rarely recorded any other type of music.
The folk aesthetic that valued authenticity over all else, the miniscule recording budgets that precluded lots of mics, overdubbing, all that studio etc. and the talents of Leader who knew how the music should sound and was determined to document it honestly, produced a multitude of superb recordings both for Topic and for his own labels, called, with wry British humor, Leader and Trailer.
His recording of Jansch is glorious 3D mono—deep, dynamic and detailed--the voice round and full from the lowest to the top and seeming like a column of air vibrating in the chest of a phantom Bert sitting between your speakers. Dynamics are very quick and lifelike. The guitar when picked hard, which is frequent, snaps and rings. The guitar recording is gorgeous. You can "see" the sound ringing out from the hole and "watch" the overtones hang in the air and slowly dissipate. It's not just a great recording of a guitar, it's a great recording of Bert Jansch playing the guitar and perfectly captures his unique touch, sound and "guitar soul". The balance between the voice and the guitar is ideal with the voice located where it would be if Bert was sitting with the guitar about three feet above the floor. This is a great recording, one of the best of voice and guitar I've heard and it's the best recording of Bert Jansch.
Original Transatlantic pressings of Bert Jansch, if clean, play very well and if your finances allow, are what you want. Even without the flipback sleeve, they will set you back a more than moderate, but not an amount that will cause you to gasp in disbelief. A label called Superior Viaduct reissued the record in 2016, "remastered from the original master tapes." It seems to be out of print. I haven't heard it. Jansch's first two records were never given proper U.S. issue in the 60s. Instead, Vanguard in 1966 put out a single record compilation of tracks from two records called Lucky Thirteen. It was not a good idea. Eight tracks from the first album are included and the other six are truly missed. All copies I've seen claim to be stereo but play mono. The sound is hazy, noticeably rolled off and less dynamic than the Transatlantic pressings. That a second or third generation tape was used is all but a certainty. Even though Lucky Thirteen is a butchery of Bert's artistic vision, the music Vanguard did include is superb.
After the first LP, Jansch made two more solo LPs for Transatlantic and a duet album with another virtuoso guitarist, John Renbourn. In 1967, they formed the "folk-jazz" group Pentangle which was a moderate commercial success in the U.K., but decidedly less so in the U.S.
In 1968, Jimmy Page recorded for the Led Zeppelin album, Jansch's guitar arrangement of the traditional song "Black Waterside", called it "Black Mountain Side" and credited himself as composer. When Pentangle broke up in 1973, Jansch retired from music to become a farmer. In the late 70s he resumed a solo career and then reformed Pentangle with various lineups during the 80's. In 1987, damage to his pancreas due to long term heavy drinking nearly caused his death and he remained sober for the rest of his life.
A creative and career resurgence began in the 90s, culminating in the commercial success of his last studio CD, 2006's, The Black Swan, which paired Jansch with Beth Orton, Devendra Banhart and other later generation musicians. In June 2009, he was diagnosed with lung cancer and half of one of his lungs was removed. In May 2010, he resumed performing, opening shows for a Neil Young acoustic tour. A second operation for lung cancer caused Jansch to cancel his appearances on another Neil Young tour in the Fall of 2010. He was able to make a short headlining tour of the Northeast U.S. with Pegi Young as the opening act in November and December 2010 including Johnny D's in Somerville MA.
The show at Johnny D's was a near sellout and I was fortunate to get a table right in front of the single chair on the stage. After Bert was announced, he walked from the back, through the audience, carrying his guitar. When I saw how frail he was, walking slowly and unsteady on his feet, I thought that it might have been wiser to stay home and not remember Bert this way. Without acknowledging the applause, he got onto the stage, sat down in the chair and lowered his head with his chin on his chest.
There was a long silence and the audience began to rustle nervously. Still Bert didn't look up or move. Just when it seemed that this silence could not continue, he lifted his head, adjusted the guitar and played a chord. I had never been so close to Bert while he played and was shocked by how big and encompassing the sound was. It was all around me; bright, shimmering, golden, pulsing, alive but also dark and as it became silence, fragile. Bert lived in that sound. He began to sing "Katie Cruel" and I was there with him in that sound. The audience was there too, all of us in that sound. Bert played the set with quiet, furious passion.
At one point between songs in the quiet, a man said "Bert, you are very much loved. Very much loved." The audience applauded, but Bert didn't seem to hear. When the set was over after two encores, I was stunned. I couldn't come back to myself and didn't want to. Later, I would say that it was like what I imagine seeing Skip James or Son House in 1965 was like, but then, I couldn't have said anything. When the club was empty, I left.
Outside on the sidewalk, the man who had told Bert that we loved him was talking to Bert. I stood a polite distance away and waited. The man asked Bert where he was playing next. "I'm not sure. I just go where they take me.", Bert said. "Well get some sleep.", the man said and patted him on the shoulder. Bert nodded slightly. The man walked away and left Bert and I alone. Bert turned and began walking toward the front of the bus. I walked with him. At the bus door, Bert looked up at the snow, then at me, our eyes met. The silence lengthened. I couldn't speak, though I very much wanted to. There were no words. They were useless. Bert lived only in the sound. I said, "Thank you." He raised his left hand and nodded. The bus door opened and there was a man there to help him up the stairs. The door closed. Bert Jansch died ten months later. RIP Bert Jansch (1943-2011)
<!- ------------------------------------>