Review Explosion, Short Cuts Edition Vol. 2: Billy Joel's 2LP RSD Exclusive Live '75 San Francisco Set, Solomon Burke's 180g 2LP 20th Anniversary Grammy-Winner Reissue, and Larkin Poe's Latest Southern-Rockin' 1LP Sibling Offering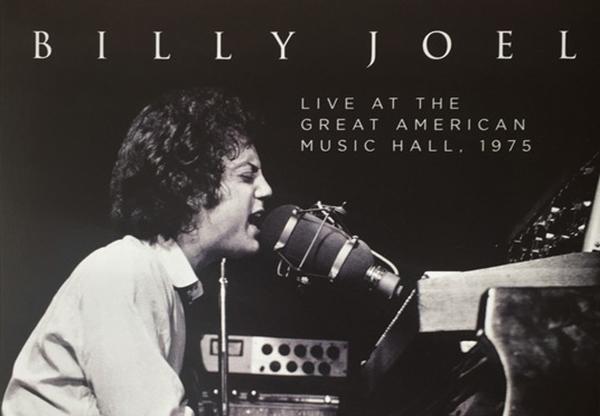 Welcome to our second installment of Review Explosion Short Cuts! In the first installment of this new combo-review series, I focused on three Record Store Day 2023 exclusives. Here in Vol. 2, I'm tackling three more LPs worthy of your attention — namely, 1) a 2LP RSD 2023 title that had proven somewhat elusive to obtain until recently; 2) the 20th anniversary 2LP reissue from an acclaimed Grammy-winning soul giant, and 3) the new 1LP release from some great blues-rockin' guitar-slingin' sisters of Southern origin. So without further ado, as the saying goes, let the Short Cuts reviewing begin anew!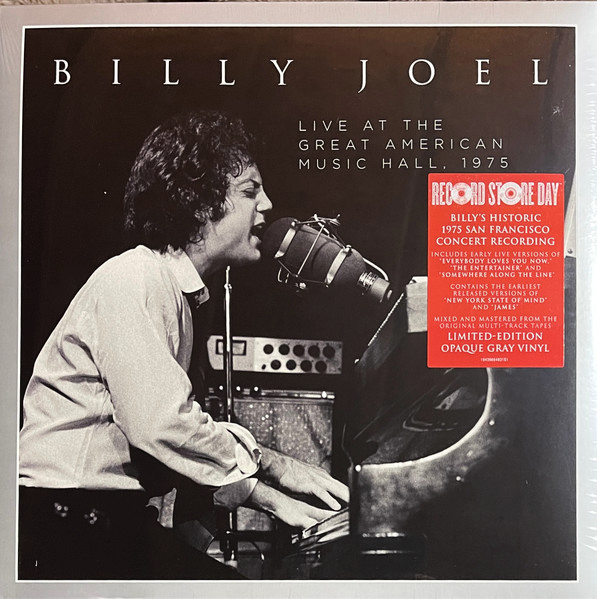 BILLY JOEL
LIVE AT THE GREAT AMERICAN MUSIC HALL, 1975
2LP (Columbia/Legacy)
MUSIC: 9
SOUND: 8
Originally issued in 2021 as part of Billy Joel's The Vinyl Collection, Vol. 1 box set, I was super-excited to learn that, on Record Store Day 2023, the arguable centerpiece from that massive compilation — a bonus exclusive included alongside seven of Joel's LP releases between 1971 and 1981 known as Live at The Great American Music Hall, 1975 — was finally going to be issued as a standalone limited-edition 2LP set.
Given that Billy Joel is who he is — one of the best-selling artists in the history of popular music who still sells out concert after concert at his record-setting, many-years-long, month-to-month residency at Madison Square Garden in New York City — I expected this 2LP release would be a fairly easy album to snag on RSD 2023 this past April.
Man, was I ever wrong! It seems most stores around San Francisco either didn't get their copies of the album, or simply didn't order any — the latter of which seems odd to me, given where the album was recorded. After a couple of months of casual poking around my local record shops in person (since I generally try to avoid buying RSD titles online), I finally found a copy at one of my favorite music stores in the entire Bay Area — Mill Valley Music — on a recent visit over the Golden Gate Bridge into Marin County. This particular record store is really exemplary at stocking RSD special editions, so if you ever get stuck looking for something yourself, always check them out online here. Frankly, I probably should have looked there first before heading out to all those other local shops — note to self!
This Billy Joel live set was, as its title notes, recorded in 1975 at The Great American Music Hall, one of my all-time favorite Bay Area concert venues — the same space, in fact, where the Grateful Dead would play their only show that year on August 13, one that was captured in a legendary FM broadcast eventually released in April 1991 as One From the Vault.
There is something inherently special about this venue. Having seen many favorite artists perform in that intimate 500-seat space — including Robert Fripp, Elvis Costello, Jeff Buckley, Betty LaVette, David Crosby, Dungen, and more — I can attest to its magic, as I found every one of those shows to be tremendous.
The sound quality on Live at The Great American Music Hall, 1975 is indeed excellent, reportedly "mixed and mastered from the original multi-track tapes" (per the hype sticker on the cover, at least). The pressing quality on this 2LP RSD 2023 release is happily top-notch. The standard-weight, opaque-gray vinyl is thankfully quiet and well-centered.
Here, Joel sounds very comfortable on what was the last night of a four-show run. His early West Coast band configuration is well-oiled, and having fun. At this show, Joel previews two songs that would later appear on his first full masterpiece, May 1976's Turnstiles — "James" and "New York State of Mind."
The band also brings to life songs from Joel's then-current album, October 1974's Streetlife Serenade, including "The Mexican Connection," "Roberta," and "Weekend Song." The minor chart hit "The Entertainer" sounds great too, featuring some lovely, huge-sounding acoustic-guitar strumming, while Joel and his band also rock "Everybody Loves You Now" from his November 1971 debut, Cold Spring Harbor. It is also neat hearing tunes from November 1973's Piano Man that didn't really get performed too often later on in his career, such as "Travelin' Prayer," "You're My Home," and "Ain't No Crime."
My only complaint is a cosmetic one. The cover design of Live at The Great American Music Hall, 1975 is lackluster, offering just a somewhat-cheesy, single-pocket sleeve for housing both discs. There are no liner notes, nor are there any pictures from the show save for the black-and-white front-cover shot.
Still, if you are into Billy Joel's music and didn't wind up springing for that big, pricey 2021 box set, this RSD 2023 edition of Live at The Great American Music Hall, 1975 is essential. Depending on where you look — starting with the RSD link provided below — you should be able to find this 2LP set for a baseline SRP of $40. That said, you should also check Discogs if this release happens to be sold out in RSD Land by the time you read this, as some copies are listed there are going for a bit less than that baseline SRP.
Maybe one of these Record Store Days to come, there will be an official — and hopefully expanded — release of Billy Joel's promo-only sampler and half-live 1977 release, Souvenir (hint hint). Until then, this 2LP RSD 2023 set will do your early-era live Joel jones just right.
If you want to see where you can purchase your own copy of Live at The Great American Music Hall, 1975, go here.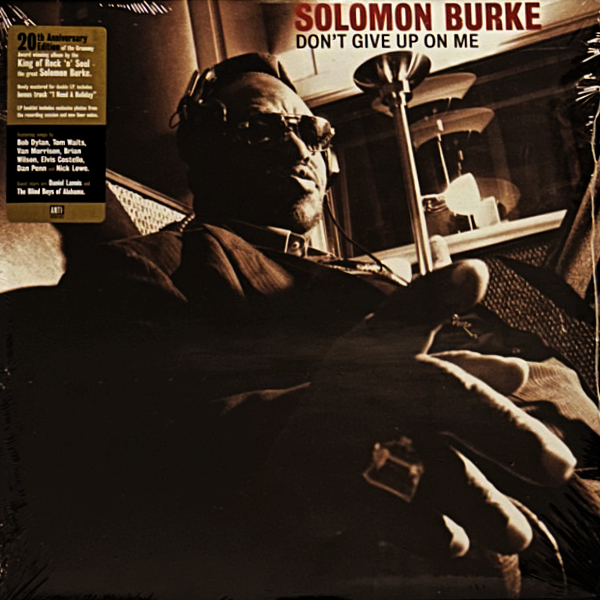 SOLOMON BURKE
DON'T GIVE UP ON ME
180g 2LP (Anti-)
MUSIC: 11
SOUND: 10
In 2002, I was introduced to an album by an artist whom I had not really paid attention to in the past named Solomon Burke. He has been dubbed the King of Rock & Soul, and has long been acknowledged to be one of the architects of the rich sound and feel of what we commonly know as soul music.
That year, I was visiting Village Music in Mill Valley, California when some amazing music came on the store's sound system, and it floored me. Now, I have a long history of first getting turned onto many of my favorite artists in real, old-school brick-and-mortar record stores including the likes of Elvis Costello, The Cure, The Smiths, and Bettye LaVette. So I asked the store owner, John Goddard, who was making that music he was playing in-store, and he showed me the then-brand new album by the aforementioned King of Rock & Soul Solomon Burke, which was titled Don't Give Up on Me.
Goddard was quick to gently chastise me for not being up on the man's music (mea culpa!), and then proceeded to give me a quick education on the importance of Solomon Burke in the history of rock and soul music. I remain eternally grateful for this in-the-moment education, and I have since gone on to become a deep fan of Burke's, owning most every album of his, along with many of his original singles too.
I bought a copy of Don't Give Up on Me on the spot, and it quickly became my favorite release of 2002. (Burke subsequently won the Grammy for Best Contemporary Blues Album that year.) If you haven't heard Don't Give Up on Me yet, you owe it to yourself to do so, as it includes music mostly written specifically for Burke or tracks never formally recorded at the time by the songwriters themselves, including Bob Dylan, Tom Waits, Van Morrison, Brian Wilson, Elvis Costello (seen below alongside Burke), Dan Penn, and Nick Lowe. This is a timeless set of tunes containing timeless performances by a timeless artist, one who was completely assured of himself and at an artistic peak to boot.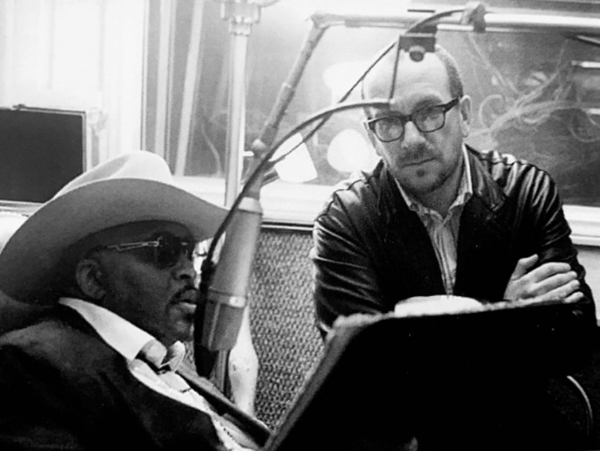 I eventually learned that, in Europe, special editions of Don't Give Up on Me existed on color vinyl in cream and orange options. For some reason, the cream edition had a bonus track on it, "I Need a Holiday," which was written by Chuck Prophet and Dan Penn. I've never been able to find a copy of that version here in the U.S. — and I wasn't quite ready to spend hundreds of dollars just for the one track, especially if it had to ship to me from Europe. (A mint copy of that version on Discogs will still run you more than $120 as of this posting, by the way.)
Thankfully, that is no longer an issue for me, or you. Just a couple of weeks ago when I was visiting Mill Valley Music — the record store I mentioned earlier, the place where I got my above-reviewed Billy Joel RSD 2023 release, and a shop that was started by one of the original employees from Goddard's now sadly defunct Village Music (he retired, you see) — I was blown away to find a 20th anniversary edition of this fantastic album in the racks, having been recently reissued with the elusive bonus track, no less! (Woo hoo!)
Pressed on 180g vinyl, the new edition sounds great overall. The newly cut lacquers were mastered at 45rpm. Originally issued on Fat Possum Records via DBK Works, this new rerelease comes via Anti- Records. It is mastered more quietly than my Fat Possum original — but when you turn up the volume on your amp, that rich studio presence comes through in all its intimate, hushed, aching beauty.
I don't know for sure, but I assume the Anti- folks used the original source recordings — recordings I'd like to think were analog, and ones that were made over four days at Sunset Sound Factory in Hollywood in 2002. The new mastering seems to have been handled by Doug Sax at The Mastering Lab, which is also in Hollywood. (Sax may have done the original version as well, but we're still checking on that.)
The pressing on the 20th anniversary edition of Solomon Burke's Don't Give Up on Me is generally very good, and well-centered. For what it's worth, I did detect a little low-level surface noise on the intro grooves on one side of the album, but that may be only because I had the volume on my amp pumped up to a pretty high volume at that moment. Thus, this is a minor concern, if it is really a concern at all.
In general, the vinyl is quite transparent-sounding. To that, Don't Give Up on Me is also a great demo disc, and I'm already used to playing it at full volume, especially for friends who have never heard it.
This new reissue includes a booklet with additional new liner notes and photos from the recording sessions. This new Anti- edition reproduces the original cover art and includes the classy, custom heavyweight-stock inner sleeves. Note that the inner gatefold layout is a bit different than the Fat Possum original — something that, of course, means I'll be holding onto my cherished OG copy in addition to this new version.
You can find the 20th anniversary edition of Solomon Burke's Don't Give Up on Me at your favorite record stores and/or online retailers for about $30 or less, which is a steal for a 2LP set of this caliber. In short, this album is highly, highly recommended essential listening.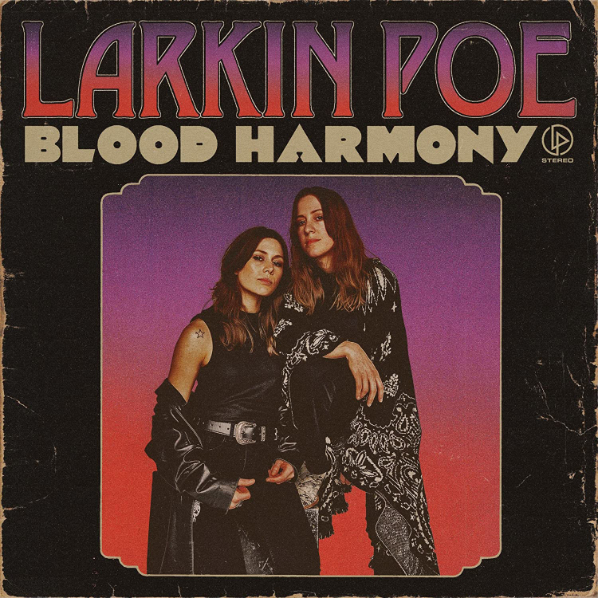 LARKIN POE
BLOOD HARMONY
1LP (Tricki-Woo)
MUSIC: 9
SOUND: 7
A friend first hipped me to Larkin Poe's brilliance many years ago. but it wasn't until I saw them performing live with and in support of Elvis Costello that I realized just what important powerhouses these two blues-rockin' guitar-slingin' sisters were. I then had the good fortune, just before the pandemic hit, to see them live on their own at the Monterey Jazz Festival, and they just knocked me out.
The bio on their official site really goes a long way in summarizing what they are all about: "Rebecca & Megan Lovell of Larkin Poe are Grammy-nominated singer/songwriter, multi-instrumentalist sisters creating their own brand of Roots Rock 'n' Roll: gritty, soulful, and flavored by their southern heritage. Originally from Atlanta and currently living in Nashville, they are self-producers of an electrifying, critically acclaimed body of work and are known for constantly touring across the globe with a fiery vitality."
What their press materials don't quite fully underscore is the fact that this dynamic rocking duo are blazing their own fierce trail of success through independent music channels. Larkin Poe write and produce their own music, release it on their own label (Tricki-Woo). and are fully in charge of their own process (and destiny, for that matter). Larkin Poe are especially inspiring for anyone who has tried making it as a musician, and they have figured out a way to keep things going during these turbulent musical times.
And their records sound real good too, even for recordings made in a home (albeit probably digital) studio. This is bad-ass bluesy rock with a Southern twist of the best order. To that end, Larkin Poe's newest album, Blood Harmony, which was initially released last November, is another fine addition to their catalog. Blood Harmony was self-produced by Larkin Poe with Tyler Bryant (Rebecca's husband, so it is still a home-brewed family affair). Engineered by Roger Allen Nichols at Belltone Recording and Tyler Bryant at The Lily Pad, the mix was driven by David Benyamin, and mastering was helmed by Dan Shike at Tone & Volume Mastering.
Frankly, I was surprised to learn Larkin Poe had issued two other albums since the last one of theirs I spent a lot of time with, which was June 2020's Self Made Man. Clearly, I have a lot of catching up to do as there is a live album they cut with Nu Deco Ensemble, 2021's Paint the Roses, and another studio release from 2020 to get into called Kindred Spirits — not to mention all their other earlier albums and EPs, for that matter.
But for the here and now, we have Blood Harmony, which is another great bravado slab of ripping bluesy guitars, bad-ass electric lap-steel slide guitar, and roaring vocals to back it all up. My favorite cuts so far include, for starters, the bittersweet kiss-off love letter "Georgia Off My Mind" (Track 2, Side 1). Another song, "Southern Comfort" (Track 5, Side 1), somehow manages to merge the prideful southern essence of Lynyrd Skynyrd's "Sweet Home Alabama" with the slow-burning swagger of Neil Young tunes like "Ohio" and "Southern Man." And I just love this line of theirs: "I'll take the mud you wash from the river / Gold ain't the only thing that glitters."
The title tune, "Blood Harmony" (Track 1, Side 2), gets my official thumb's up for celebrating the power of sibling harmony singing, a magic blend that can only happen this way with family. "More than flesh, more than bone, when you sing I am not alone." For more on this vocal phenomenon, spend some time listening to The Beach Boys, The Bee Gees, The Carpenters, and The Cowsills to explore the unique blend created by those connected by DNA.
But probably my most favorite track on Bloody Harmony is the slow-churning epic "Might as Well Be Me" (Track 3, Side 2), which somehow runs the glam gauntlet of a song like Hedwig & The Angry Inch's 1998 off-Broadway and 2001 movie musical closer "Midnight Radio" — which itself is something of an homage to the closing track of David Bowie's June 1972 classic The Rise and Fall of Ziggy Stardust and The Spiders From Mars, "Rock 'n' Roll Suicide" — and runs it through a southern blues-rock blender to great effect.
The opaque white standard-weight vinyl pressing of Blood Harmony is generally good, and is well-suited for this raw rocking music. My copy was well-centered and mostly quiet, save for the opening moments on the aforementioned title track (Track 1, Side 2), which had some surface noise on it. After washing the LP once, the noise went down a bit, so another washing was in short order. Hopefully, my copy is an anomaly, but I needed to give you all a heads up about that. Finally, the Blood Harmony LP has an SRP of $24.99 — and, alas, there are currently no standard black vinyl options available. Maybe someday, Larkin Poe will have the level of success that will allow them to do more audiophile-leaning pressings.
All that aside, Larkin Poe's music is a breath of fresh air — and it's the kind of music you'll want to play loud, and often. If you ever wondered what The Black Crowes might sound like with someone like Bonnie Raitt fronting them, then Larkin Poe's Blood Harmony just might be your jam.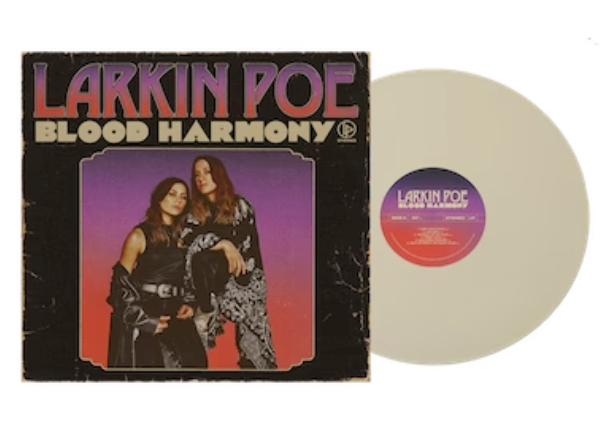 <!- ------------------------------------>