Review Explosion, Short Cuts Edition Vol. 5: Stan Getz, Charlie Byrd, Wynton Kelly, and Wes Montgomery All Shine on New 180g 1LP Verve Acoustic Sounds Series Reissues, While a 3LP Sun Ra Deluxe Edition Delivers Cosmically Inspired Sonic Bliss All Its Own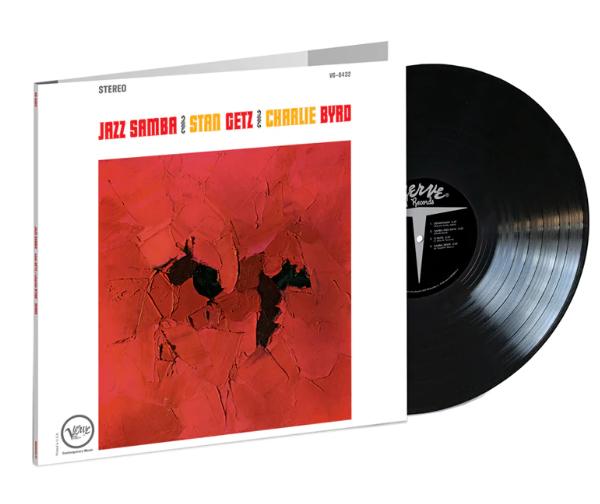 We got that jazz-jones thing already going again here at AP, so barely a day later after my August 3 Short Cuts take on three eclectic jazz offerings — which you can read right here — I'm back with another jazz-centric triple-play review. In this fifth Short Cuts installment under our Review Explosion banner, I have another combo take on a trio of jazz classics — both old and newly discovered alike — so without further ado, let's get right to them!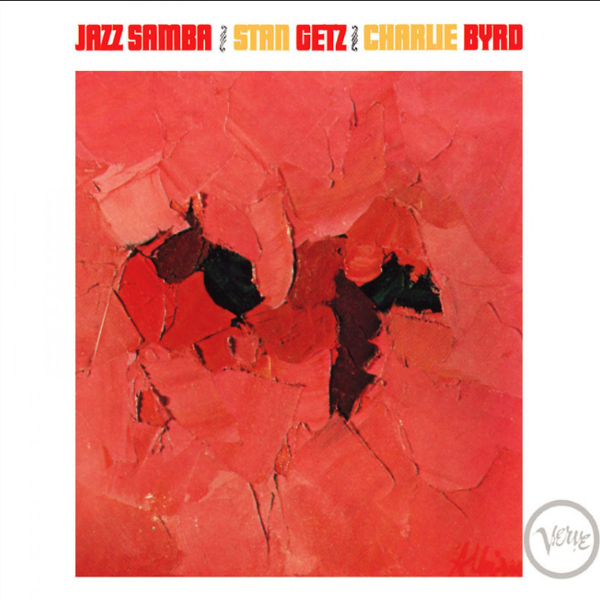 STAN GETZ & CHARLIE BYRD
JAZZ SAMBA
180g 1LP (Verve/UMe – Acoustic Sounds Series)
MUSIC: 10
SOUND: 9
The new Verve/UMe Acoustic Sounds series reissue of Stan Getz & Charlie Byrd's April 1962 Grammy-nominated benchmark LP Jazz Samba (which includes the Grammy-winning song, "Desafinado") is a welcome restoration. An immensely popular recording that arguably kickstarted the early 1960s American bossa nova jazz movement, Jazz Samba has long since proven to be perfect and timeless.
Indeed, Jazz Samba was quite a popular release in its day, reaching the No. 1 spot on Billboard's Pop albums chart for a week, and ultimately spending 70 weeks on the bestseller list. (Try imagining any jazz recording making it to the top of the pop charts today!) And I should also point out that "Desafinado" reached No. 15 on the singles charts.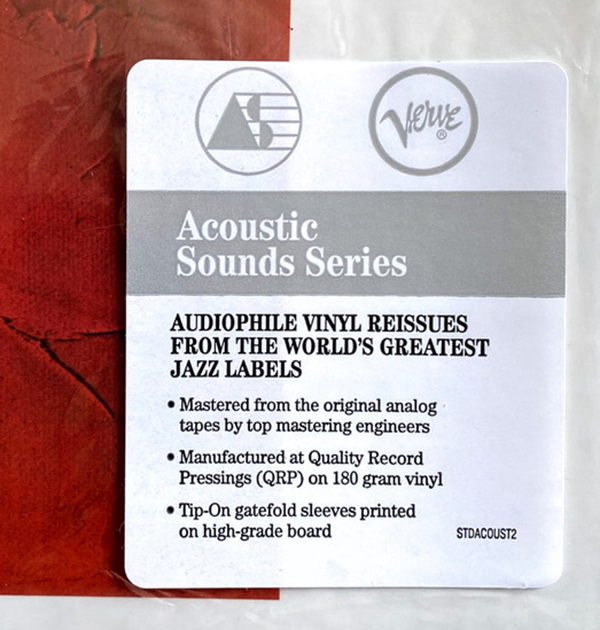 As far as the key stats for this 180g 1LP reissue go, the official press release for this important series shares the following details: "As with all Acoustic Sounds series titles, the LPs will be mastered in stereo from the original analog tapes by Ryan K. Smith at Sterling Sound, pressed on 180-gram vinyl, and packaged in high-quality tip-on gatefold jackets, replicating the original packaging. As always, all releases are supervised by Chad Kassem, CEO of Acoustic Sounds, the world's largest source for audiophile recordings, and will utilize the unsurpassed production craft of Quality Record Pressings."
Jazz Samba is a fairly common record to find, out in the wilds of collecting. It's not even especially valuable, per se, but that doesn't mean it's any less good than it actually is — in fact, I'd say it's an essential album to own. Of the 50-plus original stereo copies available on Discogs at the time of this posting, only three are listed in NM condition, and yet they carry a price tag of less than $35. I've never had much luck finding a clean original copy of this album myself, however. How come? Because these records were enjoyed! (See my related comments about "well-loved" LPs in the Alice Coltrane portion of yesterday's Short Cuts installment.)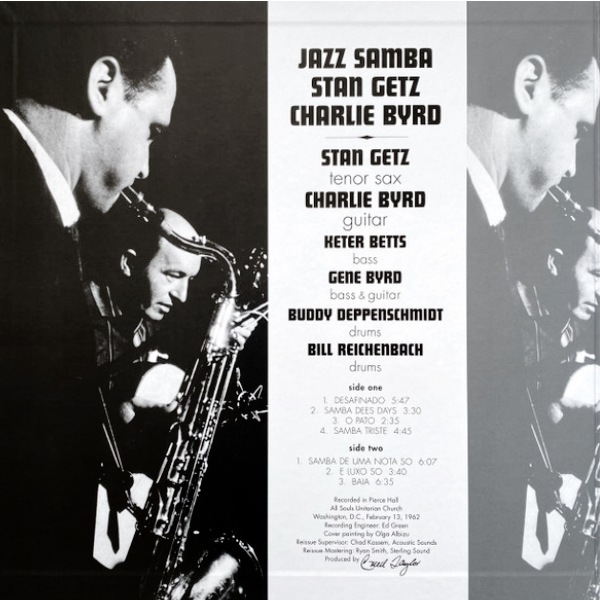 The new Verve Acoustic Sounds series reissue of Jazz Samba sounds quite fantastic. And with the cover art being so close to the original and the SRP at $38.99, it's hard to see any reason not to get this LP, unless you absolutely need original pressings. I've compared this new edition, which was made off the analog master tapes, to my 1982 Japanese reissue, and it sounds really close — and in some ways, much better.
Interesting aside: Jazz Samba has a fairly unique sonic footprint unto itself, as it was recorded at Pierce Hall in the All Souls Unitarian Church in Washington, D.C., in one session on February 13, 1962. This venue is still around, and the 40 x 60ft room was one of the first integrated movie theaters in Washington (and, in fact, it's still available for rental). The location makes sense, as Byrd — who arranged and inspired the Jazz Samba recording to begin with, after a 1961 tour in Brazil — was from the area, and quite an active part of its music scene.
If you have been looking for a clean copy of Stan Getz & Charlie Byrd's Jazz Samba, or simply enjoy listening to bossa nova, this new Verve Acoustic Sounds series reissue is an obvious must-have winner.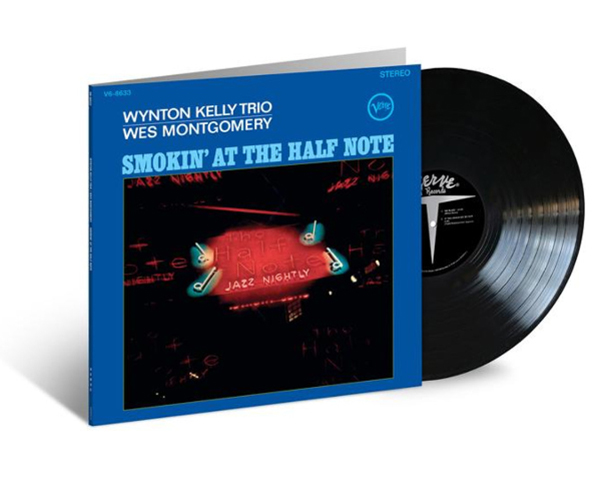 WYNTON KELLY TRIO / WES MONTGOMERY
SMOKIN' AT THE HALF NOTE
180g 1LP (Verve/UMe – Acoustic Sounds Series)
MUSIC: 9
SOUND: 8
Wynton Kelly Trio and Wes Montgomery's November 1965 Verve LP Smokin' at The Half Note is another jazz album you see around all the time in the collecting wilds, but never in super-clean condition. Hence, a fine Acoustic Sounds series reissue like this one is certainly welcome, and overdue. (Note that the production stats for this Verve/UMe 180g 1LP edition of Smokin' at The Half Note are similar to the Jazz Samba reissue reviewed above.)
The Trio revolves around bassist Paul Chambers and drummer Jimmy Cobb — the rhythm section from Miles Davis' August 1959 landmark recording, Kind of Blue, which Trio-named pianist Wynton Kelly also played on. Adding guitarist Wes Montgomery at the peak of his powers ensured that Smokin' at The Half Note would consist of magical, music-making moments where the stars align and a timeless recording is born. Additionally, this recording was engineered by the legendary Rudy Van Gelder, both at The Half Note club and at his storied Hackensack, New Jersey studio.
How important is Smokin' at The Half Note in the grand scheme of jazz? Well, according to the interwebs, no less than guitar maestro Pat Metheny said of it in The New York Times in 2005 that Smokin' at The Half Note is "the absolute greatest jazz-guitar album ever made. It is also the record that taught me how to play."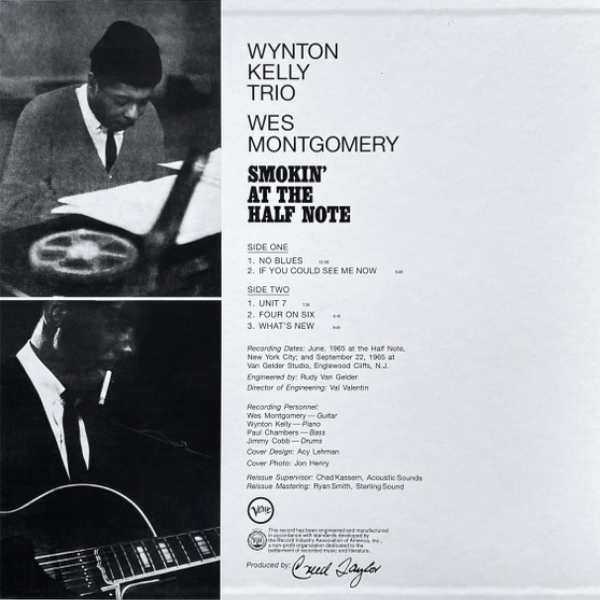 You can waste a lot of time spinning your wheels looking for a clean original of Smokin' at The Half Note — only three stereo copies from 1965 are on Discogs at the time of this posting in no better than VG-Plus condition ranging between $40 to $50 — or, you can just get this pristine reissue and dig into the music. Again, for the $38.99 SRP, this new edition seems like the best route to take these days.
As with Jazz Samba, I had long given up trying to find a clean original pressing, and eventually found a 1980 French copy that is quite nice. But this new Acoustic Sounds series edition sounds much fuller and richer, with a noticeably improved bass presence. Wynton Kelly Trio and Wes Montgomery's Smokin' at The Half Note is indeed important jazz repertoire, and this new reissue is a truly fine version of it to seek out and enjoy.

SUN RA AND HIS INTERGALACTIC SOLAR ARKESTRA
SPACE IS THE PLACE: MUSIC FROM THE ORIGINAL SOUNDTRACK
3LP box set (Modern Harmonic)
MUSIC: 8
SOUND: 6
There are many riches in the musical world of Sun Ra, but it's often hard for newer fans to figure out where to start. Frankly, it took me decades to get my head around his musical world. Ultimately, I dove blindly into finding a vintage copy of his 1965 ESP Records release The Heliocentric Worlds of Sun Ra at an estate sale a few years back. I dug what I heard, and have been picking up more of his albums ever since.
A new 3LP box set (which also includes 1DVD and 1BD) from Modern Harmonic called Space Is the Place: Music From the Original Soundtrack is geared for the serious Sun Ra fan, especially given its $126.99 SRP. Yet it is a fun, fascinating limited edition — capped at 3,300 copies, and housed in a novel, pizza box-style package, no less — and it's something that newer fans may want to consider diving into as well.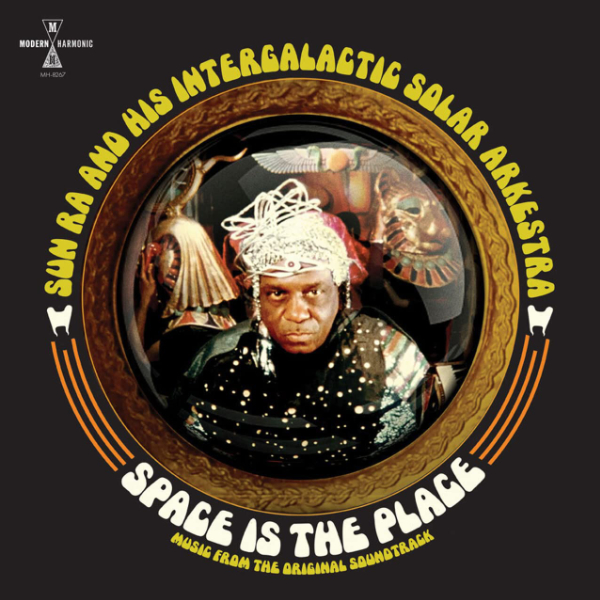 Across 3LPs of well-pressed, standard-weight opaque silver, gold, and lime vinyl — each housed in single-pocket, full-color album covers with the respective discs wrapped in high-quality clear plastic inner sleeves — you get the full soundtrack to Ra's 1972 quasi-biopic Afro-futuristic science-fiction film, Space Is the Place.
The pressings are solid, well-centered. and quiet. That said, sonics-wise, the monaural soundtrack is not an especially high-fidelity masterpiece, ultimately created from archival recordings. Setting realistic expectations, yes, it does sound pretty good — and even quite remarkable, considering original source recordings for a proto-indie film like this one even still exist. The recordings themselves do, however, sound somewhat boxy on vinyl, with a crunchy digital-like mastering feel.
How come? From official press materials we learn, "These recordings were sourced from the Sun Ra tape vault, then were digitally restored to make an album this special sound the best it possibly could. The Blu-ray contains the entire glorious film complete with film artifacts and was sourced from the restoration prepared by Rapid Eye Movies of Germany." In other words — it is what it is, as they say, and until they find the original multitracks or a better remaster, this version of Space Is the Place is probably as good as it will get.
As an aside, I should note the included DVD and BD in the box set contain the actual Space Is the Place film that is essential to fully appreciating this collection — and, I think, Sun Ra, in general. For those of us who never got to see him in concert back in the day, the film showcases the artist's ahead-of-his-time science-fiction future-vision. Not a cinematic masterpiece, true, but it is nonetheless a fascinating document of the moment that was filmed in and around San Francisco and Oakland, California. The underlying messaging Ra was trying to convey here is ultimately a powerful one. After seeing this film, suddenly, the outer-space visions of soul-funk pioneer George Clinton and Parliament/Funkadelic made even more sense to me contextually. (And I suspect Clinton must have seen Sun Ra perform somewhere along the way too.)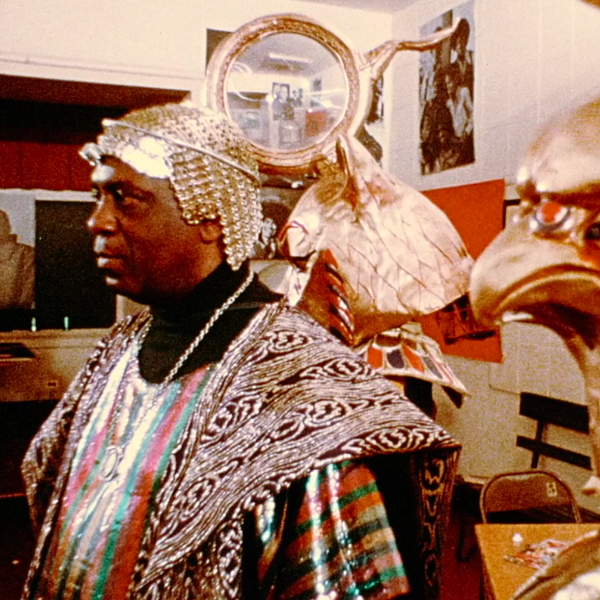 Musically, Space Is the Place is a wondrous mixed bag of large jazz-band skronk, trippy out-jazz improvisation, collective free-for-alls, repetitive chants, essential messaging, and — ultimately — good storytelling. Occasional groovy pop melodies will have your toes tapping as the repetitive lines earworm their way into your psyche, such as the hooky mock advertising jingle "Outer Spaceways Incorporated" and the 7-minute, 6/8-time booty shaker, "Watusa."
The first 2LPs here contain the previously released film soundtrack, while the newly included unreleased album on the third LP — titled The Mathematics of the Altered Destiny — features spoken-word passages set to music, presented in somewhat higher-fidelity sound.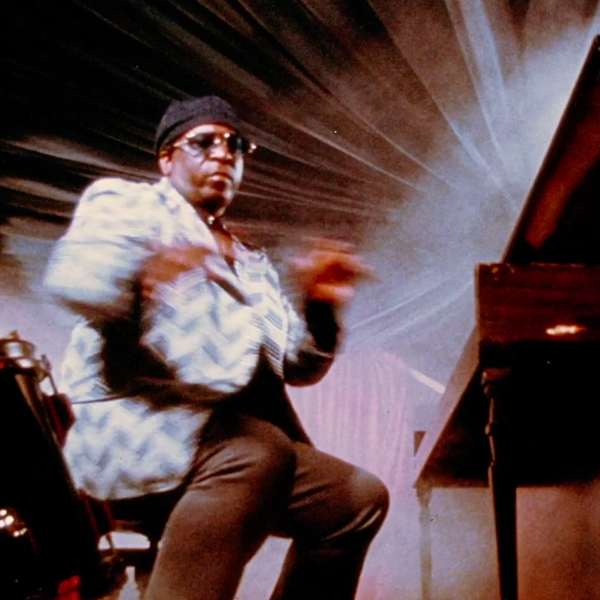 Taken as a whole, the Space Is the Place: Music From the Original Soundtrack 3LP box set is certainly very interesting and informative, and it's an important piece of the Sun Ra puzzle. If you're willing to take the Space box set plunge, you'll be rewarded quite handsomely.
(Mark Smotroff is an avid vinyl collector who has also worked in marketing communications for decades. He has reviewed music for AudiophileReview.com, among others, and you can see more of his impressive C.V. at LinkedIn.)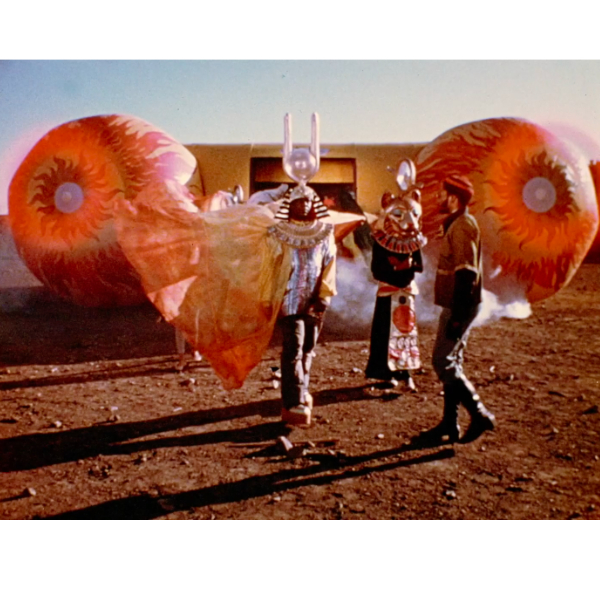 <!- ------------------------------------>