Riva Audio's One Two Punch: the Turbo X and New S Bluetooth Speakers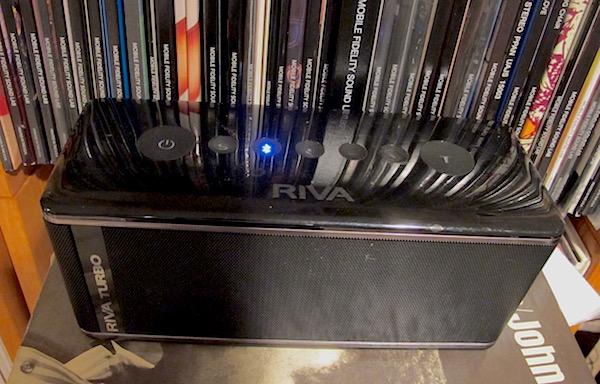 Bluetooth devices are not my beat but when a company making one brings it to a high performance audio show I pay attention.
Riva exhibited their Turbo X ($299) at last spring's T.H.E. Show Newport. That demonstrates to me both product confidence and support for the high performance audio industry, which I greatly appreciate. More recently Riva introduced the more compact and less expensive S ($249).
When I entered the room, there was a certain "vibe" that made me think something special was in the room. Of course had I been covering the Blue Tooth speaker scene I probably would have known about Riva long before this encounter. But better late than never.
Riva's chief engineer turned out to be Donald North who I first met some years ago at a previous T.H.E. Show Newport when he introduced a turntable. North holds the same title at ADX, the company responsible for Riva's unique driver technology. North also has an interest in 300B based tube amps, so you know the brains behind these designs sonically knows what he likes! This project is about way more than number-crunching or designing to a low price point.
I don't know about you, but a good Bluetooth speaker makes my life more pleasant in the morning while I read the daily newspaper and in the warm weather outdoors where I use my phone to play iTunes music, connect to SiriusXM, or to Tidal and to watch television on an iPad. I've been using a very good and ultra-compact one that costs a few hundred dollars.
Riva's Turbo X weighing in at 3 pounds and having dimensions of approximately 9x3.5x4 (LxWxH) is an unusually solidly built and attractive looking device meant to be plopped down wherever you want, but of course corner or against the wall placement greatly enhances its impressive bass producing abilities. In "Turbo" mode it can output SPLs up to 100dB.
A mobile app for Apple, Android available as a free download from either the App Store or Google Play lets you easily control volume, mute the unit, monitor battery life and control a few other options including controlling the "Turbo EQ" and Trillium™ virtual surround sound options.
Packed within the unit's compact dimensions are three proprietary ADX 60mm full range drivers, four ADX custom dual piston bass radiators and amplifiers totaling 45 watts RMS of power. Two of the three active drivers are positioned left, right and center-rear, while the four ADX custom dual piston bass radiators are located a pair each, on the front and rear of the box.
There's a phono mode that adds up to 9dB of gain while bypassing the automatic gain control that's part of the DSP program utilized in the "aux" input circuit. Of course you will need to use either a turntable with a built in phono preamp or an outboard one.
The "Turbo" feature also adds gain, producing up to 100dB SPL, which, given the size of the unit, is remarkable. More remarkable is that it does so without sounding strained or in any way distorted. However, using Turbo mode can greatly reduce battery life. In normal mode you can expect 26+ hours of use before you need to charge the battery. Turbo mode can reduce that to around 6 hours.
A few things to know about the Turbo-X: it charges relatively quickly and will play for a long time. It's got all of the usual Blue Tooth "featurettes" in terms of receiving and sending phone calls while paired with your phone. It has a USB port to charge your phone or other devices and can do so in battery mode as long as it has more than 30% battery power reserve.
But look, the key here is how does it sound. Key because that's what most of us really care about—even for casual listening, which is how most of us will use such a device.
Riva makes the point that these drivers require mechanical break-in and Riva is correct. At first the bottom end is excessive and slightly tubby sounding, regardless of where or how you place the unit, but over time that issue clears itself up. What remains is a remarkably smooth-sounding speaker that goes down into the mid 40Hz region and up beyond audibility with almost no sonic "glitches" in between—none of the sharp metallic top end or hollow lower mid-bass found on much of the competition. And most significantly it pretty much maintains its timbral character regardless of how loudly or softly you choose to play it.
The Trillium™ surround mode produced a modest, but not overwhelming sense of soundstage width beyond the physical limitations of the driver placement but most importantly it didn't in any way damage or diminish the image solidity and response smoothness that some other "phasey" designs produce. It produces a pleasingly coherent bubble of a three dimensional soundstage that sets up free of the enclosure's dimensions.
I'm more interested in timbral accuracy and a freedom from obvious colorations and in those two areas the Turbo-X beats everything else I've heard (admittedly I've not closely studied this market segment but I've heard enough of them to draw a reasonably accurate conclusion). When pushed to play loud the Turbo-X also avoids dynamic compression or strain and it well-maintains its smooth timbral identity at both low and high SPLs. Plus it looks great and feels substantial in your hand.
Any down side? Well one on-line reviewer made the ridiculous but all too common computer nerd-based complaint that at $349 (the Turbo-X's original price) it was "expensive". That is a ridiculous charge! This thing is anything but "expensive" given its feature set, design and build quality and of course its impressive sonics. "Expensive" at $349 would be for a cheap, not particularly good sounding box. The feature set and sonic performance packed into the Riva Turbo-X makes it a bargain in my book, not something deserving of being called "expensive".
Riva recently lowered the Turbo-X price to $299, but not in reaction to complaints about the cost. I could go on extolling the Turbo-X's virtues except for one thing: the smaller, less expensive Riva S beckons.
The Smaller, Less Expensive Riva S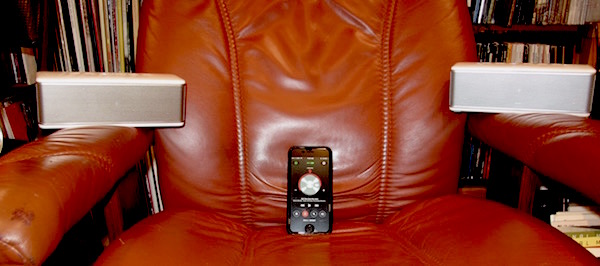 The new Riva s is a similarly proportioned but scaled down version of the larger Turbo-X. It's also lighter and less expensive ($249) and it comes with a rugged, tight-fitting, "slip-on" protective velvet-lined Nylon carrying case.
The "S" model is 7.5" x 2.5" x 2.6" and weighs 1.5 pounds. It packs 30 total watts and has a 13 hour batter life playing at 70dBs. As with the Turbo-X the "S" supports SBC, AAC and aptX® audio codecs.
Riva's Rikki Farr (he's both Riva and ADX's Chairman and Chief Creative Officer) and Donald North paid a visit recently bringing one along for me to hear. I turned it on, paired it with my phone and within a few seconds fell in love with the smoother, richer, more finely textured midrange. I think I blurted out "I like this better!" And now that I have a pair of them here to play with, I continue to prefer the smaller unit's sonics, though both are exceptional sounding and the larger Turbo-X has greater grip, output and dynamic capabilities.
True the Riva S doesn't go as loud, or as deep, but it's so damn smooth and mid-band "buttery" it's difficult to turn it off! You'll be impressed by its vocal reproducing abilities regardless of price.
And you can use a pair to stream wirelessly in stereo. In other words, you can send a kid to college with two for $500 and he or she has a complete compact system to which you can also add a turntable. Or you can have a pair yourself in an office or study and absolutely enjoy a musically satisfying listening experience. You will be more than pleasantly surprised!
Riva just announced a firmware upgrade for the S that includes a variable treble boost said to produce a more natural balance at lower SPLs and a power mode for use with quieter recordings, which raises the volume up to 4dB. I tried both of these enhancements and at the push of a few buttons they worked as promised though I had no reservations beforehand about the remarkably smooth yet well-detailed sound.
Is there anything to criticize about these two products? Well yes, there's one thing. Many of the functions require you to push two or more of the top-mounted buttons that normally have specified functionality. It's difficult to remember all of the combinations. A small laminated plastic "one sheet" containing all of the options would be a nice addition—and it should include both accessing the functions as well as de-activating them.
One other thing I found counter-intuitive: to charge the batteries the units must be in the "on" position. I normally think of turning things "off" to charge. But once you understand the system, no problem.
The Turbo-X has become a necessary part of my morning routine while I have coffee and read the paper. I go to Tidal on my phone and check in on what's new and can hear the recording quality at the same time.
I'm glad Riva chose to show the Turbo-X at last spring's T.H.E. Show Newport and equally glad I chose to pop my head into a room that didn't feature a turntable!
Along with sophisticated sonic performance, Riva has packed a great deal of power, punch and user-friendly features into these two Bluetooth speakers. They are easy to recommend and while I've not made a study of such devices, I'm fairly confident they are at least among a handful of the best of them and probably at the top. If you've heard better please let me know.
Late last fall while in Southern California I got to sit down with Mr. Riki Farr. It turns out that in the early '70's I produced the national radio commercial for his late brother Gary Farr's Atco Records album Addressed to the Censors of Love. I promised to find the tape, which I'm sure I have here somewhere though I'm still looking. Enjoy our conversation below. I think you'll find it fascinating.
<!- ------------------------------------>