RSD Review Explosion, Part 2: David Bowie, Ron Carter, Clipping, and Tyler, The Creator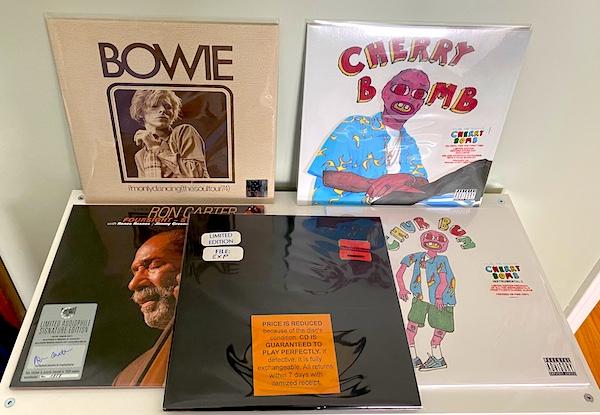 (Review Explosion is a recurring AnalogPlanet feature covering recent releases for which we either don't have sufficient time to fully explore, or that are not worthy of it. Curated by AnalogPlanet contributing editor Malachi Lui, this is the second RSD2020-centric Review Explosion, the first of which is found here.)
Last weekend, the second 2020 RSD Drop occurred in physical stores and on some online outlets. I didn't find any titles terribly important to me, so here I am still reviewing records from the initial August RSD Drop. Onward we go…
David Bowie - I'm Only Dancing (The Soul Tour 74)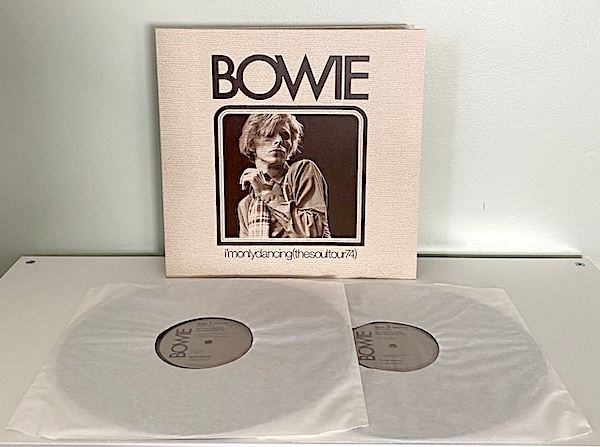 Parlophone 0190295314170 2x180g LP (2CD also available)
Produced by: Nigel Reeve and Aisha Cohen
Engineered by: N/A
Mixed by: N/A
Mastered by: Ray Staff at AIR Mastering (transfers by Sean Brennan at Battery Studios)
Music: 8
Sound: 7
The first leg of David Bowie's 1974 Diamond Dogs tour peaked with a residency at the Tower Theater near Philadelphia (documented on David Live). While there, he soaked up the city's soul scene and at Sigma Sound recorded much of The Gouster, which morphed into Young Americans. It'd become the "Philly Dogs" tour by the second tour leg's September start, with some of the Philly musicians augmenting the previous touring band. With time, it went further into the soul direction; the Diamond Dogs tour's elaborate theatricality disappeared into more conventional concerts. Record Store Day 2017's Cracked Actor 3LP (also on CD and digital platforms) captured the September LA shows, which introduced new songs "It's Gonna Be Me" and "John, I'm Only Dancing (Again)" (a funk revamp of the 1972 song, released in 1979). This new RSD 2LP or 2CD release, I'm Only Dancing, is the first release of October and November Philly Dogs/Soul Tour recordings, featuring a completely different lineup than that of the Diamond Dogs and September Philly Dogs shows.
At its core, despite the new lineup and soul influences, Cracked Actor was still the Diamond Dogs tour. It still had the giant stage set, more Aladdin Sane and Diamond Dogs songs, and Michael Kamen still served as music director (Mike Garson later took over). The Soul Tour, with the rhythm section of Carlos Alomar, Willie Weeks, and Dennis Davis, emphasized the then-unreleased Gouster songs (The Gouster is the pre-Lennon Young Americans), only two songs from which ended up on the final Young Americans LP. Setlist-wise, I'm Only Dancing, recorded on October 20th at the Detroit Michigan Palace (encores taken from the Nashville Municipal Auditorium on November 30th), is the strangest 70s Bowie live LP; at the beginning, he breezes through most of his bigger hits then focuses on the Gouster cuts. At the end, he plays a few more established hits, then covers Eddie Floyd's "Knock On Wood," The Flares' "Footstomping" (with Carlos Alomar's "Fame" guitar riff), the standard "I Wish I Could Shimmy Like My Sister Kate," and the Stones' "It's Only Rock 'n Roll (But I Like It)." The live album's ballad-heavy middle loses the early vibrant energy, but at the end it picks back up. Bowie's voice, worn down from increasing cocaine use and the lengthy tour, is here quite rough, although the band is as tight as ever.
This 2LP set, limited to an unknown number of copies, is mastered from "the only available sources." Sean Brennan at Battery Studios did tape transfers, which Ray Staff then mastered at AIR in London. Parlophone's Bowie remaster series has been atrocious, with bass-bloated, compressed, muddy, and dead sound for his best works (I instead suggest getting original UK/US/German/Japanese RCA pressings or the UK/EU green label RCA International reissues). Still, the live discography has vastly improved, with major gaps being filled. I'm Only Dancing is somewhat compressed and in the midrange dense, as if taken from a soundboard cassette (highly likely given the sound disclaimer). The stereo spread is mostly centered, and there isn't much staging depth. The balance gets muddy and/or thin at times (probably a source issue), so you're not "there" as much as you're hearing an excellent nighttime radio transmission in your car with an occasionally spotty signal. To me, that's fine; with these recordings, only the musical energy matters. Save for a very short side 4 scratch, the 180g Optimal pressing is dead quiet. and the gatefold jacket replicating the tour program adds to the album's era authenticity. If you missed out, I'm sure this will eventually hit hi-res digital platforms, although I find vinyl essential to the Bowie listening experience.
Tyler, The Creator - Cherry Bomb and Cherry Bomb Instrumentals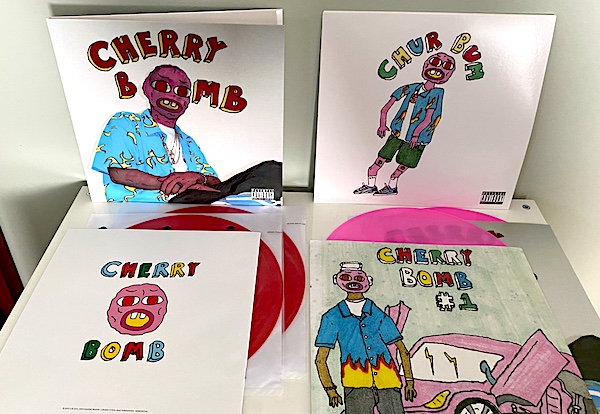 Columbia 19439735721/19439735741 red (main) and pink (instrumentals) 2LP sets
Produced by: Tyler, The Creator (additional production by Mike Einziger)
Engineered by: Tyler Okonma, Vic Wainstein, and Syd Bennett
Mixed by: Mick Guzauski
Mastered by: Brian "Big Bass" Gardner (digital) and Bernie Grundman (vinyl) at Bernie Grundman Mastering
Music: 8
Sound: 8 (main), 9 (instrumentals)
"[I] named my album Cherry Bomb because 'Greatest Hits' sounded boring," Tyler, The Creator growls on his 2015 record Cherry Bomb's opening track, "DEATHCAMP." At that time, he was right; as lukewarmly received as it was ("it's too stylistically scattered, and four records in he's still using homophobic slurs!"), Cherry Bomb was by far his most developed work yet, with greater emotional depth and bombastic yet refined production. Up to that point, Bastard was Tyler being the new edgy skate kid rapper, Goblin was said up-and-comer confronting fame, and Wolf was the awkward middle point of still retaining his initial fanbase but artistically being taken seriously. On Cherry Bomb, Tyler's still angry, but for a reason: his fame and notoriety (particularly around perceived homophobia and misogyny) led to him being banned in 2014 from a New Zealand music festival, and that same year he was arrested for "inciting a riot" (encouraging fans to rush venue gates early) at SXSW. After the album's release, then-UK Home Secretary Theresa May banned him from the country over earlier lyrics. Still, Cherry Bomb is also his most positive record, hopeful and at times romantic before Scum Fuck Flower Boy's existential paranoia and IGOR's heartbreak. It doesn't have the latter two records' complex narratives and lyrical detail, rather just brilliantly constructed songs and a central theme. He's at turns concerned ("PILOT"), pissed off and braggadocious ("DEATHCAMP"), somewhat sarcastic about a real-life occurrence ("FUCKING YOUNG"), and optimistic ("OKAGA, CA"). His guests, including Kanye, Lil Wayne, Pharrell, Kali Uchis, Roy Ayers, and Charlie Wilson, are also in top form ("SMUCKERS" with the former two having some of the best verses of all three artists' careers). Musically, it's a balance of what Tyler does well: distorted lofi-ish hip hop and beautifully smooth jazzy neo-soul. The instrumentals album highlights Cherry Bomb as arguably his most lush production, even if not as accessible as Flower Boy. It's easy to write off this album, but this new reissue shows it's overdue for a critical reevaluation.
One of RSD 2020's flagship releases, Cherry Bomb in both its main album (colored vinyl exclusive to RSD, wider standard release later) and instrumental (RSD exclusive) formats got its first official vinyl release (physical-only bonus track "YELLOW" intact). It'd been bootlegged for years, but the wait was worth it. Bernie Grundman cut the vinyl, which is the best you'll ever hear this album. It's detailed and smooth, all while retaining deep bass punch and the mix's slight (intentional) messiness. MPO pressed both sets, the main album (limited to 7250 RSD copies) on translucent red vinyl, and the instrumentals (limited to 4500 copies total) on pink vinyl. All four discs are extremely quiet – the instrumentals album in particular has stunning black backgrounds and space. This is easily one of the year's best sounding reissues, with audiophile-grade quality for a newer commercial release. The packaging also shows extreme care. The main album comes in a direct-to-board gatefold jacket (showing the custom Golf Wang Cherry Bomb varsity jacket) with an 8-page booklet featuring credits and the alternate covers (except variant D). The instrumentals set has only printed inner sleeves with art and credits but is still a nice package. I don't encourage paying current resale prices (although the instrumentals album hasn't yet exploded in value), but the quality is spectacular considering the retail costs (main album $29, instrumentals $26). If you're on the fence about the instrumentals set, get it; I rarely enjoy full instrumental albums like this, but Tyler's instrumentals are worth listening to separately. In fact, I listen to Cherry Bomb Instrumentals as much as the regular album.
On a more anecdotal note, I was one of many younger buyers queued up for these Tyler records. I wore my yellow Golf hoodie that morning, and I saw some Flower Boy hoodies and a kid in a BROCKHAMPTON GINGER hoodie (obviously a Tyler fan due to the two acts' stylistic proximity). The store was extremely well-stocked on both Cherry Bomb's, piling a few dozen of them with tons of I'm Only Dancing and ChangesNowBowie LPs. Due to the flood of copies (of the former) exiting the shop, in line I worried if I'd secure one or not, but anyone who woke up early enough found plentiful supply. Those lining up thankfully seemed like real fans and not trend-chasing hypebeasts, and because of that, sealed copies will probably stay in very high demand (Discogs prices are already insane and show no sign of declining).
Clipping. with Christopher Fleeger - Double Live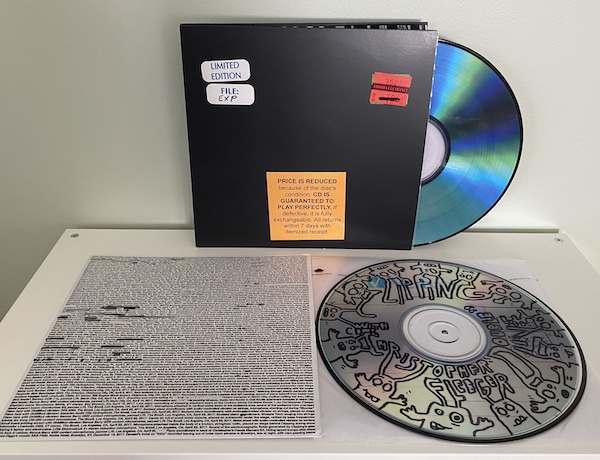 Sub Pop SP1351 2LP picture disc
Produced by: Christopher Fleeger and Clipping
Engineered by: Christopher Fleeger
Mixed by: Christopher Fleeger
Mastered by: Thomas Dimuzio at Gench Studios
Music: 8
Sound: 8
What's a Clipping live album like? It's everything you'd expect, which means the unexpected. Recorded and edited by Christopher Fleeger from the experimental hip hop trio's 2017 tour recordings, it's more musique concrète than anything else. Fleeger wired microphones all around the venue: in green rooms, lobbies, toilets, utility rooms – you name it. There are also hotel recordings, capturing pre-alarm morning snores and late night sirens below balconies. Those expecting straight renditions of Clipping songs will be sorely disappointed; Double Live focuses around the performances than at them. The song titles reflect what's happening in the main venue during the performance, although "Get Up (Rookery)," for example, is four minutes of someone's bowel movements with no audible Clipping performance. If that grosses you out, don't buy this record. On the (figurative and literal) flip side, there are hilarious conversations between a Clipping associate and venue staff regarding oddly placed mics and whether or not there's technical clipping. Admittedly, I'm not well-acquainted with the trio's catalog (and haven't heard any of Fleeger's work as Cooling Prongs), but hearing this without any preconception of what the songs actually are increased my appreciation. I wouldn't recommend this to everyone, but if you're an adventurous listener, try Double Live.
The double picture disc set limited to 500 copies retailed for $55. Initial resale prices were $150-200, but drastically fell once most fans realized they didn't need bowel movement and snore recordings on vinyl. If you do buy resale, beware of defects; my copy had unplayably warped discs, although Sub Pop customer service kindly sent a replacement. Ringwear and seam splits are also a common issue. The records, with no cutting or pressing identification, are designed to look like Verbatim CD-R's (beware, the scary CD revival is coming soon!), and sound adequate. An included download card provides access to 48/24 FLAC or ALAC files, which will soon be widely available. The "industrial" spot-varnished tip-on jacket (and for that matter, the printed inner sleeves with recording details) is high quality but visually unassuming – a shopper in front of me had difficulty finding it. It's not worth current resale prices but is an interestingly unique set.
Ron Carter - Foursight - Stockholm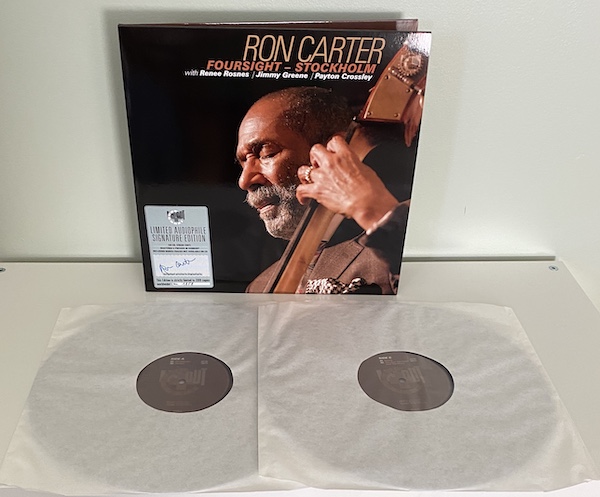 IN+OUT Records IOR LP 77139-1 signed 2x180g LP
Produced by: Frank Kleinschmidt (release), Pierre Martin (show)
Engineered by: Mats Landberg and Ulf Östling
Mixed by: Mats Landberg
Mastered by: Frank Schmidt and Oliver Noack at Temple Studios (digital), Thorsten Scheffner at Organic Music Studio (vinyl)
Music: 8
Sound: 8
An initial scroll through this year's RSD list brought up Ron Carter's Foursight - Stockholm 2LP set. Not thinking much besides "a new Ron Carter release, nice," I didn't expand the details until much later. In fact, this isn't just your average live audiophile jazz record. Released by In+Out Records in Germany, it's a 2018 live performance in an expanded 2LP edition signed by Ron Carter himself. (Last year's CD and digital releases didn't have the tracks included here on side D.) There are 1999 hand-numbered copies worldwide, with 650 allotted for the US. When I saw it was signed, I had to get this; I didn't care about the specific music quality, I just wanted Ron Carter's signature. Due to their extremely limited quantities, this and Vroom Vroom EP were at the top of my RSD 2020 shopping list. The kind shopper in front of me (who, hours before, I'd talked to in line) handed me the store's last copy of Foursight - Stockholm.
First, a review of Ron Carter's signature. It seems ridiculous to review such a personally specific thing, but in an age where most artists can't be bothered to write their full name on signed items, his legibly inked complete signature is welcome. Instead of the actual jacket being signed, the autograph is on a non-removable hype sticker fixated to the jacket. The set comes in a thin resealable outer sleeve, although it's best to replace that with something more archival.
Now to the music. Recorded at Stockholm's Fasching jazz club with Renee Rosnes (piano), Jimmy Greene (tenor sax), and Payton Crossley (drums), Carter seemingly effortlessly plays a set of original compositions and standards. There's not much to say about the performance, other than that its excellent musicians playing in an intimate, acoustically superb space. It's evidently a digital recording, but an excellent one at that. The top end has smooth extension, the (somewhat narrow) spatial field is realistic, and the instruments are exquisitely layered. Aside from the rare applause, this is a non-fatiguing, audiophile-grade recording. Sure, the gatefold jacket design absolutely sucks, but most of us have seen far worse. The 180g discs, pressed in Germany (plant unidentified), are dead silent with velvet black backgrounds. If you can still get ahold of this release, do it; opportunities to get Ron Carter's signature don't come every day, and this live album sounds immaculate.
(Malachi Lui is an AnalogPlanet contributing editor, music lover, record collector, and highly opinionated sneaker enthusiast. He's currently starting a near-complete collection of original Blur singles, which will inevitably become way too expensive. Follow Malachi on Twitter @MalachiLui and Instagram @malachi__lui.)
<!- ------------------------------------>