Sit on It!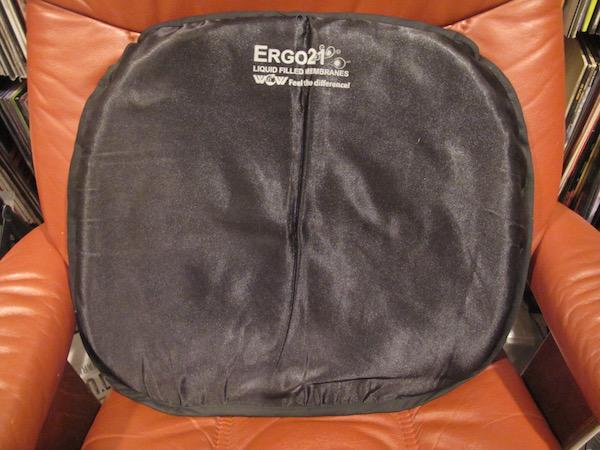 Yes, this is a bit "off topic", but I do a lot of sitting in my job.
You are looking at an Ergo 21 seat cushion placed for better viewing and obviously not where it goes when you sit on it.
I met the designer Steve Gambhir at last year's L.A. and Orange County Audio Society annual "Gala" where I "roasted" VPI's Harry Weisfeld before he was given the Society's "Founders Award". Unfortunately the video at that link was shot on a cellphone and Harry's girlfriend's laugh dominates, but it's still worth watching!
So Steve tells me about his liquid filled membrane-based seat cushions (there are five versions, each for a specified purpose, as explained on the company's website).
I told Steve I'm fortunate to not have any aches and pains and that I work out three times a week, plus I sit in an Ekornes Stressless chair at "work".
Nonetheless he insisted that I'd benefit from sitting on one of his LiquiCell Technology-based cushions and that my butt would thank me. So how could I say "no" when he offered to send a few my way to try?
I've been sitting on the basic seat cushion model for many months now and my butt thanks me every time I sit on the thing. First of all, you don't know it's there, which is good, but if you take it away, you definitely notice its absence.
I can sit comfortably for longer periods of time without my legs "falling asleep" or numbness setting in where I sit.
It works as promised and so I recommend it highly for those who spend long periods of time sitting, which includes most audiophiles. I also recommend Pilates, running and weight training but judging by the sheer desolation in hotel gyms during hi-fi shows, that advice is sure to fall on deaf ears. Did I just write that?
<!- ------------------------------------>