SME M2 Series Tonearms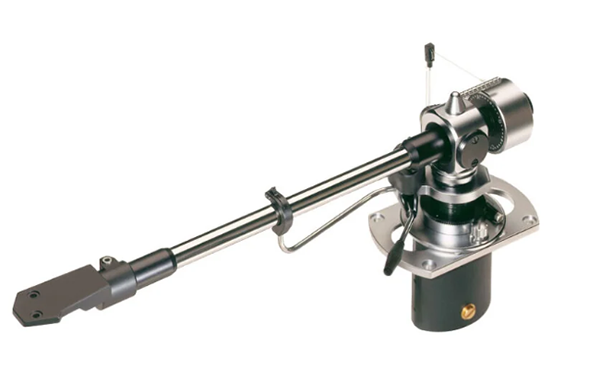 We've long admired SME's turntable-and-tonearm combos, but often wondered if/when we'd be able to get any of the Sussex, England-based manufacturer's fine M2 Series tonearms separately here in North America. Their management and distribution teams must have been tuned into our thought patterns here, seeing how SME and Bluebird Music distribution have just announced four M2 Series tonearms are now becoming standalone product offerings on this side of the Pond.
Here's what's what with the M2 Series solo quartet. The SME M2 Series includes the following four tonearms: the M2-9 (shown above), M2-9R, M2-12, and M2-12R. The 9 and 9R are both 9in tonearms, while the 12 and 12R are 12in models. All four of these M2 tonearms are said to include a lightweight stainless-steel armtube, detachable headshell with azimuth adjustment, tungsten balance weight, ball race gimbled bearings, and "a level of stiffness and rigidity" (their words) to match with all types of cartridges, including those of medium and low compliance.
The M2-9 and M2-12 tonearms utilize a single-element balance system that accommodates cartridges weighing 5g to 12g. After balancing, tracking force is applied by forward movement of the weight, which is said to ensure the "lowest" system inertia. The weight moves on a precision screw thread with backlash eliminator to allow an exact setting of vertical tracking force. The precision headshell is pressure die-cast in magnesium for lightness and rigidity. Finally, a collet-clamp design allows for "one-piece" rigidity and azimuth adjustment.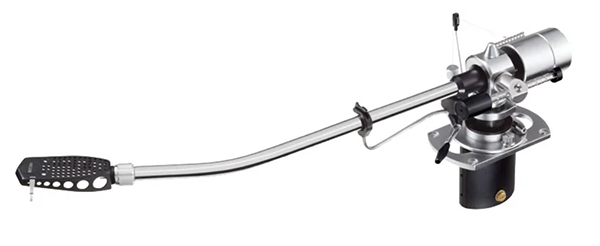 As noted above, two R-nomenclatured versions of the M2 tonearms are also offered. The M2-9R and M2-12R (shown above) are said to deliver "all" the performance of traditional J-shaped tonearms, and they also feature detachable aluminum headshells with azimuth adjustment, a two-stage tungsten counterbalance system with the tungsten balance weights housed in satin chromed brass sleeves, and vertical and horizontal tracking adjustment.
Additionally, height is adjusted by a thumb wheel that enables the arms to be used with a wide range of cartridges and turntables. The HTA-design base mount and standardized headshell collet J-shaped armtubes are also said to make the R versions "optimal" matches for vintage-style SPU phono cartridges.
The North American SRPs for each of these four SME M2 Series tonearms are as follows. The M2-9 has an SRP of $3,395 U.S. ($4,395 Canadian), while the M2-9R is $4,295 U.S. ($5,595 Canadian), the M2-12 is $3,695 U.S. ($4,795 Canadian), and the M2-12R is $4,695 U.S. ($6,095 Canadian).
Finally, the two 9in M2 Series tonearms — the M2-9 and M2-9R — are in stock via Bluebird Music, while the 12in variations — M2-12 and M2-12R — are available by special order. Follow the links directly below to further explore either of these obtainment options accordingly.
For more about SME, go here.
To find an authorized SME dealer, go here.
<!- ------------------------------------>