SOTA Moonbeam Turntable --- Nice Price and a Smooth Performer That's Easily Upgraded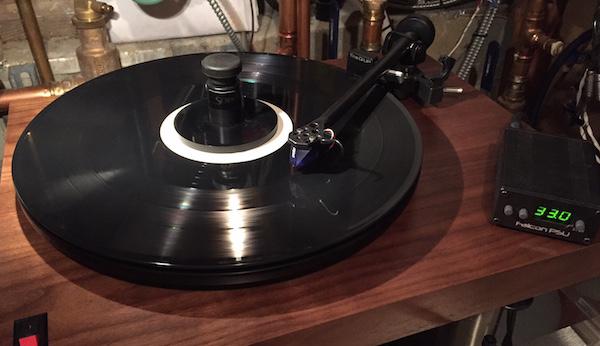 SOTA is an American turntable brand founded circa 1980 by Dave Fletcher and Robert Becker in Berkeley California.The talented Spiral Groove turntable designer Allen Perkins worked for the company in the late 1980s.
In the early 1990s, when it appeared that compact discs were going to kill off vinyl, the original owners decided to sell the "albatross". Jack Shafton, who is now V.P. Sales and Marketing at loudspeaker manufacturer Golden Ear, bought the company and moved it to Illinois.
At the time, the late Kirk Bodinet and his wife Donna were stakeholders in the company as well being involved in parts manufacturing. In 1997 when it seemed that vinyl really was a goner, Shafton exited and the couple took over parts and service.
Shortly thereafter they saw vinyl slowly coming back and began again manufacturing and marketing SOTA turntables. The company now has a very strong brick and mortar and online dealer network
The Series III Moonbeam With S202 Tonearm
The Moonbeam is a basic belt drive turntable featuring a sub-platter and relatively lightweight platter of high density polymer spinning on a self-lubricating Turcite bearing cup. Turcite is a polymer similar to Delrin.
A two position stepped, crowned polymer pulley atop a 24 pole AC synchronous motor affixed directly to the moderately sized, genuine veneer covered MDF (medium density fiberboard) plinth spins the platter, which is topped with a thin, permanently affixed soft "grippy" mat (more like a coating). A crowned pulley, which reduces belt contact while centering it on the pulley is a feature usually found on more costly turntables.
SOTA supplies with the 'table a Rega OEM S202 tone arm, which is an updated variation of the venerable RB250 featuring a die-cast arm tube and "zero play" bearings. It's an approximately 9" arm
The arm alone sells for $395, which makes the entire assemblage at $850 a very good value. It's available in any of five standard finishes (natural, dark or black oak, American cherry or walnut).
The supplied turntable came fitted with an Ortofon 2M Blue ($236) aligned and ready to play for a grand total of $1086. In other words, SOTA aligns the cartridge for free. Thanks! Of course other cartridge options are available but the 2M Blue matches particularly well with the Moonbeam III (the update to III refers to the new tone arm). In addition, SOTA supplied the $110 I-Clamp record clamp. A $185 dustcover is also available but one was not sent, which is fine with me. I don't think dustcovers are necessary as long as you're willing to clean the platter daily before your first play. I use the "In the Groove" roller, which, as a platter cleaner, I find indespensible.
Set-Up and Use
The Moonbeam III sets up really easily, especially with the installed cartridge. SOTA packs it with the counterweight attached, which is usually a shipping "no-no" (pressure on the bearings) but the carefully cradled counterweight made that a non-issue. You do need a good VTF (Vertical Tracking Force) gauge to check on and/or set tracking force. SOTA
The trickiest part is screwing in the threaded feet, leveling the plinth and locking the threads—and that's not at all difficult. Place the platter atop the sub-platter, lining up the white dot on the platter-bottom with the radius drawn on the sub-platter, plug everything in and once you've set tracking force you are read to play records. SOTA has pre-set anti-skating for you. With the "on/off" switch placed atop the plinth and not hidden underneath, using the Moonbeam couldn't be easier. To change speeds you lift off the platter and shift the belt to the lower pulley step
Measured Performance
Before I listen I like to check speed accuracy using the Dr. Feickert Platterspeed app and test record. The Moonbeam's speed accuracy was less than stellar as the frequency chart shows, but at this price point within expected tolerances, though I've measured better.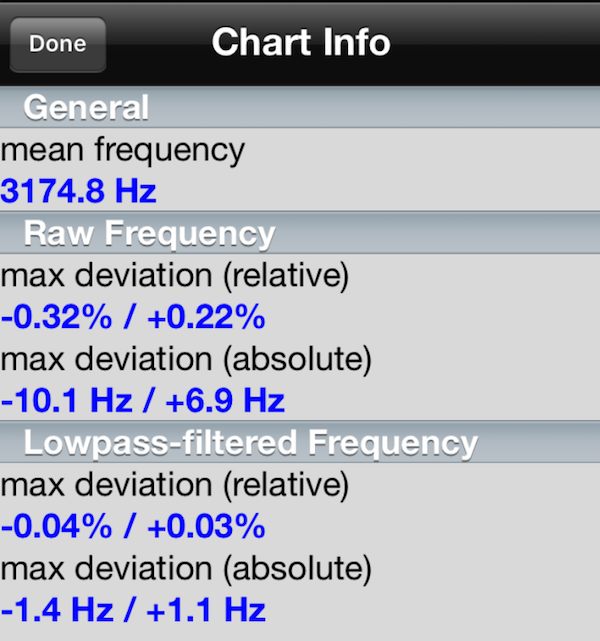 Note the Moonbeam produces an average tone of 3174.8Hz when the frequency is actually 3150Hz. That means the 'table runs about 1% fast— which is acceptable, though the app's speed gauge was "off the charts" with the speed measuring in excess of 33.66. A standard strobe disc shows the line that should not move inching forward at a slow, just perceptible pace.
The green line is low pass filtered to remove record eccentricity caused wow and here the results are pretty good (-0.04%/+0.03%) considering the cost of the 'table, but still "wobbly" looking. Compare these measurements to the $299 Audio Technica AT-LP120-USB turntable.
This deviation from 33.33 doesn't produce perceptible pitch differences but it does create a slight bit of brightness and a sense of musical excitement that a number of turntable manufacturers are happy to purposely exploit.
Sound as Delivered
First I listened to the 'table "as delivered", using for a MM phono preamp the soon to be reviewed Lejonklou Gaio ($895). "As delivered" because this is a 'table that can be upgraded with a few key accessories. More about that later!
The Moonbeam had the good fortune to be sitting on the Stillpoints ESS Rack. Before playing a record I put the stylus in the groove of the non-spinning platter and tapped on the stand shelf. Despite the elementary nature of the screw in feet, it was pleasantly surprising to hear very little impulse noise making its way to the stylus and being amplified to the speakers. Likewise, tapping (gently!) on the plinth top produced some but not an excessive amount of feedthrough noise.
I chose to play unfamiliar records because what's the point of comparing this relatively inexpensive turntable to the big rigs? First up was the recent Vinyl Me, Please reissue of a Folkways classic Big Bill Broonzy Sings Folk Songs (FA2328) originally issued in 1962, which combines a studio recording produced shortly before the artist's death and an in-concert performance with Pete Seeger.
Vinyl Me, Please is a record subscription service not particularly aimed at audiophiles but based on this release it does very good and careful work both with the source material and reproducing the original jackets.
In this case, the tape was digitized and "cleaned up" somewhat by Smithsonian engineer Pete Reiniger and the results are fine for what is an honest but not "audiophile quality" recording of a country-folk artist singing and playing guitar.
Moses Asch, who founded Folkways Records, acquired by the Smithsonian after his death, recorded the studio material, while the live Chicago's still around and still sound conscious radio station W.F.M.T. recorded the live performances.
Certainly the sound was warmer and somewhat softer than I am used to, but the guitar articulation was clean and when Broonzy got loud, the Moonbeam boldly pushed it out. The monophonic image of Broonzy and his guitar sat stably between the speakers, behind which was a noise-free background. I can only imagine what this record of mostly happy-sounding country blues, simply and directly recorded sounds like to young ears especially played back on a vinyl record.
Despite the digitized source, the "life-like" qualities that we love about vinyl express themselves, that somehow harden up and turn brittle reproduced on CD or from a file. Bernie Grundman did a very good job in a recent interview explaining why that was (or might be) so. Regardless of why it is, there it is!
Next up I played a test pressing of an extraordinary new record by Anthony Wilson, who's best known as a jazz guitarist on the Groove Note label. This new one is more of a jazz-folk crossover in the Norah Jones vein that's definitely "in the pocket" and superbly, and atmospherically recorded.
The Moonbeam/Rega/Ortofon 2M produced a nicely defined stage upon which were solid, three dimensional images and with bass among the menu items, the Moonbeam produced reasonably good extension and effective rhythm'n'pacing. The foundation was also free of noticeable overhang or bloat, which made for very pleasant listening—certainly richer, fuller and more sonically satisfying than some of the inexpensive Japanese direct-drives reviewed here, regardless of what the measurements show. The Moonbeam is a very enjoyable moderately priced turntable.
The Mods
The first and most obvious accessory to try was the $379 Phoenix Engineering Falcon PSU. With the turntable plugged into it and running the PSU at 33.00 produced 3151.6Hz from the 3150Hz test record tone, which is close to perfect, plus improved speed regularity with low pass filtered maximum absolute deviation of ±.9Hz. But forget the measured improvement, the sonic one was far more impressive. Bass tightened up, transients sharpened pleasingly and what had been somewhat soft overall performance became far more accomplished. I was surprised by the transformation!
Next, I added the Phoenix Engineering digital tachometer that adds an additional $234 to the price. At that point you've added more than $600 to the 'table, but if you want a tricked-out Moonbeam go for it. Please read about it at the link above. As for what it did in terms of measurements here you go: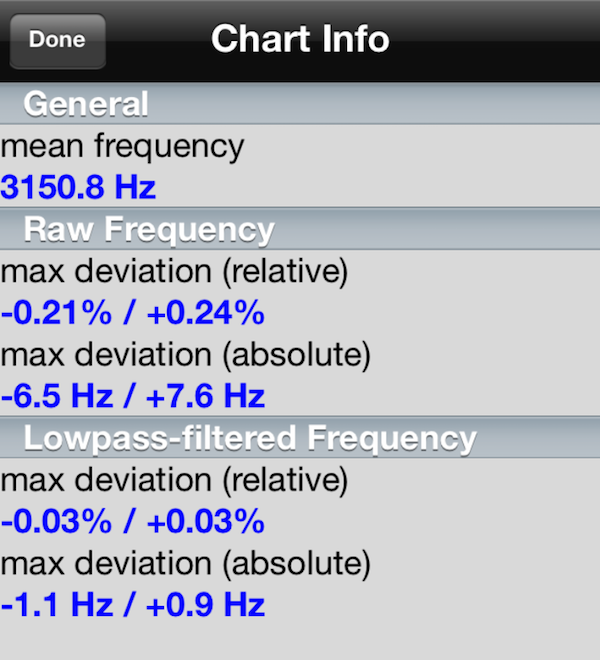 Those are impressive measurements for a $1000 turntable (actually now a $1600+ turntable). And sonically everything got better: bass was better controlled, imaging solidified, depth improved. It was now a different turntable.
Next I tried The Funk Firm's thinnest Achromat platter ($115).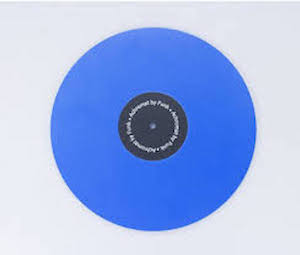 It is sufficiently thin to not add VTA/SRA changing height, but even if the extra height bothers you, the Rega arm comes with two sets of washers to raise the arm so you could just add those. The Achromat is of a lightweight composite material filled with millions of tiny bubbles, the combination of which converts reflected energy from the stylus/groove interface into heat preventing it from returning to the groove stylus interface and muddying up the sound.
The principle is similar to other such mats, but the difference the Achromat made was immediately obvious and just plain crazy better. Stage dimensionality greatly improved, images were more tightly organized and three-dimensional and again bass control and clarity were remarkably better. The combination of these tweaks totaling around $350 turned a $1000 'table and cartridge combo into one that had I not known to what I was listening, I'd have guess a $2000 rig or thereabouts.
The Moonbeam went from a pleasant, slightly soft and diffuse sounding turntable, to one with solid grip on bottom, faster and cleaner high frequency transients on top and an overall transparency and clarity I didn't expect possible when I first started listening. It's also possible that you could improve performance by putting a set of Stillpoints under it but I figured it was time to (almost) stop!
Want auto lift at the end of the record? Add The QUP™, a $59.99 device (on sale for $49.99 as of when this review posted) that you put in place with double stick tape.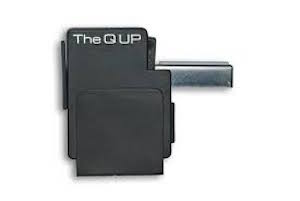 At the end of the record it lifts the stylus. I've had it here for at least a year and until now I found it incompatible with the other turntables I've reviewed—just bad luck. It should work with many if not most. It comes with a series of plastic blocks that can raise the unit's height depending upon platter height.
It install easily with double stick tape. However, even in this application, it was too tall even at its shortest, so I had to remove it from the holder and use it "naked" held down with some Blu-tack. Worked great!
Conclusion
The SOTA Moonbeam, made in the USA, is an attractive, modestly priced turntable fitted with the excellent Rega OEM S202 die-cast tone arm. It was a warm, solid sounding performer "stock" but could be greatly improved with some "add-ons". The Phoenix Engineering Falcon adds three hundred dollars but if you want precise speed control, it's a worthwhile addition. However, if you can live with a slightly fast play (at least the review sample was), I'd first put my money into the $115 Funk Firm Achromat . It was transformative. The thicker ones are supposed to be better but your arm must allow for VTA/SRA adjustability to make use of it.
Rega does include two sets of washers you can use to raise the back of the arm, but under the circumstances here, considering the 'table's price, I felt $115 was the right price for an upgrade.
The SOTA Moonbeam is a sweet sounding, attractive made in America turntable that's easy to recommend especially if over time you're willing to invest in a few of the upgrades discussed here. The best part about those is that if you choose to upgrade to a more costly, higher performing turntable, as long as it's driven by an A.C. synchronous motor, you can take them along for the new ride.
Here are company provided specifications:
TURNTABLE:
RUMBLE Less than -65db unweighted
WOW & FLUTTER Less than .1% RMS (DIN 45-507)
TRANSMISSION Belt drive
SPEEDS 33-1/3 and 45 RPM
WEIGHT 18 lbs. (12 kg)
DIMENSIONS 6″ H, 18-1/4″ W, 14-1/4 " D
TONEARM:
EFFECTIVE LENGTH 237mm
OVERHANG 15mm
OFFSET ANGLE 21.63 degrees
CARTRIDGE WEIGHT RANGE 4 to 11 grams
Here's the video I made of the Moonbeam II at R.M.A.F. a few years ago. It's the same 'table as the one reviewed, but with the older Rega arm.
<!- ------------------------------------>