Sperling Heavyweight Turntable L-1 Exudes Physical Beauty And Machining Precision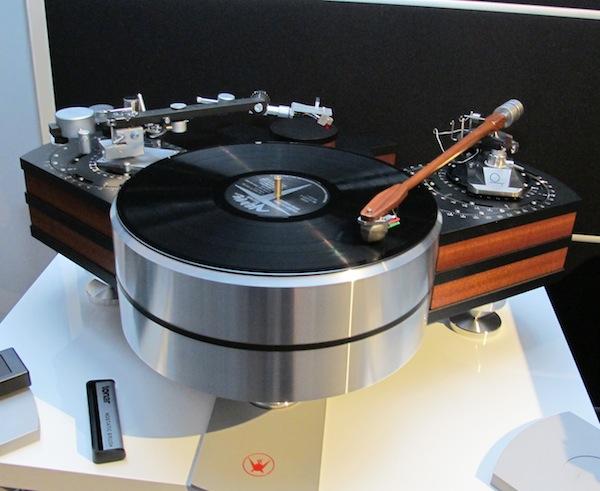 Sandwiches of thick aluminum and inlays of thick wood or other materials highlight both the Sperling's looks as well as its damping mechanism. Different species of wood are available that will affect, to some degree, the final sound. The massive front foot is located directly under the spindle bearing and the platter is a tall, robust aluminum cylinder also damped with handsome wooden inserts you might feel is a shame to cover with a record, but please, go ahead!
The outboard D.C. motor encased in another precisely turned, handsome enclosure drives the 55 pound platter via a tape-type belt the tension of which can be precisely adjusted using a mechanism built into the motor casing. The power supply, also contained in a handsome chassis, is outboard. The dual arm boards secured to the main chassis feature an unusually versatile pivot to spindle adjustment system that makes easy using any length arm.
The award for the most impressive product brochure goes to Sperling. The photography is mechano-pornographically enticing, featuring intimate close-ups and stunning lighting. It's fold-open with a pocket containing more than a half dozen portraits printed on thick satin stock.
What the Sperling may lack in technological innovation is more than made up for by its stunning execution—at least the parts that are visible. Though I bet what can't be readily seen is equally well done. This is a truly massive turntable weighing in at between 110 and 130 pounds depending upon chosen materials— and we like mass! Cost is about $33,000.
<!- ------------------------------------>