T-Bone Burnett-Produced Lost On the River: The New Basement Tapes Set For November 11th Release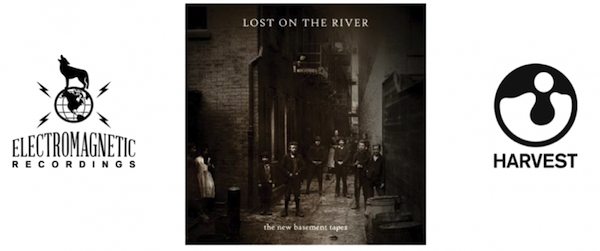 Back in March while out in Los Angeles to help with the Audio Fidelity
TRON
reissue, I followed up on Al Schmitt's invitation to visit him at Capitol Studios where he was working on a still secret all-analog production. Schmitt took me on a tour of Capitol 's famous studios—the site of so much recorded history—and I captured most of it on video.
No one stopped me so I posted a great deal of it on this site. But when Capitol saw it they flipped out and insisted I remove it immediately if not sooner and of course I complied. One thing I was told not to shoot at the time was the interior of the big studio, which T-Bone Burnett had decorated in a very specific way for an "upcoming" project. I'm not even sure it's okay to now describe what I saw, but now that this Burnett project recorded last March at Capitol has been announced, I suspect the unusual set-up was for the recording of this collaborative project that adds music to 20 recently discovered Bob Dylan lyrics from 1967.
The press release says: "The album was recorded in March at Capitol Studios in Hollywood, where the artists and Burnett convened for two weeks to write and create music for a treasure trove of recently discovered lyrics handwritten by Bob Dylan in 1967 during the period that generated the recording of the legendary Basement Tapes. The studio set up I saw would have been perfect for such an effort.
The artists involved are Elvis Costello, Rhiannon Giddens of the Carolina Chocolate Drops, Taylor Goldsmith (Dawes), Jim James (My Morning Jacket) and Marcus Mumford (Mumford & Sons). Let's face it: even given the array of talent, what this eclectic group produced can either be incredible or (choose your own negative).
No doubt it will sound great because I was told the 24 track analog recorder would be used and Burnett consistently produces great sounding records .
The result of this collaboration will be available in a dizzying array of formats and in an even dizzier array of options:
At digital retailers iTunes and Amazon MP3, fans can pre-order the album as a 20-song deluxe or 15-song standard edition and instantly receive "Nothing To It" from the album, plus four more "instant-grat" tracks during the weeks leading up to the album's release.
Physical versions of the album can be pre-ordered from Amazon.com in both the deluxe and standard CD editions, as well as a 180-gram virgin-vinyl two-disc set.
Beginning October 28, fans will be able to preorder the 180-gram virgin-vinyl two-disc set at their local independent retailer (participating stores to be announced), and in turn receive a limited-edition 10" vinyl EP containing the five "instant grat" album tracks, one of which will be exclusive to independent stores for one week prior to any other retail availability.
There are also a number of bundled offerings being made available Direct-To-Fan exclusively through The New Basement Tapes Official Music store. These include:
A limited-edition box set of the album that includes the deluxe CD, the 180-gram virgin-vinyl two-disc set, six photographic portraits of the artists, five prints of the newly discovered Bob Dylan handwritten lyrics, an album cover lithograph and the deluxe digital album.
A limited number of vinyl test pressings, autographed by T Bone Burnett.
Fans who pre-order a bundle may also add their names to a limited-edition poster.
You can watch a just released video that features Dylan's actual handwritten lyrics inhabiting a surreal animated cityscape. And on November 21st watch a Showtime documentary titled, Lost Songs: The Basement Tapes Continued, directed by Sam Jones (the Wilco documentary, I Am Trying To Break Your Heart).
The film will present an exclusive and intimate look at the making of Lost On The River: The New Basement Tapes set against the influential and historical cultural backdrop of Bob Dylan's original Basement Tapes.
All I can say is, given all of that, I hope the collaborative effort paid off! With T-Bone Burnett at the helm, I'm betting it did. The song in the video is pretty good I thought.
<!- ------------------------------------>