TAD's Andrew Jones Designs Surprising Sounding Budget Speakers For Pioneer (Pricing corrected)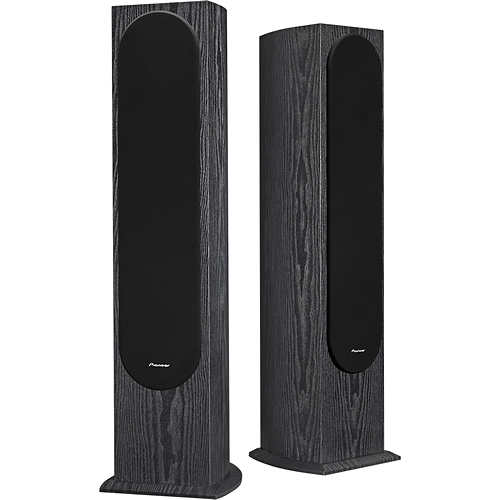 A young reader inherited a turntable and asked about a modestly priced system he could assemble around it. We know where this will lead and we can all cheer him on, mindful of the fun and fetishing to follow. And we can all sympathize with his bank account—assuming he has one!
The speaker part of the system was easy to recommend: TAD's Andrew Jones, a brand and name familiar to most serious audiophiles has created for Pioneer a line of remarkable loudspeakers priced where most anyone can afford a pair. For those unfamiliar, TAD is a Pioneer owned company that produces some of the world's most respected and expensive loudspeakers. The Reference One will set you back close to $80,000. Mr. Jones had an illustrious career at KEF before joining TAD.
The latest in the Pioneer series are the SP-BS22-LR a two-way bookshelf model ($159/pr) and the SP FS52 a 3-way floor stander with a suggested list price of $159.00 each. Both can be found online and at Best Buy among other places for around $128.00/pr. and $124 each respectively.
The floor standing SP-FS52, almost 3 feet tall x 10.5 inches deep, almost 9 inches wide and weighing twenty three pounds, features the aforementioned three rear ported 5.25" "Structured Surface" woofers, a 1" high efficiency soft dome tweeter with integral wave guide and an 8 element crossover network packaged in a molded, curved black cabinet that while it won't win any design awards, is reasonably shapely and visually gets out of the way by being plain. On the other hand, if all you're used to are tiny computer speakers, these will look formidable.
The bookshelf SP-BS22-LR (don't the folks in Japan have a way with catchy product names?) is approximately 8 x 7 x 12 and weights 9.1 pounds.
You could go to Ebay and buy an old NAD receiver or any of the great old Japanese '70s era behemoths, but Jones was kind enough to send along a Pioneer Elite A-20 Integrated amplifier and my feeling is if you're new to this you are much better off buying something new with a warranty. The A-20 sells for a ridiculously low $299 and can be had for somewhat less online and probably at some brick and mortar retailers too.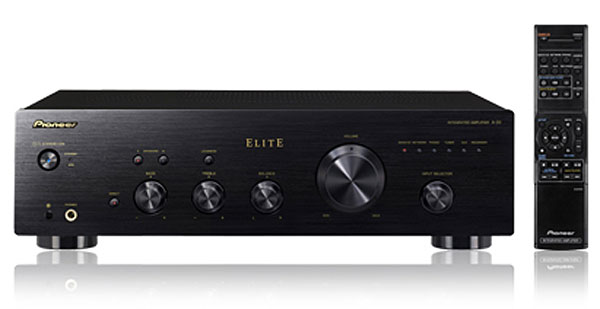 The A-20 is rated at 50 watts per channel from 20Hz to 20kHz at 0.1%THD (total harmonic distortion at 4 ohms). It features two sets of speaker terminals that can be used for a second, remote pair or to bi-wire a speaker with such capabilities. It features six standard line level inputs including one "tape loop" as it used to be called and a MM phono input.
The A-20 also features a "loudness" button to increase low frequency output at low volume, bass, treble and balance controls as well as a ¼" headphone jack. A "direct" button disables all but the basics. Bypassing the other "stuff" provides a more direct signal path and is said to improve the sound. Oh, and it includes a remote control that can switch among inputs, activate the "direct" and "loudness" functions, choose between the two speaker terminals, turn the unit on and off and even dim the front panel LEDs. The A-20 Elite is definitely "retro" looking. By "retro" I mean it's attractive looking in its brushed black simplicity and functionality.
Sources
I used an old CD player I had lying around and a VPI Traveler turntable fitted with an Ortofon Bronze MM cartridge. Yes, the TT was "overkill" but I didn't have a budget Rega, Pro-Ject or Music Hall so that's what I used.
You have certain expectations at this price point and even though I know what Andrew Jones can do without price constraints, that doesn't necessarily translate into a great budget priced product. However, in this case the results are ridiculously good. No. Great!
It's all about the midrange. If the midrange is bad nothing can be good. First up were the floor standers. I started with CDs to see if this system could rock, beginning with Brian Eno's Taking Tiger Mountain (By Strategy) (Virgin 7243 5 7728829). Produced by transferring the original analog tape to DSD on an Ampex ATR 2 track deck, this is a very good sounding CD.
The SP-FS52 (and the A-20 of course) did a far better job of separating out the various mix elements than I was expecting. Eno's voice had a warmth and clarity beyond what I was expecting, with just a "smidge" of sibilant "lift". The snare hits were a bit crisp but well separated in the mix and very clean. The undulating rising and falling guitar line (or synth?) was also well-separated and the rhythm guitar line was rendered with equal clarity.
I imagined myself a kid listening to this presentation after years of plastic computer speakers and I was certain that kid would be awestruck. I was too, but mostly because of how good this sounded for the money. "Back in Judy's Jungle" features a deep, almost cartoonish bass kick drum, stuttering snare, a chorus behind Eno and many other elements that could easily turn to mush but these speakers separated out everything, producing an impressively transparent, seamless and reasonably three-dimensional picture you could "watch" as well as listen to.
You could even push the SPLs reasonably high before the sound changed for the worse. The bass in particular suffered somewhat when the SPLs were pushed, but overall what was most impressive was the lack of the usual obvious colorations. I was expecting "boxy" and "metallic" and while there was a slight bit of lower high frequency "push", it was mild. And because the tweeter's response was surprisingly smooth it never turned to "crunchy."
Switching to vinyl I played the mono 45rpm reissue of Julie London's Julie is Her Name from Boxstar that I believe is now out of print. This is a difficult one because she sings breathy and goes deep. You're likely to hear a bit of tubby chestiness if the designer has tried to coax more bottom end out of the system by pushing the lower midbass and there was a bit of that so that when I went to the bookshelf speakers on stands I felt that particular record sounded better on the smaller speakers.
However, it was a mild coloration not likely to bother someone inexperienced at detecting these things. Male voices fared better. I played Mo-Fi's reissue of James Taylor's JT and Audio Fidelity's appropriately sweet sounding Sweet Baby James and all I could do was shake my head and marvel at the timbral vocal quality, the lack of boxiness, the appropriateness of the image size and the consistency of the presentation as Taylor moved up and down his vocal range.
Back to LPs, I played a superb sounding new all analog production by Perry Margouleff of singer/songwriter Tom Chacon (A2Z-Pie Records 1006PIE18LP). Chacon is in the Mellencamp/Dylan/acoustic Bruce school and these speakers and the A-20 surprised me again by avoiding chestiness, and acoustic guitar hollowness almost altogether. The imaging was taut and precise and set up "outside the box" as you'd expect from a far more expensive loudspeaker.
Both the floor and stand mount Pioneers produce a remarkably smooth overall sound, free of gross colorations. The floor mount goes down to the mid 40Hz region with ease, and probably lower. The stand-mounted speaker probably does 50Hz with ease. That's lower than you might think.
So What Do You Give Up?
Just don't play them too loud. Both the floor standers and bookshelf speakers sounded best at moderate volume, but if you're willing to give up a bit of bass control and overall cohesion you can get party volume too.
Dynamics are only moderately good, particularly at the macro (loud end of the scale) variety but far better than I was expecting. At low levels where many lesser (and often more expensive) speakers turn to mush, these miracle workers maintain their remarkably well-focused, delicate imagery. And at mid SPLs these speakers—either pair—will put a smile on the faces of even the most hardened audiophiles because in the end, as we all know, it's all about the seamlessness and lack of coloration in the midrange. Here, at this price point, Andrew Jones has worked a miracle. Above the mids there's a bit of lower treble excess, "crunchiness" and prominent sibilance above and the last bit of air is in short supply. On bottom, the bass that's there is surprisingly well-articulated, uncolored and tuneful (meaning the speaker delivers very good rhythm'n'pacing).
If you listen mostly to female vocals or small string ensembles and are not that concerned with bottom end weight, consider the bookshelf Pioneer SP-BS22-LRs. They give up the bottom produced by the 3-way speaker but are more consistent sounding in the bottom octaves (as far as they go) and perhaps even lower in coloration. You really can't go wrong with either speaker.
Conclusion
The retro A-20 is a bargain at $299 and can probably be had for $250. It offers a reasonably amount of power, all of the flexibility you could ask for in an integrated amp and it sounds far better than it has any right to sound given what it costs. It avoids the usual hard metallic sound found in much budget priced electronics and if like the speakers it does so by shortchanging slightly the very top end where the "air" lives, so be it!
Like the speakers, the amp's errors are mostly of omission so they are easily ignored.
Both pairs of speakers performed well beyond my every expectation and both are bargains, but the bookshelf SP-BS22-LR at $159/pr. (can be had for $130/pr. or less) mean that virtually everyone can "get" what good audio is about. The SP-FS52-LR goes lower and will probably appeal to more buyers who want the bottom end heft that's deeper and cleaner and more "out of the box" than any $159 floor-standng speaker has any business producing.
I have this system set up in my fairly large living room and either pair of speakers did a very impressive job of filling the room. I listened for hours on end for a few days and left the room each time wondering how Andrew Jones and the team at Pioneer managed to do this for so little money. Add something like a Pro-Ject Carbon, a Rega RP-1, or a Music Hall MMF- 2.2 and an inexpensive CD player or even a Blu-ray player and for around $1000 you've got the floor standers, the integrated amp, a turntable and a CD player. You're in!
<!- ------------------------------------>