Technics SL-1200G Versus Continuum Caliburn And SAT Arm--File Identities Revealed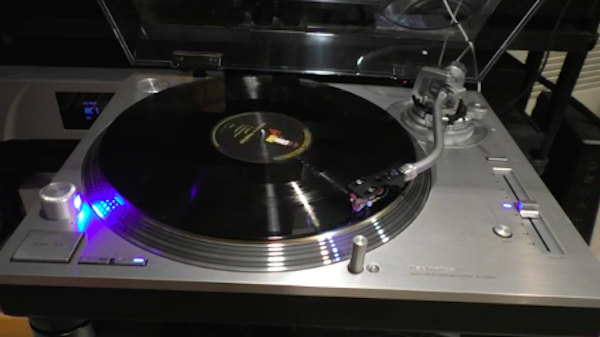 The file labels were not reversed
in this story
!
In this case the Technics should have sounded better and I'm glad many people heard that, but there's a good reason and it's why i asked you to listen and look!
The record was seriously defective. If you look at the grooves you will see them move in very unusual ways beyond the usual concentricity issue. Even the warpage is not normal.
Usually vacuum hold down (which the Continuum has) is beneficial, but in this case by sucking down the record and flattening it (as much as possible), the bad pressing's problems came out "in relief". You can see that easily in the video. The record's serious "warps" (warps in quotes because the pressing problem is more serious that just a warp) appear to have been pushed upward relative to the "flat" part.
That is why the SAT arm jiggles and sways far more than does the Technics arm as it tracks the record. That it does so at all, given the pressing defects, is near-miraculous in my opinion. I am not sure the Technics arm on the Continuum could have done that.
The same record sitting on a rubber type mat does not exhibit the same problem to the same degree. In fact you can't really see the arm jiggling as much, or even at all, because it doesn't. It's no wonder that the sound was "jagged" on the Caliburn file compared to the Technics!
When I return from the U.K. next week I'll post another comparison using a non-defective pressing of that same track and if you're still up for it, listen again!
<!- ------------------------------------>