Third Man Records Announced Exclusive 4 LP Dylan Bootleg Series, Vol. 16 (1980-1985) Release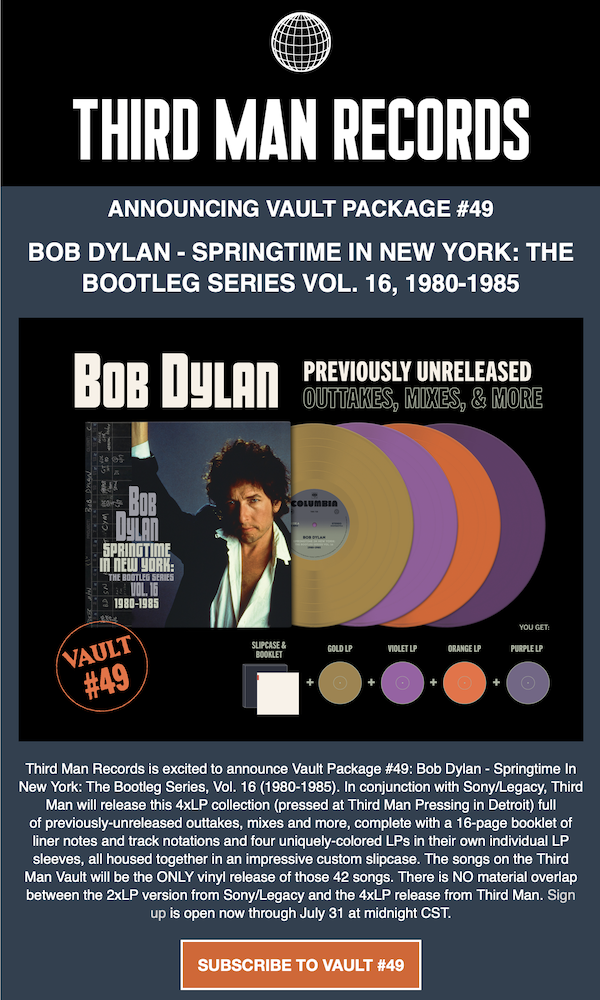 Third Man Records recently announced this 4 LP box set containing 42 tracks not available on the Sony/Legacy 2 LP set edition of
Bob Dylan-Springtime In New York: The Bootleg Series, Vol. 16 (1980-1985)
(the tracks will be included in the deluxe 5 CD box set). To purchase this set you must subscribe to Third Man Records Vault ($65/quarter) and you'll automatically receive it. Sign ups open until July 31st at midnight CST.
TMR's Ben Blackwell told me that after a very successful partnering with Sony/BMG on a Johnny Cash vault package TMR asked about future projects and after Sony/BMG decided to go "vinyl small" on this package, TMR got the rights to the "vinyl deluxe" material. Blackwell said Sony and Dylan manager Jeff Rosen "couldn't have been easier to work with" to get this one done", adding "we're incredibly humbled to have a small part in helping to get this music out to the world."
TMR's 4 LP edition pressed at Third Man Pressing in Detroit will be packaged in a slipcase that includes a 16 page booklet of liner notes and track annotation. The LPs will be on gold, violet, orange and purple vinyl. According to TMR: "LP One of Bob Dylan - Springtime In New York: The Bootleg Series Vol. 16 (1980-1985) was recorded in 1980 and 1981 and finds Dylan rehearsing a variety of his own catalog compositions ("Señor (Tales of Yankee Power)"), rearranging some traditional folk tunes ("Jesus Met the Woman at the Well," "Mary of the Wild Moor") and revving up a selection of surprising covers ("Mystery Train" featuring Ringo Starr, "Fever," "Abraham, Martin and John") with a group of musicians including Frank Fred Tackett (guitar), David Mansfield (mandolin), Willie Smith (keyboards), Tim Drummond (bass), Jim Keltner (drums) and background vocals by Clydie King, Carolyn Dennis, Gwen Evans, and Regina McCrary."
LP Two and Three of Bob Dylan - Springtime In New York (1980-1985) is devoted to outtakes and alternate takes of recordings, produced by Chuck Plotkin for Shot of Love, as well as material Bob Dylan wrote for Infidels, performed by the all-star band assembled for the album, produced by Bob Dylan and Mark Knopfler, which featured Knopfler (guitar), Mick Taylor (guitar), Alan Clark (keyboards), Robbie Shakespeare (bass) and Sly Dunbar (drums).
Empire Burlesque sessions, produced by Bob Dylan, including the premiere of the new song "Straight A's in Love."
According to the Producer's Note in the album: "The alternate takes selected for this set are different than the ones released on previous volumes of The Bootleg Series. They are included here to illustrate the musical journey Bob Dylan undertook during these years."
In his liner notes for Bob Dylan - Springtime In New York, Damien Love writes, "And that's the real story of this gloriously untrammeled collection. The songs. The songs stripped free of trappings, tampering, passing tastes, and judgements. The songs broken down to the sound of people really doing this, right now, acting on instinct. The songs rough and rowdy, bruised and tender, joking and crying, nagging and striving and yearning. The songs were always there, and here they are still, keeping pace with us."
<!- ------------------------------------>