Two Weeks With ZVOX's VB20 VoiceBud
An elderly gentleman wearing a pair of high tech digital hearing aids accompanied his wife to a kennel club meeting at my home a few years ago. He had little interest in the dog doings upstairs so I invited him downstairs into my listening room. It allowed me to conduct an experiment of sorts. Did he like music? Yes. Had he ever heard or seen a big high performance audio rig? No, he hadn't. Would he like to hear some music on it? Yes he would: jazz or classical. I obliged, curious to find out what exactly he heard listening through digital hearing aids to a high-resolution audio system. The look on his face told me he was hearing
plenty
.
When the jazz track ended (I'd played him the first side of The Bill Evans Trio's Sunday at the Village Vanguard from the original Analogue Productions 45rpm set) I asked him to describe what he'd heard.
The first thing he said was "Each instrument is separated out in three-dimensional space. I can follow each one individually. The sound isn't coming from the speakers." Then he remarked that the instruments sounded "real" especially the cymbal shimmer.
So, despite grabbing the sound through a pair of microphones and then through a system that I assume digitizes, amplifies and then converts back to analog for in-ear playback, his costly system communicated the high performance audio experience. It gave me hope for what I hoped for me would be way into the distant future.
Some time in November ZVOX emailed an advertisement for its reasonably priced "VoiceBud", which even at the regular price of $299 each was far less than the cost of the ones the visitor had worn, but for the holiday season the price was even lower so I hatched another plan: my 89 year old mother-in-law was having trouble hearing the television or us for that matter but she wasn't eager to visit an audiologist or pay thousands of dollars. What if I could get her to slip on these affordable hearing devices and she liked what she heard? Everyone's quality of life would improve. Plus I was curious to hear what I would hear wearing a set of these dual-microphone devices designed to enhance voices in a variety of circumstances, but particularly in noisy restaurant type environments where many older people have difficulties (but where I'm still fine). I was curious to hear how accurate these VoiceBuds were compared to my actual hearing!
So right around Thanksgiving I emailed ZVOX's Tom Hannaher and asked if he'd like me to review a pair of VoiceBuds and try them on my mother-in-law and write about that experience as well. He liked the idea, as did my mother-in-law who already was benefitting from the ZVOX sound bar I'd bought her that's designed to improve television sound vocal intelligibility and does.
Shortly thereafter a pair of VoiceBuds arrived and for the first time in my life I was about to experience a hearing aid in my ears. Listen, somewhere down the road, and not in the too distant future I'll surely need these, just as I didn't need glasses until 42, so, at the risk of destroying my career, why not listen now? This product is not designed to restore normal hearing to seriously hearing-impaired people but rather to help people with the usual age related hearing loss that affects the midrange and makes difficult understanding conversations in crowded, noisy spaces like restaurants and movie and television dialogue.
VoiceBud Tech
Simply stated, the VoiceBud is a dual microphone, directional hearing device that uses microprocessor control to greatly attenuate sounds coming from behind the wearer while boosting in the vocal region, sounds coming from in front. In three of the device's four listening modes, the level of behind-the-wearer sounds is approximately halved. The four modes are: "normal", "noisy-room", "automobile" and "outdoors". Choosing among them tailors the built-in multi-channel compression and noise reduction system designed to attenuate loud, distracting sounds, while 12 bands of frequency shaping emphasizes voices in the unit's 200Hz-5.7kHz frequency response range.
The specs make you realize this is an audio system: in addition to the aforementioned frequency response the Peak output level is 113dB, "Full on" HFA (a hearing device standard) gain is 89dB (±2db), while Gain is 29dB and input level is 60dB.
The device itself, which fits behind the ear is 1" x 0.3". In other words it's 1/3 of an inch wide and not exactly "tiny" but for the most part, especially if you have hair, it's hidden. All that's visible is a short section of a small diameter plastic tube attached to the VoiceBud that forms an 'earhook' on top and runs into the ear where at the other end is one of a generous choice of soft elastomer insert "domes". In addition to various sized domes, you can choice among sealed and open ones.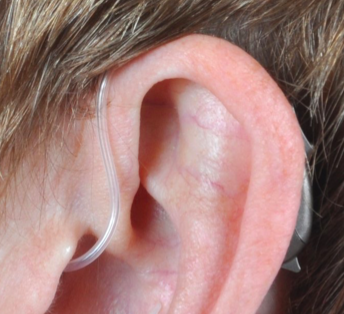 A Bluetooth enabled IOS/Android app controls left and right units either separately or simultaneously. Using the app you can control volume, bass and treble (!), choose among the four "modes", check battery life (approximately four days on a single 312 per device) and get app use help. You can also make a few adjustments directly on the VoiceBud but the app is the way to go.
We Have Insertion!
My hearing is still pretty good, though not what it was 30 years ago. I have some tinnitus that shows up as a constant low level background noise that does affect somewhat midrange hearing and thus dialog intelligibility. It's a problem that bothers a large enough percentage of the population, exacerbated by stupidly high concert SPLs and irresponsible headphone use, so much so that many A/V receivers include a special setting that boosts the midband region where voices live—and no doubt the age drops annually of the population needing this enhancement. Further exacerbating this problem is the current mumbly/whispery style of acting and the lousy state of soundtrack sound. More movies today sound like crap than don't!
I did all of my listening using the open inserts as opposed to the closed ones that are better for people with serious hearing loss. The key to listening satisfaction with the VoiceBuds is to adjust them as you would a subwoofer in your audio system. The idea is to not hear them but to be able to hear their absence when you turn them off.
Once correctly adjusted so that I could not hear the VoiceBuds but could notice their absence, I found late night TV listening seriously enhanced. Dialog intelligibility was subtly but critically improved to the point where I could easily understand the conversation with the TV volume so low my wife could remain sleep.
The real test of course was downstairs listening to music. Again the VoiceBuds were adjusted to not be audible with only their absence audible—like a well set up subwoofer. I wondered how music would sound having my ears partially blocked with the open inserts and then subtly amplified in the midrange. I was surprised to find that the Voicebuds did not negatively impact my audio system's vivid three-dimensional spatial presentation, nor did it sound as if my ear canals were partially blocked by the inserts—but that was only after painstaking adjustment of both the overall amplification level and the app's bass and treble controls.
Once my ear/brain system got used to the VoiceBud's presence, they disappeared both aurally and physically (I forgot they were in my ears), leaving only a slight enhancement to very low-level information. For instance, the entirety of "Prelude a la nuit", the first movement of Ravel's "Rapsodie Espagnole", which opens The Reiner Sound (RCA LSC-2183) is very quiet—never rising above mezzo-forte. As another older audio reviewer who shall remain unnamed once mentioned, the solution to not hearing well these super-quiet passages is simply to turn up the volume and then if need be, turn it back down when the levels increase. I found I could leave the volume way down at the beginning of the piece where the levels begin just about the noise floor and hear everything clearly yet when the musical levels increased I did not have to turn down the volume.
When I listened again without the VoiceBuds, the beginning of the piece was somewhat more difficult to hear into my noise floor, but the overall sound was of course, more natural and organic. In other words the sound does take a hit when amplified but when everything's set correctly you are only aware of it when you remove the amplification. I quickly understood why that double hearing aid visitor had such an enjoyable afternoon listening to music.
For now of course I will do without the VoiceBuds when listening to music and of course when reviewing audio gear but at some point in the future when I stop doing that and limit myself to music reviews, who knows? And by then this technology will improve.
More importantly, once I'd installed the VoiceBuds into my hesitant mother-in-law's ears and she heard what she'd been missing (which was most of our conversations with her that she'd cover by nodding in agreement) she did not want to ever again be without the VoiceBuds so we bought for her the review pair and she's living happily with them in her ears all day every day since.
Conclusion
If you have an elderly parent or grandparent who wears glasses without embarrassment but for some reason refuses to admit to hearing loss (or if you are having trouble hearing conversations in noisy restaurants or understanding movie dialog), ZVOX's VoiceBuds are a cost effective solution that doesn't require a visit to an audiologist. Get a set, pop them in your hesitant parent or grandparent's ears and if your experience is like mine, watch their faces light up as they discover what they've been missing.
<!- ------------------------------------>