A UHQM (Ultra High Quality Message) to Chad Kassem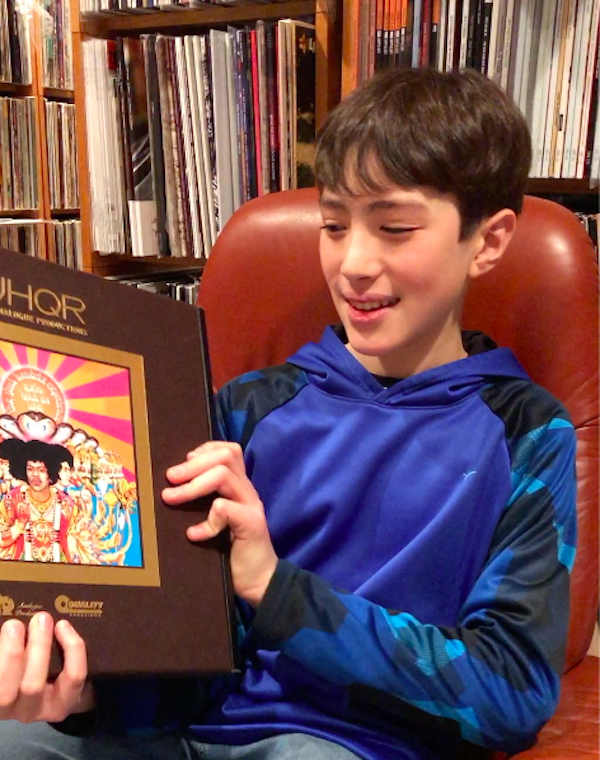 Last Sunday while back on the east coast AnalogPlanet's Malachi Lui paid a visit. We hadn't seen each other since late July so it was great catching up in person. We spent much of the time together comparing multiple copies of
Axis: Bold As Love
including a preliminary pressing of the upcoming Analogue Productions UHQR 200 gram vinyl edition in both mono and stereo mixes housed in a not quite finalized version of the exquisite packaging. I shot an impromptu video of the opinionated Mr. Lui fully expressing his views directly towards AP's Chad Kassem. When I suggested that we post the video on AnalogPlanet both Kassem and Lui said "OK" so please watch it below. Lui insisted on writing an intro to the Experience experience, which you'll find directly below this.
—Ed.
The penultimate sentence in my recent SACD review of the Jimi Hendrix Experience's Axis: Bold As Love reads, "if this is any indication, Analogue Productions' upcoming stereo UHQR edition of this title will be a sonic force to be reckoned with." Despite previously moaning about these "cash grab" Hendrix reissues, after being stunned by the SACD, I immediately asked my mom to order AP's stereo UHQR of the album as my one requested Christmas gift.
Now, I can truly attest that AP's mono and stereo UHQR (Ultra High Quality Record) releases of Axis: Bold As Love are anything but a "cash grab." AnalogPlanet editor Michael Fremer and I compared original stereo British Track and American Reprise (" tri-color steamboat" label) pressings, George Marino's 2010 all-analog cut (plated and pressed at RTI, not QRP), DSD and Redbook layers of the SACD's stereo portion, and the new stereo UHQR 200 gram vinyl pressed using the same mastering as the SACD, but of course all-analog.
MF and I agree that the SACD's Redbook layer and the Marino master are the worst, with their respective low resolution and extremely exaggerated highs. The original British pressing is too "polite" for its own good, but the DSD and original American "steamboat" pressing both offer outstanding transparency and EQ balance.
However, AP's UHQR mastered by Bernie Grundman towers above the rest. During our listening session, I told MF, "if someone doesn't like this record's sound, their listening situation is crap." It's everything the SACD offers and more, minus the slight digital sheen, and shockingly quieter (Yes! The vinyl produced blacker backgrounds than did the SACD, hence the "shock"—Ed). In addition, the packaging (which was sent in an unfinalized version) is stunning; the album itself is housed in a Stoughton tip-on gatefold while the outer two-piece box is of excellent build and features a beautiful wooden spine.
Fremer and I also compared the 2013 mono LP mastered by Bernie Grundman to Grundman's new mono UHQR cut. Both were excellent, but the UHQR edged the 2013 LP with more detail, less smoothness, and slightly quieter vinyl.
More UHQR titles are reportedly in the works, but for now, fewer than 1,000 stereo copies of Axis: Bold As Love remain while the mono release limited to 1,500 copies is sold out.
As you may notice, the video below is directly addressed to AP's Chad Kassem. Kassem didn't want any reviews leaking before release, but gave permission for this short personal message to be published.
(Full written review coming upon official release.)
To watch the video click on the hyperlink below!
<!- ------------------------------------>