Vanatoo's Transparent Zero Speakers Offer Great Convenience & Satisfying Desktop Sound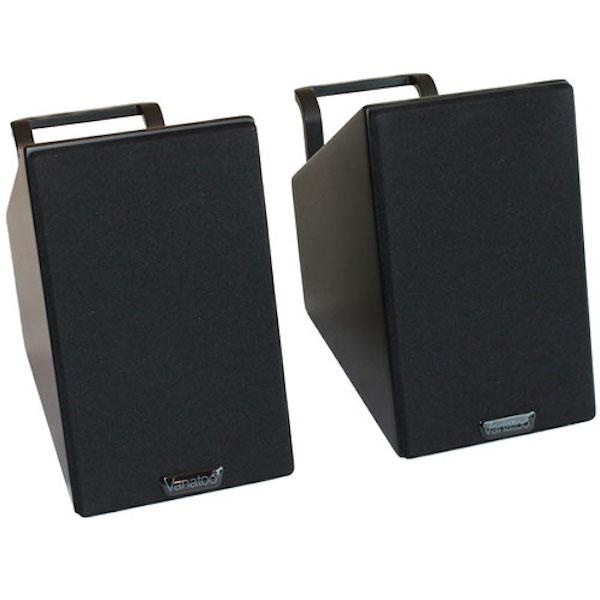 Today's budding audiophiles have more introductory options than ever. Available and (fairly) affordable are introductory turntable systems, great headphones, headphone amps, DACs, and…
desktop speakers
?
Enter the minds of Vanatoo, the company founded by experienced audio enthusiasts Gary Gesellchen and Rick Kernen. Gesellchen's background includes decades of speaker designing and building, while Kernen has worked for over 35 years in micro-processing. Their speakers are aimed at those who "care about music, want something that sounds good, and also understand that they shouldn't be forced to sacrifice convenience for quality," Gesellchen told me in an email exchange. Vanatoo's speakers though intended for desktops, can also be used in home theaters as well as in full room stereo systems.
Over the last few months I familiarized myself with the $359/pair Transparent Zeros, Vanatoo's smallest and least expensive speakers. The T0s, whose fronts measure a mere 7.75" by 4.75", slant slightly upward to compensate for the low level of desks relative to where your ears generally are (though you can make the fronts perfectly level by placing the removable handles at the bottom to prop up the T0s). The passive radiator design uses a one-inch soft dome tweeter, a four-inch aluminum cone woofer with a one-inch underhung voice coil, and on top a four-inch passive radiator. The speakers feature a built-in DAC, 48kHz/24bit DSP using a Wolfson A/D converter, as well as Class D amplification. The right active speaker has all of the controls and inputs and connects to the left passive speaker via a an RJ50 cable. The DSP is used no matter the input, but you do have a choice between "shelf mode" with EQ and limiting or "flat mode" with no effects. You can also add a subwoofer, connect your mobile device to the speakers via Bluetooth (which I didn't try), and adjust bass and treble to your heart's content, using the remote control that also lets you select source and adjust volume. The Transparent Zeros have three inputs: AUX (which goes through the DSP), USB-B (at 48kHz/16bit), and optical (which inputs at 96/24 although the DSP dithers it to 48/24 like the rest). ). I used the USB-B input connected from an early-2010s MacBook Pro, but more so the Zorloo ZuperDAC (which uses an ESS Sabre 9018 chip converting at 192kHz/24bit) with a generic AUX cord connecting its output to the T0s' optical in. Vanatoo provides foam mats for desktop use that slip under the speakers to somewhat isolate the T0s from a reflective surface. I played digital music from a variety of sources, but mostly my own lossless music library and Tidal HiFi.
Desktop Use
When used in its most ideal desktop setting, the Vanatoos performed for the most part extremely well. Gesellchen said the Transparent Zeros don't necessarily need to be perfectly spaced apart, but obviously, he suggested spacing them evenly on the sides of one's computer monitor (which I did). I listened to a variety of music (Kanye more than anything else, but other stuff too), and the speakers demonstrated great imaging capabilities considering I only spaced them 16" apart. In addition, the T0s' bass is surprisingly deep for the speakers' small size (though I did have some issues with extremely low frequencies - more on that later). The Vanatoos reproduced Kanye's The Life Of Pablo with excellent reverberant space, while Billie Eilish's WHEN WE ALL FALL ASLEEP, WHERE DO WE GO? exhibited deep yet clean (except when intentionally distorted) bass, Kid Cudi's massively underrated (there, I said it) grunge album Speedin' Bullet 2 Heaven had the appropriate grit, and on Thom Yorke's ANIMA the speakers delivered the recording's immersive electronic soundscapes. Vocals on every pop, rock, and rap album I played were dead center and alarmingly present for speakers this small and so convenient to set up (it took all of 5 minutes).
Yeezus Didn't Rise Again on the T0s
The Vanatoos didn't consistently succeed in a full room setting as much as they did on my desk, but still, all things considered they sounded decent. Although I'm likely spoiled by my ELAC Debut B5 speakers that extend down to 46Hz, the Transparent Zeros still disappointed when playing Kanye West's exceptional Yeezus (16/44.1 FLAC, Def Jam/Universal). The album, which portrays a character caught in the trappings of ego, excess, and celebrity, is known for its dark and glitchy industrial soundscapes, which the Vanatoos had extreme difficulty reproducing. Mike Dean's guitar solo on "Hold My Liquor" didn't conjure up as great a sonic image as it normally does, Assassin's verse didn't have the necessary bite on "I'm In It," Kanye sounded like a parody of himself on "Send It Up," Kid Cudi's "Guilt Trip" vocal had little room to soar, and when Kanye says "Close your eyes and let the word paint a thousand pictures/One good girl is worth a thousand bitches" on "Bound 2," it sounds as if he's just plainly stating it rather than personally telling the listener to picture that lyric.
Through the T0s' optical input connected to my Arcam CDS50 disc transport/streamer, the Vanatoos in a full room setting with flat DSP sounded too clean and polite on such a dark album. Further, what may be a design flaw revealed itself. During the bombastic intro to "I Am A God," the extremely low bass frequencies caused a high-pitched noise (a cross between a whistle and a screech) from the right (active) speaker at louder volumes. I also experienced this with the Vanatoos on my desk when playing Tyler, the Creator's magnificent IGOR, though I can't remember on which song it occurred (the issue wasn't as severe as that on "I Am A God," though). It still could've been a defect in the set of speakers I received, but the bass is centered on "I Am A God" and the issue only happens on the right speaker filled with the processing electronics.
Vinyl Playback
I connected using generic RCA-AUX cables the output of my MoFi UltraPhono preamp to the T0s' AUX input and spun a few records. Due to the DSP processing, however, the records sounded almost exactly like the high-resolution digital files, albeit with a bit more detail. Even all-analog LPs such as Love's Forever Changes (Elektra/Rhino RI-74013 180g LP), Albert King's Born Under A Bad Sign (Craft Recordings/Concord Music Group CR-00172 mono LP, review here, and Joni Mitchell's Blue (Reprise MS-2038, Bernie Grundman cut) sounded like hi-res digital files (because they essentially were). To confirm this, I compared the 96/24 files of David Bowie's Station To Station (2016 remaster) through the Arcam and to the LP of the same remaster, cut by Mr. Unknown at Optimal from the 192/24 files without any additional EQ or compression. The LP sounded slightly better through the Vanatoos, but the difference wasn't drastic, which backs up my idea that LPs through the Vanatoos sound quite similar to the digital files. Still, records were enjoyable enough, proving that at the end of the day it's all about the music.
Conclusion
Despite my few gripes with the Vanatoo Transparent Zeros in a full room setting along with the digital nature of vinyl playback, I enjoyed the T0s a lot. Their long list of features, extreme flexibility, and convenience (something uncommon in the high-performance audio industry) make them easy to recommend for the budding audiophile whose listening habits primarily focus on lossless digital. In this era of compromised sound quality, we should be grateful for whatever product convinces a younger, more diverse demographic of music fans to care about audio. For budget and value-minded young listeners, Vanatoo's Transparent Zeros could be it.
Features: True 2-way stereo powered speaker system
Bluetooth wireless connection with aptX
USB, Toslink Optical, and analog inputs
Full-featured remote control
Quick 2 minute setup with plug-in speaker connections
Auto input switching with Digital Silence Detection™
Reversible design for desktop or in-room use
Vanatoo ClearBass™ Technology
Volume, bass and treble controls
Subwoofer output with AutoSense
9mm wood cabinets with satin black finish
Low power sleep mode (<0.5W)
Best in class bass extension and full-range response
Magnetically attached grills
Vanatoo isolation pads
3 year warranty
Customizable configurations: LED brightness, bass response, subwoofer crossover, amp limiters, mono mode, sleep settings, Enable key function
<!- ------------------------------------>