VPI Debuts New $4000 Classic Companion Turntable Complete With Tone Arm and Custom Grado Cartridge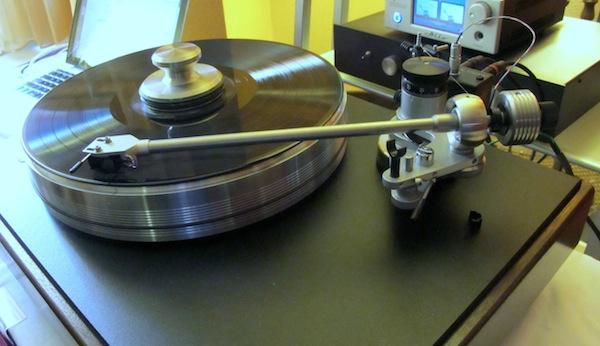 I wasn't expecting to find anything as new and significant at a small mid-summer show as VPI's new Classic Companion Turntable, but there it was.
The new Classic Companion combines the Walnut Classic 2 chassis, a 20 pound 2" thick aluminum Classic platter with inverted bearing, a 24 volt AC synchronous motor assembly with built-in 24V power supply and external step down transformer supply and a brand new 10.5" gimbaled bearing tone arm based on the one used on VPI's budget Traveler turntable.
However, instead of the jeweled sapphire bearings found on that arm, the new arm features low-friction ABEC 5 pre-loaded ball bearings. It also incorporates VPI's Classic 2 premium tone arm mount with VTA on-the-fly adjustability as well as anti-skating.
VPI sells the new 'table pre-mounted with a custom made for VPI Grado 1.5mV output ultra-low inductance, shielded moving iron cartridge featuring the Statement Sonata stylus and cantilever, mounted in a body featuring a threaded aluminum mounting plate. It's a $600 cartridge included with the arm/'table.
Getting the scoop on that alone, made worthwhile the trip to Silver Spring!

LATEST VIDEO
<!- ------------------------------------>