What's Jazz Got To Do With It? Part I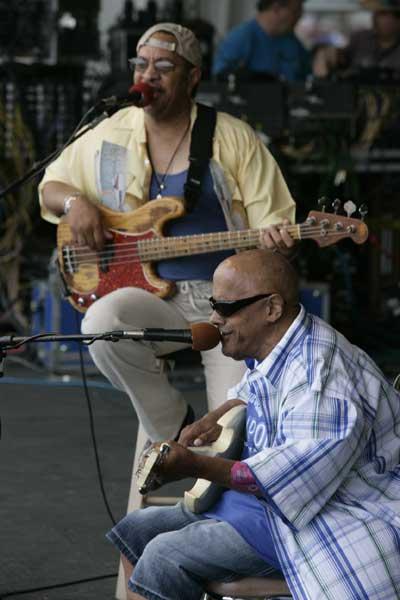 There was a moment early in the afternoon of the last Sunday of New Orleans' first post-Katrina Jazz Fest when it appeared to me that everything about the event, my perception of it, and even my hopes for the damaged city I've come to call home for the past ten years, changed dramatically. I was standing just outside the Economy Hall tent listening to the Trémé Brass Band, one the city's oldest and funkiest old-time-jazz aggregations, when it started to rain.
Up to that point, the festival had managed to avoid bad weather. First, it outlasted an early heat wave that had collapsed a week and a half earlier, just as music fans began streaming into the city, then it successfully dodged heavy periods of rain that fell overnight on the first weekend. Another wave of rain showers had passed immediately north of the city on the second weekend. Now, however, it seemed the festival's luck had pretty much run out.
I was fully prepared to call it a wash. To hear festival producers tell it, there almost wasn't a New Orleans Jazz & Heritage Festival this year, anyway. The site, an historic horse-racing track now owned by the Churchill Downs chain, had been badly flooded. Financial backing looked tentative, and the city's ability, or even willingness, to host a major tourist event was very much in doubt. Local musicians were scattered; so were festival staff.
Same Old Jazz Fest?
In the end, though, sponsors were recruited, acts signed, the site made ready, and the crowds, for the first weekend at least, were as thick as they've ever been. A few changes may have been noticeable: a day cancelled from the traditional seven-day schedule, a couple of performance stages missing (mostly on the outskirts of the site), a handful of food booths MIA (from a total of 40-something), the racetrack's towering grandstand out of commission.
But in the end, the event that took place in New Orleans the last weekend in April and the first weekend in May, the same time it's held every year, looked and sounded a lot like the same old Jazz Fest, with Dr. John, Dylan, Hugh Masakela, Ani DiFranco, Allen Toussaint and Elvis Costello, Juvenile, and Dave Matthews among the headliners on a weekend that featured more than 45 acts on eight stages positioned inside and just beyond the oval race track.
Jazz Fest PR liaison Matt Goldman probably had it close to right when he told the Austin American-Statesman, "[This year is] just like 2002 or 2003 -- only with tons more media."
The first weekend even closed with a musical conflict of the first order -- The Boss, performing numbers from his Seeger Sessions CD live for the first time, had been scheduled as the last act on the festival's largest stage opposite the Meters, playing only their second annual Jazz Fest reunion set, on the second-biggest stage located at the other end of the festival site, presenting a choice even King Solomon himself wouldn't have wanted to make.
The Last Pocket of American Authenticity
Still, something wasn't quite right. Here, after all, was a world-class festival being held in the midst of a city that has almost literally been brought to its knees, a city whose destiny may yet be to serve as the first abandoned American city, a metropolitan area flooded beyond recognition and never rebuilt, the northernmost capital of Caribbean culture reduced to the status of a colonial resort island.
"As scantily clad fans danced in the sunshine ... abandoned furniture and trash remained piled on the streets," is how The Washington Post characterized the "jarring juxtaposition of revelry and despair." I know. On the streets leading to the "back-door" pedestrian gate I've been using for most of the 18 years I've attended Jazz Fest, there are usually a scattering of neighborhood parties, backyard barbeques, and homemade parking concessions; now, there were only abandoned houses, FEMA trailers, and empty yards.
"Is this a revival or a memorial?" asked The Miami Herald's pop culture writer, getting straight to the point. It's a question that may not be answered for decades, but for those of us who love American popular music, it's the main question worth asking right now.
My Own Private Jazz Fest
Jazz Fest season began for me early in April with a panel discussion on the New Orleans tradition of the jazz funeral, a scholarly attempt to remind us of the theme of death and rebirth. During the city's annual French Quarter Festival, preceding Jazz Fest by just one week, I revisited past revivals, saw a couple of local bands (Walter "Wolfman" Washington & the Roadmasters, The Forgotten Souls Brass Band), and covered, for DownBeat, a world-premier by Wynton Marsalis, featuring the Lincoln Center Jazz Orchestra, and Odadaa!, a Ghanaian drumming and dance troupe.
The night before Jazz Fest, a world-music concert sponsored by Putumayo Records gave me the chance to finally hear The Skatalites live. The first weekend of Jazz Fest, I enjoyed surprisingly strong sets from Hugh Masakela, Etta James, Dylan, and Dr. John, not to mention local heroes Snooks Eaglin and Eddie Bo. I also heard a sublime set by The Meters, funkifying Louis Jordan's "Saturday Night Fish Fry" and ending with a guest appearance "Hey, Pocky Way!" by Jazz Fest MVP, 20-something trumpeter Troy "Trombone Shorty" Andrews.
Besides the sea of devotees gathered for Springsteen's two-hour set (local Times-Picayune music writer described it as "a Jazz Fest moment for the ages"), I missed crowds gathered for Herbie Hancock, Elvis Costello and Allen Toussaint, Ani DiFranco (a recent New Orleans immigrant), Juvenile (this year's hometown homeboy), and predictable Jazz Fest favorites The Dave Matthews Band. In fact, there is so much music during Jazz Fest -- including concerts, club dates, and record-store appearances -- no one could possibly keep track of it all.
A Reversal of Established Habits
Maybe I was just running out of gas, but by the second weekend of Jazz Fest, I began to feel that this event, like Mardi Gras before it, was being forced, a celebration driven mainly by business and civic-improvement interests. That suspicion seemed to be confirmed by noticeably thin crowds the second Friday, and a feeling the music just wasn't connecting. Little Feat, with Jimmy Buffet providing vocals for "Dixie Chicken," sounded half-hearted, and Angelique Kidjo on the Congo Square stage, though brilliant and spirited, came across as slick.
Keith Urban was the big headliner that day, but no one seemed to know who he was (except maybe his girlfriend, the actress Nicole Kidman, sighted backstage).
On Saturday, the crowds were thicker, but rain was threatening. And something about the music, as good as it was, still seemed distant. Even The Dirty Dozen Brass Band, maybe the ultimate Jazz Fest act, sounded faint at Congo Square. I checked out La India ("The Princess of Salsa"), but couldn't relate. Main-stage headliners included Buffet, The Radiators, and the Ohio Players -- a pretty tired bunch. An all-star set in the jazz tent with saxophonist Donald Harrison, tenor legend George Coleman, and salsa maestro Eddie Palmieri played to a half-full house.
Usually, the first weekend of Jazz Fest is less ambitious, more local. This year, it seemed the weekends had reversed. The flagging energy of the Hoopla Crowd became even more a theme for me when I heard early Sunday morning that jazz headliner Nicholas Payton had cancelled. Later, I stumbled on the rumor that Fats was bailing, too. For decades, The Neville Brothers have closed Jazz Fest on the main stage, but Aaron has developed respiratory problems and Cyril's switched allegiances to Austin. Recruited to fill their spot, Fats Domino woke feeling unsteady, made a quick visit to the ER, then showed up to wave to the crowd.
I began to think that maybe I wasn't the only one running out of gas.
Anticipating a Grande Finale
There's almost always a momentum to Jazz Fest in which amazing things can happen on the last Sunday. A couple of years ago, I witnessed an incredible set by jazz sorceress Abbey Lincoln that held the audience in thrall with dramatic takes of modern jazz standards. For an encore, she dedicated "I'll Be Seeing You (In All the Old Familiar Places)" to Louis Armstrong, then unveiled a jaw-dropping interpretation of "Mr. Tambourine Man," the Dylan classic purportedly written during a long-ago trip to Mardi Gras.
Last year, a Sister Rosetta Tharpe tribute with Maria Muldaur, Marcia Ball, Tracy Nelson, and New Orleans' hometown soul queen, Irma Thomas, had people talking for weeks.
By the time the last Sunday arrived this year, I had already begun jettisoning expectations, hoping mostly to just catch a full set, right before the closing act, from Paul Simon on the main stage. I plopped myself in the gospel tent that morning. You can see a lot of amazing stuff you never expected to in the gospel tent -- my top all-time find has been Slim and the Supreme Angels (no joke ... with a guitar player rivaling Jimi Hendrix), and this year it was the Electrifying Crown Seekers, a burning R&B-gospel outfit sporting cardinal-red, long-coat suits.
On Jazz Fest's final morning, the Dynamic Smooth Family, the Leviticus Gospel Singers, and the Golden Wings, three old soulful men, performed moving sets.
At the Economy Hall tent, the Trémé band, attired in crisp white shirts and those shiny-billed marching-band caps, began slowly occupying the stage, altogether ten strong, maximum strength for this big-time-concert/family-reunion performance. David Torkanowsky, a multi-threat pianist, jumped in behind the keyboard of the baby grand sitting onstage. Anchored by Benny Jones on snare drum, and 75-year-old Uncle Lionel Batiste on bass drum, the band's front man these days is Glen Andrews, a young trombonist from the ubiquitous Andrews family.
<!- ------------------------------------>