What's Jazz Got To Do With It? Part 2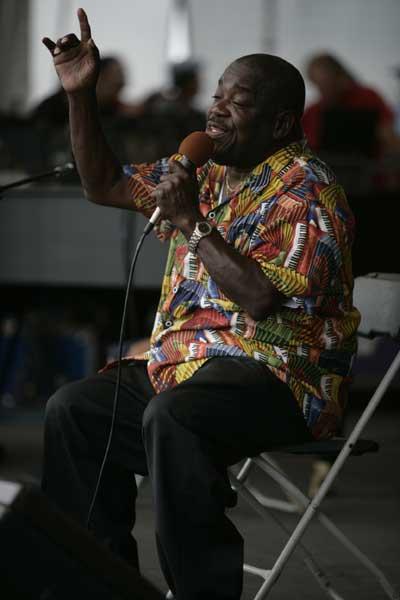 Old-Time Standards the Old-School Way
With the eclipse of the Olympia Brass Band, it is generally acknowledged that the Trémé band, in all its multiple configurations, has now become the symbolic parade marshal for the Crescent City's historic "street" jazz tradition. The mainstay of Trémé's songbook are well-known New Orleans jazz tunes and old-time spirituals. With the rain pummeling the big tent into which maybe 500 or more of us had managed to jam ourselves, the band carried on as though nothing out of the ordinary was happening.
In the shoulder-to-shoulder crush I found myself standing beside a middle-aged woman with a tiny baby sleeping on shoulder. Behind her, a rugged-faced man stood guard at the helm of an empty baby carriage.
The people in the Economy Hall tent did not seem like the people I've grown used to seeing in my city since the hurricane, white middle-class locals, white insurance adjusters and construction contractors, white volunteers, and white and Hispanic laborers. Instead, they seemed more like a cross-section of the New Orleans I used to know, a healthy proportion of more varied faces in more casual attire, a great many, perhaps, displaced but making the effort to return for an important ritual, something that has been happening fairly frequently at least since Mardi Gras.
It's one of New Orleans' most-overlooked attributes: an enormous percentage of residents born here choose to remain here, just as they have for generations.
After a particularly moving rendition of "Do You Know What It Means (to Miss New Orleans)?", I turned to see a large tear roll down the cheek of the father/grandfather standing behind me. His emotion was in no way out of place. Somehow, one of the city's deep-tradition bands had connected with a mostly native audience. No fancy artistic statements. No new anthems for the post-Katrina era. Just the old-time standards delivered the old-school New Orleans way.
Laughter and Smoke and Music in the Air
That afternoon in the Economy Hall tent, wrote a friend who also was there and e-mailed me later in the week, had been "a transcendent moment ... I finally felt that Jazz Fest 'had come home'...." Me, too. It felt in that moment that the people of New Orleans, the people and their longstanding, hard-won traditions, had finally taken control of Jazz Fest.
Hanging out on the picnic tables opposite one of the two long rows of food booths, happily flipping delicious clumps of chilled crawfish sushi in my mouth, I noticed a lot more black faces in the crowd, maybe as high a percentage of any I've seen at any public gathering since Katrina. I also noticed more kids, more couples, more families, and more folks in everyday dress.
When I got to Paul Simon's gig, and discovered so many people gathered that it was impossible to get any closer than about 100 yards away from the big stage, it didn't seem to matter. When the headliner brought Allen Toussaint and Irma Thomas onstage for "Bridge Over Troubled Water," it made perfect and wonderful sense.
And then it came to pass that neither The Neville Brothers nor Fats Domino, not even Bruce Springsteen, held forth on the big stage as Jazz Fest 2006 came to an end. Instead, it was Lionel Ritchie, recruited from a gig on a smaller stage, exuding warmth and homespun enthusiasm, playing music that an entire generation of both black and white New Orleanians had come of age listening and dancing to -- Lionel Ritchie in that moment became our Pete Seeger in a way Bruce Springsteen never could.
On the way home that evening, I finally saw the neighborhood where I park populated with a scattering of front-stoop parties and impromptu front-yard barbeques. It felt good to walk home with people streaming from Jazz Fest, traffic beginning to choke the streets, laughter and smoke and music in the air. This is, perhaps, the greatest lesson both New Orleans and the 2006 New Orleans Jazz & Heritage Festival have to offer -- democracy can be messy, the results may not conform to expectations, but cultural traditions thrive.
The Spirit of the People Also Rises
I've spent a fair amount of time trying to understand how, throughout the course of the 20th century, a musical heritage and its local traditions have remained intact. I put the question once to a friend immersed in that culture. It's the people, he told me, it all comes from the people. Does that mean the people will eventually win out over the hard logic of history and politics? Not necessarily. What it does mean is you better not count them out, at least not yet.
My Jazz Fest season ended in mid-May with a profoundly inspiring speech by Brazilian minister of culture Gilberto Gil on making common cause across the worldwide African Diaspora followed by an intimate three-song, acoustic concert, held in a small auditorium on Tulane's campus one day before the university bestowed upon the world-music legend his first honorary doctorate.
To begin to comprehend the devastation visited upon one of America's most culturally rich cities by the country's most-damaging natural disaster, consider an overhead view of 9/11 in reverse -- lower Manhattan preserved with the remainder of New York City remains drowned and uninhabited. To compare estimated rebuilding costs for wetlands ($14 billion) and hurricane protection ($32 billion) alone, consider Boston's $14.6 billion Big Dig or the proposed $8 billion Everglades restoration.
Against these imponderable obstacles, it's unlikely the future of New Orleans will rest with a politically moribund national will or even the praises of a cultural elite that generally views New Orleans' value as equivalent to, in the words of The New York Times, "the strange and wonderful phenomena of a very local culture." Instead, if the city has any hope at all, it probably lies in a resource infinitely more difficult to quantify -- the spirit of its people, which appears to be slowly coming back to life.
Unless, of course, New Orleans gets hit by another big hurricane.
<!- ------------------------------------>