Phono Preamplifier Voting Results and Files Identified!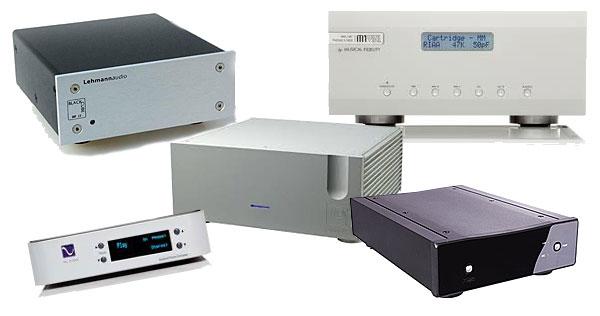 On January 2nd analogplanet.com posted
five 96/24 bit files
, each containing the same minute's worth of John Williams' "Liberty Fanfare" performed by the National Symphonic Winds conducted by Lowell Graham excerpted from the album
Winds of War and Peace
originally issued in 1988 on Wilson Audio Specialties Records (W-8823) and used with permission.
Recorded by Wilson Audio Specialties' Dave Wilson along with Bruce Leek and Joseph Magee using a pair of Sennheiser microphones and a John Curl Ultramaster™ 30IPS ½ inch tape recorder, the sound is spectacular, particularly the giant bass drum struck by what Mr. Graham said recently was the "M.O.D." or Mallet of Death."
The excerpts were digitized using the $3950 Ayre QA-9 USB A/D converter. Four of the five files were produced using a $2995 Pro-Ject XTension10 turntable fitted with a $4249 Transfiguration Phoenix MC phono cartridge, each using one of four moderately priced phono preamplifiers: the Rega Aria ($1500), the Lehmann Black Cube SE II ($1099), the Musical Fidelity M1ViNL ($1199) and the P.S. Audio NuWave™ Phono Converter ($1895), which also includes a double DSD resolution A/D converter (the M1 ViNL was reviewed in Stereophile, not analogplanet, hence no hyperlink).
The fifth file contained the same musical excerpt recorded using the $150,000 Continuum Caliburn turntable, $6500 Kuzma 4 Point turntable, $6995 Lyra Etna cartridge and Ypsilon VPS-100 MM phono preamp ($26,000) and Ypsilon MC-16L step up transformer ($6000). Why include it? Why not?
The files were identified only as "Test File #1, 2, 3, 4 and 5". Readers were asked to download, listen and vote for a favorite. While many thousands of people read the story and we can't calculate how many downloaded the files, as of now 239 votes were cast. While that is not a large number, the results are interesting!
In 5th or last place was File #1 with 10% or 24 votes. 4th place went to File #5 with 14% or 34 votes. The 3rd place winner, with 17% or 40 votes was File #3. 2nd place went to File #2 with 27% or 65 votes. The winner was File #4 with 32% or 77 votes.
It's just a coincidence that 2nd place went to File #2 and 3rd place went to File #3 but it's no coincidence that File #4 was the winner and garnered nearly 1/3rd of the votes for that is the "high priced spread". However, the second place winner was the $1099 Lehmann Black Cube SE II, which was the least expensive. Third place went to the $1500 Rega Aria, while the Musical Fidelity M1 ViNL took fourth place and the P.S. Audio NuWave finished last (after reading the NuWave Converter review, P.S. Audio's Paul McGowan sent a second sample, the sound of which will be evaluated in the context of the built-in A/D converter review).
So what conclusions do I draw from these results (you, of course, are free to draw your own!)? First of all, analogplanet.com readers ranked them precisely as I would have, which gives me a very warm feeling inside! I did it "sighted" and they did it "blind". How much do I love that? Very much, thank you!
However, you'd be wrong to conclude that because the vote was close, the Pro-Ject Xtension10/ Transfiguration Phoenix/Lehmann Black Cube SE II combo is almost as good as the "high priced spread". Were you able to compare them "live" on a "high priced "spread" system, you'd agree, I'm sure, that the big rig is not just in a different league, it's in a different sonic world—but that is not meant to take anything away from the other system and especially from the Black Cube SE II, which is everything I said it was in the review. That said, the Pro-Ject/Transfiguration/Black Cube combo produced superb sonics through a very expensive system.
Omit the Continuum set-up and the Lehmann Black Cube SE II is the big winner and deservedly so in my opinion.
Thanks to everyone who downloaded and voted. Next up will be a blind step up transformer comparison.
<!- ------------------------------------>