A Hearing Aid For You From Doppler Labs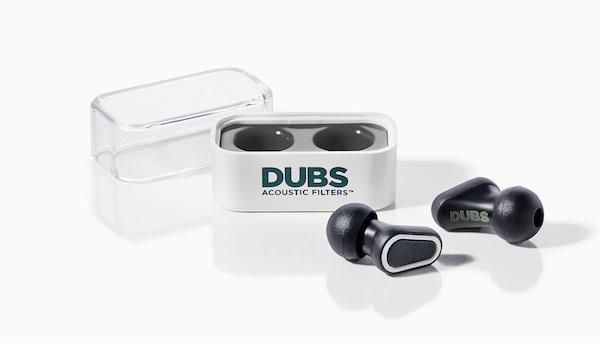 The term "hearing aid" strikes terror into the hearts of audiophiles of all ages. Glasses? OK. But "hearing aid"? No one wants to admit to needing one so that's why you need a set of DUBS Acoustic Filters
now
.
These are not "hearing aids" in the traditional sense of the word. They are designed now to help you avoid having to use a hearing aid later.
Okay, I hear you: you are among the smart ones who bring "ear plugs" with you to concerts where the "ear-splitting" SPLs can do serious damage over not too long a period of time. The problem with standard ear plugs is that they don't attenuate frequencies in a way that sounds "flat" to our ear/brain system. Instead the high frequencies are the first casualty—seemingly all of them—which is why some people risk damage: you paid all of that money and damn it you want to hear the cymbals!
DUBS Acoustic Filters™ is the first product from doppler labs a new start up tech company founded by Noah Kraft, former Microsoft executive Fritz Lanman and former SONOS transducer engineer Dan Wiggins.
The idea here is an "ear plug" that uses dynamic attenuation to attenuate by an average of 12dB while preserving relatively flat frequency response as well as an "ear plug" that looks cool and not like a medical device.
The technology uses 17 components made of premium materials like stainless steel, ABS, polymer foams and silicone (the "ear bud" like ear canal interface). The end result is a compact, attractive looking product available in four colors (including a few that are electric) that doesn't make you look like you have a mini-enema bag hanging from your ears.
So does the technology work? Yes, as long as you are in need of no more than 12db of attenuation. I didn't go to any loud live rock shows recently so I put a pair of DUBS into my ear canals, played my stereo at stupid levels monitoring with an SPL meter to about 100dB peaks, which brought it down to around 88dB. Still plenty loud. The sound was not 100% transparent to the source but 12dB lower but compared to my usual ear "plugs" the balance was far more neutral. When I spoke I heard fairly neutral sibilants.
Last week I had to use a powerful circular saw to shorten the end of our Christmas tree/Hanukah bush and wearing the DUBS kept the levels comfortable and I could easily and clearly hear my wife whining "Let's just take it back to the nursery and let them do it. You're going to screw it up".
When I removed them from my ears (after making a perfect cut) no ear pain or residual ringing from the loud saw.
These things work well within reason (they do not produce perfectly linear attenuation but do a much better job than my usual muffling "plugs". They cost $25.00 and make a great stocking stuffer. What is your hearing worth?
<!- ------------------------------------>